Welcome to the Seasoned with Love Online Cookbook.
Here you will find all my favorite recipes with links to products
used in the recipes along with helpful websites. Each page
has a printable version for your convenience. If you try
out a recipe, send me your comments
New Cookbook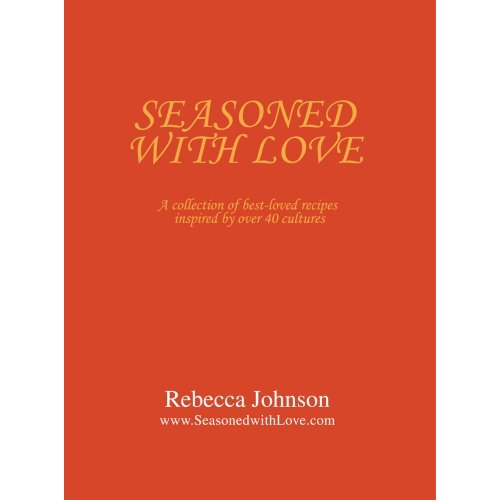 Seasoned with Love - Click Here to Purchase Book
You might also enjoy some
step-by-step Recipes with Pictures
Recipes - try a recipe
and tell me what you think.
"To everything you cook,
add a dash of love."




BEAUTIFUL BREAKFASTS
Applesauce with Lime & Cinnamon

Asparagus Cheese Bites

Bacon and Cheese Omelet

Blueberry Muffins

Breakfast Burritos

Buttermilk Pancakes

Buttermilk Waffles

Caramel Rolls

Cheese Soufflé

Dad's Egg and Ham Muffins

Danish Pastries

English Muffins

Farina Porridge

Ham with Apricot Glaze

Homemade Pork Sausage

Kiwi Cups

Lemon Butter Toast
Blueberry Muffins

Mini-Cinnamuffins

Morning Fruit Bread

Norwegian Rice Porridge

Orange French Toast

Puffy Eggs

Pumpkin Cinnamon Rolls

Pumpkin Fritters

Spiced Currant Oatmeal

Spicy Shrimp Scramble
Swedish Pancakes

Sweet-and-Sour Papaya

Yvonne's Apple Pastries
LAZY LUNCHES
Beef Soft Tacos
Cheese and Onion Macaroni
Chicken Burritos
Chicken with Pineapple
Egg and Bacon Sandwiches
Egg Salad Sandwiches

French Bread Pizza

Grandma's Dill Tuna Melts

Gyros

Macaroni and White Cheddar

Mini-Bagel Sandwiches

Nina's Saucy Beef Sandwiches

Open Face Turkey Sandwiches with Olives

Pastrami Paradise

Pastrami Roll-Ups

Piroshki

Rick's Sandwiches

Ricotta Rolls with Dill and Tuna Filling

Roast Beef Dippers
Roast Beef Sandwiches with Garlic

Spicy Tacos

Steak Fajita Hoagies

Toasted Cheese Sandwiches

Dark Chocolate Cupcakes
A variation on the Chocolate Cake Recipe
TEA TIME TREATS
Almond Petits Fours

Biscotti

Butter Cookies

Canapés

Carrot Cupcakes with Cream Cheese Frosting

Chocolate Cake or Cupcakes

Chocolate Chip Cookies

Chocolate Whoopie Pies

Coffee Cake

Cream Puffs with Pastry Cream -
See my Caramel Eclair Variation

Criss-Cross Peanut Butter Cookies

Crumpets for Tea

Crunchies

Dominica Banana Bread

Gingerbread Cookies

Ginger Coffee Cake

Holiday Pound Cake

Jumbo Chocolate Raisin Oat Cookies

Lebkuchen

Madeleines

Mexican Wedding Cookies

Molasses Cookies

Nutmeg Cookies

Peanut Butter Crunch Cookies

Raspberry Cream Wafers

Snickerdoodles

Swedish Spritz Cookies

Tea Scones

Vanilla Cupcakes with Buttercream

Victorian Raspberry Cake

White Chocolate Cakes

Zucchini Bread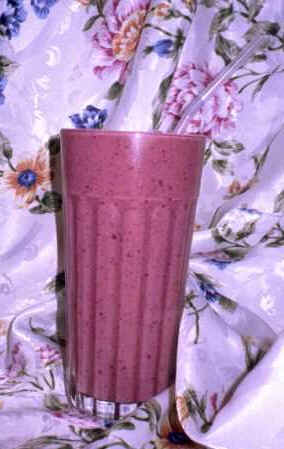 Berry Blast Smoothie
DELIGHTFUL DRINKS
African Fruit Punch

Banana Ice

Berry Blast Smoothie

Chocolate Eggnog

Coffee Granita

Cranberry Pineapple Drink

Flavored Coffee

Hazelnut Coffee and Cream

Honey Strawberry Drink

Hot Apple Cider

Iced Tea

Iced Thai Coffee

Mango Lassi

Mango Papaya Freeze

Masala Chai

Orange Banana Tofu Cooler

Passion Fruit Punch

Peach Protein Smoothie

Piña Colada Smoothie

Pink Grapefruit Slush

Postum Latte

Soothing Lemon Tea

Speckled Fruit Smoothie

Spiced Hot Chocolate

Strawberry Banana Health Shake

Strawberry Lemonade

Tea

Vanilla Nut Coffee

Watermelon Ice
English Cucumber Slices with Cheese Filling
TANTALIZING TASTES
Asparagus Marinated in Italian Dressing

Bacon Cheddar Hot Dogs

Baked Potato Skins

Barbecued Riblets

Dennis and Anthea's Bacon Wrapped Prawns

English Cucumber Slices with Cheese Filling

Flowered Cheese Ball

Focaccia with Cambozola and Roasted Garlic

Fruit Kabobs

Herbed Feta and Spinach Phyllo Triangles

Indian Samosas

Onion Dip

Party Platters

Paula's Layered Dip

Pita Bread and Hummus

Shrimp and Chiles in Saffron Garlic Butter

Smoked Salmon Deviled Eggs

Snack Mix

Spicy Salsa

Spicy Satay Chicken

Spinach Bites

Strawberry Cheesecakes

Sun Dried Tomato and Garlic Spread

Thai Spring Rolls with Plum Sauce

Tiny Shrimp Pastries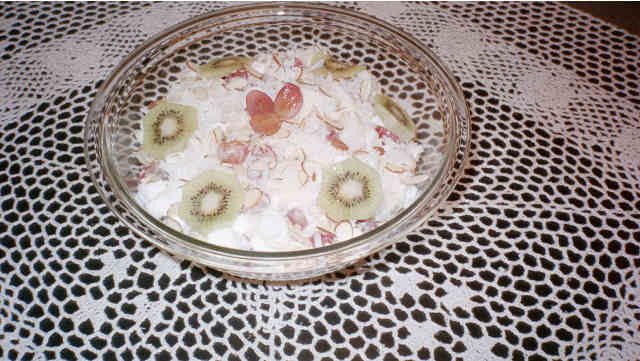 Southern Ambrosia
SIMPLY SALADS
African Bean Salad

Antipasto Salad

Apple and Black Walnut Salad

Apple Mango Chutney

Apple Raisin Coleslaw
Asian Coleslaw

Beet Salad with Orange Chutney Dressing

Blue Cheese Salad

Bulgur Salad with Currants or Raisins

Carrot and Currant Salad

Carrot and Sesame Salad

Celery Walnut Salad with Vinaigrette

Cheddar Cheese and Olive Salad

Chicken Pasta Salad

Crab Louie

Cranberry Sauce

Cream Fruit Salad

Curried Bananas
Curried Chicken Salad

Dill Potato Salad

Fruit Gelatin

German Potato Salad

Guacamole

Italian Chicken Salad
Orange and Carrot Salad
Parmesan Salad
Pretty and Easy Salad
Rainbow Ribbon Gelatin
Southern Ambrosia
Summer Fruit Salad
Tabbouleh
Tarragon Chicken Pasta
Tossed Greek Salad
Tossed Salad with Thousand Island Dressing
Tropical Fruit Salad
Tuna Pasta Salad
Making Bean Soup
STEAMING SOUPS
Black Bean Soup with Lemon Chicken Sausage

Borscht

Chicken Noodle Soup
Clam Chowder

Corn Chowder

Cream of Asparagus Soup

Cream of Tomato Soup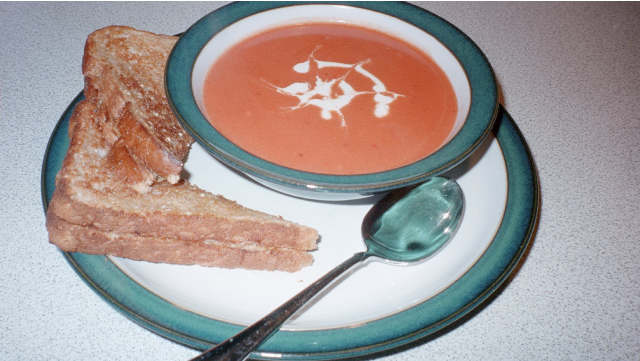 Cream of Tomato Soup


Fennel Seafood Chowder

French Onion Soup

German Carrot Soup

Healthy Vegetable Soup

Karen's Oyster and Mushroom Cream Soup

Matzo Ball Soup

Mulligatawny Soup

Pea Soup

Pepper Pot Soup

Saffron Cream of Chicken Soup with Vegetables

Spicy Bean Soup

Turkey Bean Soup
Healthy Multigrain Bread
BUTTERED BREAD
Baking Powder Flour Tortillas

Bran Muffins

Buttermilk Biscuits

Buttermilk Rolls

Cathay's Cheese Muffins

Challah

Corn Tortillas

Flour Tortillas

Focaccia with Herbed Cream Cheese

Garlic-Herb Butter Bread

Healthy Multigrain Bread

Hot Cross Buns

Indian Naan

Mini-Yorkshire Puddings

Native American Fry Bread

Oat Rolls with Cinnamon-Honey Butter

Pam's Cinnamon Rolls

Polenta Bread

Pumpernickel Rolls

Raisin Rolls with Orange Glaze

Rolls with Butter

Roman Pretzels

Saffron Rolls

Southern Corn and Oat Muffins

Whole-Wheat Bread for Stuffing

Whole-Wheat Oat Rolls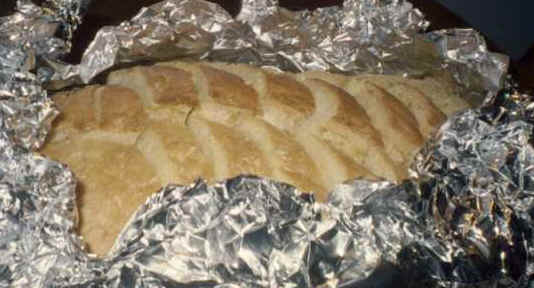 Garlic Herb Butter Bread
SUMPTUOUS SIDES
Baked Potatoes

Candied Yams

Cauliflower with Cheese Sauce

Corn Soufflé

Creamy Spinach

Crumbly Maize with Tomato and Onion Sauce

Dad's Cheesy Pan Potatoes

Dal

Dauphine Casserole

Garlic Red Potatoes with Olive Oil

Glazed Anise Carrots

Gnocchi

Grandma's Brown Sugar Baked Bean Casserole

Green Bean Casserole

Green Beans with Bacon

Herbed Vegetables

Italian Risotto

Mashed Potatoes

Pearl Rice

Pecorino Spinach

Refried Beans

Risotto with Red Bell Peppers and Truffle Oil

Roasted Potatoes

Seasoned Asparagus

Simply Rice

Snap Peas with Mushrooms

South American Butternut Squash

Spanish Rice

Wild Rice Casserole
Creamy Fillet of Turkey and Spaghetti Casserole
DELICIOUS DINNERS
Barbecued Chicken
Beef and Cheese Lasagna
Beef and Vegetable Stew
Beef Tenderloin with Shallot Gravy
Beef Triangles
Bobotie
Boerewors
Cajun Catfish
Cashew Chicken
Chicken and Snow Peas
Chicken Chop Suey
Chicken Enchiladas
Chicken Paprika
Chicken Puff Pastries
Creamy Fillet of Turkey and Spaghetti Casserole
Crispy Oven-Fried Chicken
Dad's Lamb Curry
English Cottage Pie
Favorite Pizzas
Fettucine and Cheese Sauce
Filet Mignon Stir-Fry with Yam Noodles
Fish and Chips
Garlic-Lamb Kabobs
Garlic Lemon Pepper Tenderloin Roast
Ginger and Honey Glazed Turkey Ham
Glazed Ham
Grandma's Baked Salmon
Greek Moussaka
Herbed Turkey Breast and Mushroom-Onion Gravy
Hungarian Goulash
Irish Salmon Patties
Italian Flank Steak
Italian Rosemary Chicken
King Crab Legs
Lamb Shanks with Onions and Olives
Lamb Sosaties
Lemon-Dill Turkey Bites
Lemon Lamb Chops
Manicotti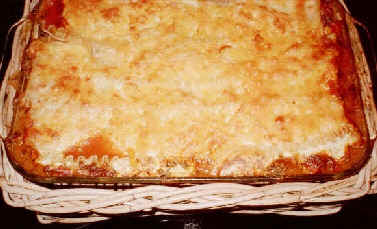 Mexican Lasagna

Mexican Lasagna

Mom's Chili Con Carne

Mushroom Pork Chops

Nana's Ribs and Kraut

Old Fashioned Turkey Dinner

Onion Meat Loaf

Paella

Pasta with Thin Marinara Sauce

Pepperoni Pizza

Pork Loin Rib Roast
Pot Roast

Roast Chicken with Herb Stuffing

Roast Chicken with Onion and Apples

Roast Chicken

Roast Leg of Lamb
Salmon Fillets

Salome's Chicken Biryani

Scandinavian Meatballs

Slow-Cooked Pepper Steak

Spaghetti Sauce

Spinach Lasagna

Steak Diane

Steak Fajitas

Stuffed Red Peppers

Tandoori Chicken

Tarragon Chicken

Teriyaki Chicken

Thyme Spenser Steaks

Vegetable Curry

Vegetable Lasagna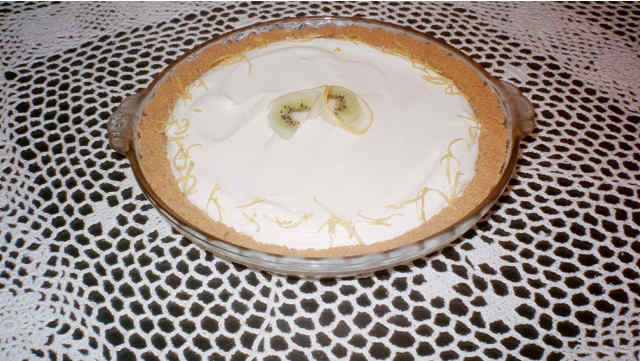 Lemon Neufchâtel Pie
DIVINE DESSERTS
Angel Food Cake with Fruit Topping

Apple Pie with Custard Ice Cream

Banana Cream Pie

Basmati Rice Pudding

Black Rice Pudding

Bourbon Vanilla Cheesecake

Boysenberry Custard Christmas Pastries

Bûche de Noël

Burnt Cream

Caramel Custard

Cherry Crunch

Cherry Pie

Cherry Walnut Cheesecake

Chocolate Ice Cream

Chocolate Mousse

Christmas Plum Pastries

Citrus Honey Sorbet

Cream Puff Ring with Chocolate Pastry Cream

Dad's Strawberry Tart

Fluffy Spiced Pumpkin Pie

Fresh Fruit Cream Cheese Tart

Fruit Soup

German Chocolate Cake Squares

Grandma Clarice's Cinnamon Apple Pie

Ice Cream Pie

Key Lime Pie

Lemon Meringue Pie

Lemon Neufchâtel Pie

Louisiana Pecan Pie

Mango Sorbet
Melk Tert
Middle East Baklava
Mocha Freeze
Native American Pumpkin Pie
Orange and Lemon Galatoboureko
Orange and Strawberry Rhubarb Crisp
Orange Berry Sorbet
Orange Trifle

Peach Cobbler

Peach Sherbet

Pineapple Upside-Down Cake

Raspberry Mousse

Raspberry Trifle

Salzburger Nockerl with Raspberry Sauce

Scandinavian Fruit Soup

Strawberry Crêpes

Strawberry Dream Ice Cream

Strawberry Ice Cream Pie

Tapioca Pudding with Strawberries

Triple Berry Pie

Vanilla Ice Cream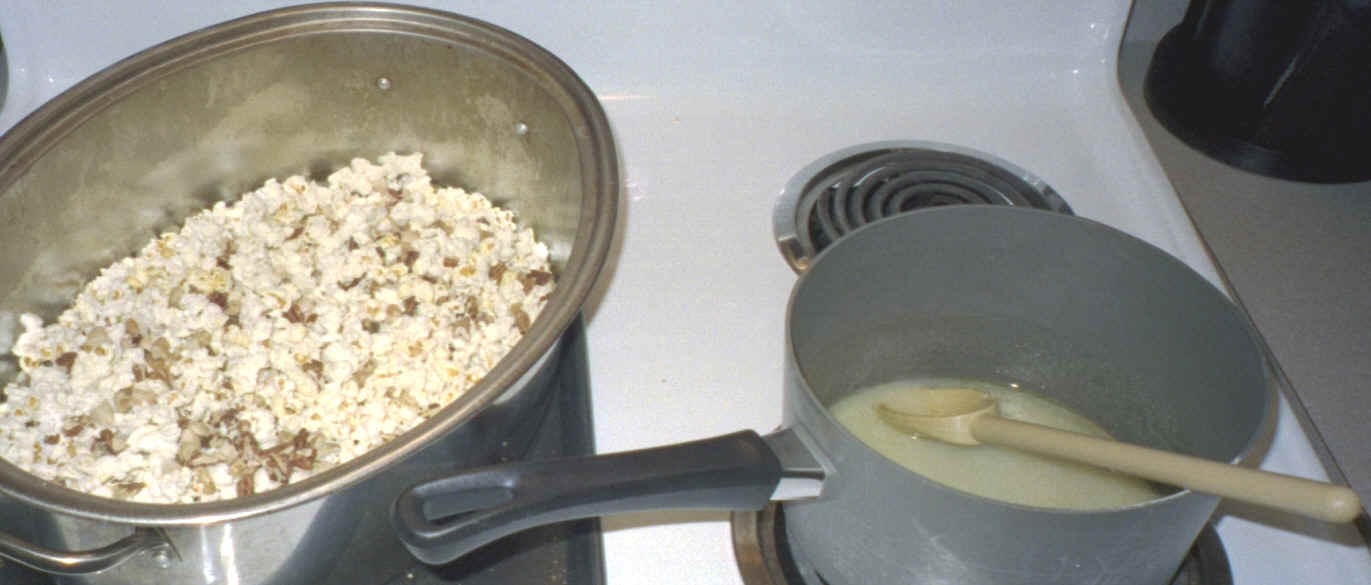 Making Butter Caramel Corn

SWEET TEMPTATIONS
Almond Chestnut Truffles

Apple Pie Spice and Sugar Butter Popcorn

Butter Caramel Corn

Chocolate Cherries

Chocolate Fresh Cream Truffles

Frozen Banana Kisses
Fudge Brownies

Jay's Divine Fudge

Marshmallow Crème

Meringues with Whipped Cream

Orange and Vanilla Carambola

Rick's Favorite Brownies

Spiced Popcorn Balls

White Chocolate Covered Fresh Cream Truffles
Internet Kitchen - see additional pages of
recipes and other cookbook information at this page.
New Cookbook Details Culinary Questions
Read more about the Content of Seasoned with Love