Vanilla enhances creamy porridge and is derived from the seductively aromatic vanilla bean. Vanilla beans are actually the cigar-shaped seedpod from a fragrant climbing orchid native to tropical America.
These orchid flowers open once a year and must be hand pollinated since the Melipona bee could never pollinate enough orchids for commercial use. The green seed pod must be hand picked and then boiled. After several months of heating vanilla beans in the sun and wrapping them in blankets at night, they become thin and dark.
The extract is then made by soaking chopped vanilla beans in an alcohol/water solution. It takes about 100 beans to make 1 gallon of extract. If you prefer to use a vanilla bean, place a small piece in the porridge and remove before serving.


Porridge
2 cups fat-free milk
Pinch salt
1 teaspoon butter
½ cup One Minute Cream of Wheat
2 drops vanilla extract

Butter
Granulated sugar or dark brown sugar
Milk or half-and-half
1. In a 3-quart saucepan, heat the milk, salt, butter, Cream of Wheat
and vanilla over medium heat. Stir with a whisk until large bubbles
pop on the surface or for about 4–6 minutes.
2. Serve several large spoonfuls of porridge topped with butter,
sugar and milk or half-and-half.
Variation: Use 1 cup evaporated milk and 1 cup water in place
of the 2 cups fat-free milk.

Makes 2 servings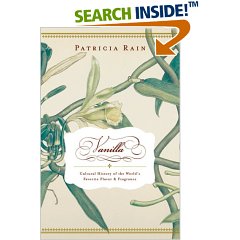 The History of the Exotic Vanilla Orchid

,

March 25, 2009

This week I made vanilla cupcakes with vanilla buttercream icing so vanilla was on my mind. I was happy to find this book about the complete history of vanilla. I've read one other book on vanilla, Vanilla: Travels in Search of the Ice Cream Orchid, and found the subject fascinating. If I was to decide between the books I'd choose this one because Patricia Rain is so passionate about her subject. She did an immense amount of research to write this book and the writing flows effortlessly. The topics are well organized and each section of the book is enlightening.

The first half of the book is as much a history of Mexico as it is about vanilla. There is also quite a bit of history about chocolate. Patricia Rain gives an around-the-world tour of vanilla as she describes how it is grown in various countries. From what I can tell it seems she covers every country where vanilla has ever been grown. To be honest the information became a little overwhelming. I read the book in two days but I'd recommend you take it in smaller doses.

One of the things I really enjoyed while reading this book was the section on all the famous companies like Nielsen-Massey and McCormick and how they got their start in the world. There is also a discussion of favorite perfumes that contain vanilla. The only thing Patricia Rain really doesn't cover is vanilla in beauty products. She briefly mentions the use in soaps. Personally I've tried: The Body Shop Vanilla Spice Soap.

The recipes in this book all look delicious and all contain vanilla. Some you might enjoy include:

Vanilla Granola
Creamy, Dreamy Chocolate Vanilla Truffles
Light Vanilla Caramel Flan
Baked Alaska

What surprised me was how dangerous it is to grow vanilla. We take this flavoring for granted and never consider how many lives have been lost to grow and harvest vanilla. There is a chapter on robbery and the problems farmers experience on a daily basis.

Overall this is an excellent history of vanilla that is written in a way that is enjoyable to read. I loved how well this information was organized and can highly recommend this to you if you have any interest in vanilla at all.

Here are some products I know you will love:

Rieme All Natural French Vanille Vanilla Syrup - 8.46 Fl Oz (250 Ml) - As far as I can tell this is the best vanilla syrup in the world. Give it a try I think you will agree.

Philosophy Vanilla Birthday Cake Lip Shine - You will love this. I was wearing it while I reviewed this book.

12 Madagascar Vanilla Beans

Listerine Antiseptic, Vanilla Mint, 1.0 Liter (1 qt 1.8 fl oz)

Vanilla Extract, Pure (Madagascar) 4fl.oz. - I use this in all my baking.

Bath Petals Chinese Vanilla Jasmine Hydrating Body Butter 6 oz. (170 g)

Herbal Salt Scrub - Vanilla Orange, 16 oz

Anne Willan: From My Chateau Kitchen - This book has a recipe for infusing a pineapple with vanilla using vanilla beans. I made it and it is incredibly delicious.

~The Rebecca Review