Seasoned with Love
Online Cookbook
© Seasoned with Love- A copyright recipe
We would love to have you print this recipe for your own use.
Fruit & Vegetable Juice Books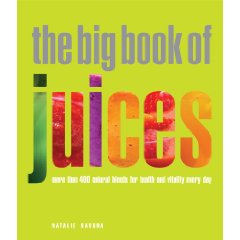 Creative Juicing

,

May 20, 2009

In the past few months I've read quite a few books on juicing. "The Big Book of Juices" is one of the most creative books I've seen so far. The fruit and vegetable blends are especially delicious. Who would have thought that grapefruit would go so well with carrots and celery. I've also never seen anyone blend broccoli with pears. Yet these all seem to work well. I especially enjoyed making the juice with passionfruit, orange juice and seltzer.

While you need a juicer for most of the recipes there are also some recipes for your blender. If you are feeling adventurous you might enjoy making a spicy drink made from chai tea, peaches, vanilla and yogurt. Most of the smoothie recipes use yogurt. The only thing you have to do first is to juice some of the fruit before you add it to the blender with the yogurt. Other fruits like mango and papaya are better just added to the blender as they don't juice as well. Specific instructions are not given on each recipe so you have to read the instructions at the start of the book and at the start of each chapter. Instead of instructions the author just gives a few sentences to inspire you to make the drink. This works well for individuals who have already been juicing for a few months but is not as helpful for someone new to juicing. From my own experience I learned to peel most fruits, especially citrus fruits. You will also want to peel mangoes, pineapple and papaya.

The last section in the book contains some recipes using sparkling mineral water. There are also some recipes for teas made with fresh herbs. There is an interesting tea made with licorice and mint. If you are looking for something to calm you at the end of the day there is a tea made with lemongrass, cardamom, orange zest, chamomile and mint. Unlike the other recipes, instructions are given for most of the recipes in the "Thirst Quenchers" section.

The recipes using lime sorbet are perfect for the summer if you don't mind a little sugar with your fruit drinks. For the most part all the drinks are sweetened with the natural fruit juice combinations. Quite a few of the drinks are flavored with ginger. You can always add a packet of stevia which is a natural sweetener.

This is a book you will use day after day! The pictures of the juices are beautiful and you might be intrigued by all the different shaped glasses the author found to display the juices in. If you have been juicing at least a few months then you will love this book.

~The Rebecca Review
The Juiceman's Power of Juicing
Summer Cooler

,

April 27, 2009

As I type I'm drinking "Summer Cooler" a recipe that consists of orange, lime and peach. It is refreshing and easy to make. If you can't find peaches at certain times of the year you can also just use a can of peaches as I did.

While some books I've read recently get a bit overly ambitious (the use of herbs and hard-to-find ingredients) this book is perfect for anyone who just wants straight fruit and vegetable juices. There is a chapter on ailments but it is not overly complex and just gives information on which juice recipes work best for which ailment.

Some of the ailments include acne, anxiety, colds, digestion problems, flu, headaches, fatigue, insomnia, muscle cramping, sunburn, weakened immune system, arthritis, diabetes, heart disease and osteoporosis.

There is an interesting section on growing your own wheatgrass and a chapter on why fruits and vegetables are so good for you. Since I love using lemons in juice blends I was please to read that lemons are a rich source of bioflavonoids and that they help the body to detoxify.

Some of the recipes include:

Apricot Ambrosia - apricots, grapes and pears
The Key Wester - grapefruit, pineapple, apple and lime
Pacific Prize - carrots, cauliflower and bok choy
Zippy Spring Tonic - pineapple, radishes and dandelion greens

Most of the recipes contain two to five ingredients at the most. Most of the ingredients are available at your local grocery store. I noticed that in almost every recipes there are carrots so your skin and hair will look terrific after drinking these juices.

Jay Kordich says he drinks four glasses of vegetable juice and two glasses of fruit juice per day. This must mean his grocery bill is rather high. While juicing is fun it is also fairly expensive. Don't be surprised if your grocery bill is much higher than it was when you didn't juice. It is worth the price and you will feel much healthier - not to mention you will have fewer doctors' bills in the future.

~The Rebecca Review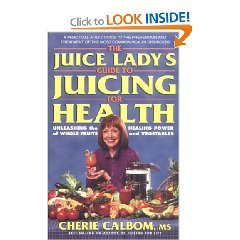 The Juice Lady's Guide to Juicing for Health
Healing Fruit and Vegetable Juices for Specific Disorders

,

April 27, 2009

"The Juice Lady's Guide to Juicing for Health" is designed for anyone suffering from a specific disorder. This book is perfect for anyone suffering from Alzheimer's, allergies, anxiety, cancer, colds, depression, eczema, fibromyalgia, high blood pressure, indigestion, insomnia, migraines, arthritis, stress or ulcers and many more...

Each chapter begins with a brief introduction to the disease or disorder discussed. Diet, Herb, Juice and Nutrient recommendations are then given. For instance in the chapter on Alzheimer's disease it is recommended that you do a live cleanse. The Juice recommendations include:

Tomato Florentine - tomatoes, spinach, basil and lemon
Popeye's Power - apple, spinach, parsley, carrots, celery and beet
Wheatgrass Light - apple, wheatgrass, mint and lemon
Memory Mender - tomato, lettuce, cauliflower and lemon
Sweet Dreams Nightcap - lettuce, parsley, carrots and celery
Antiaging Cocktail

Most of the recipes are repeated throughout the book under each disorder. I didn't count them but it seems like there are only 20-30 recipes in this book. Still some are worth trying and the Antiaging Cocktail was delicious. It is made with grapes, raspberries, lemon and ginger. The only issue I had with the recipe was the quantity of juice it produces. It was only about ½ a cup of juice. None of the recipes have any information on how many servings each will produce. From what I can tell most of the recipes produce one serving.

~The Rebecca Review




Comprehensive

,

April 25, 2009

"The Juicing Bible" seems to have been written for a very specific audience. If you have a well stocked cupboard filled with spices and a garden filled with herbs then this book might be what you are looking for. After looking through the entire book I found one recipe I could actually make without searching in a health store for uncommon ingredients. The recipe I tried was the "Apple Spice Cocktail." This used ingredients I had in my refrigerator and instead of the spices recommended I just used cinnamon. So in a way I created my own recipe based on a good idea.

Some of the ingredients in this book include: lavender, powdered licorice, dandelions, powdered linden flower, borage leaves, acai berries, red raspberry leaves, stinging nettle, kelp, meadowsweet and apricot milk. While I've heard of these ingredients before I have no idea where to get them. The small sources section at the back of the book doesn't really give me any clues as to who carries which herbs. Most of the spices used in this book can however be found at your local grocery store.

This book is divided into 8 main sections which include:

Healthy Body Systems - A brief discussion of the endocrine system, immune system, musculoskeletal system, nervous system and respiratory system. There is a short discussion of hyperthyroidism, hypothyroidism, arthritis, osteoporosis, muscle spasms, anxiety, depression, memory loss, asthma and allergies.

Health Conditions - This is a comprehensive section organized alphabetically. It discusses things like cancer prevention, headaches, indigestion and water retention.
Each illness is discussed and remedies are given. The remedies include healing foods and herbs. Healing drinks are listed at the end of each section.

Healthy Foods - This section lists fruits and vegetables in alphabetical order. Each vegetable and fruit has a section with a description, use and buying and storing information. At the end of each section there is a list of juices you can make using the specific fruit or vegetable. For instance under cucumbers it is listed as a diuretic and is a good source of vitamin A.

Fruit and Vegetable Juices - This is the section that includes the basic fruit and vegetable juice recipes. Here you will find simple fruit and vegetable combinations. Some include:

Orange Star - Star fruits, oranges, cantaloupe and lemon
Pear Fennel - Pears, fennel, apples and powdered licorice
Summer Nectar - Nectarines, apricots, blueberries, peaches and plums
Green Magic - celery, cabbages, spinach, pumpkin and powdered ginkgo

Juices for Healthy Bodies - This section is divided up into:

Heart-Healthy Tonics
Aperitifs and Digestives
Bitters
Endocrine Elixirs
Immunity Boosters
Muscle Powers
Nerve Nourishers
Stress Busters
Tonics
Respiratory Juices
Cleansers
Healing Teas

Roughies and Smoothies - Here you will find recipes for applesauce, Papaya Marinade, Berry Smoothies and Tropical Cocktails.

Specialty Drinks - There are some interesting recipes in this section, for example,

Melon Cocktail
Hot Spiced Apples
Apple-Orange Punch
Lavender Punch
Indian Chai Tea
Coffee Substitutes

Frozen Treats - If you have an ice cream machine then you will love this section. Some of the interesting combinations include Strawberry-Beet Ice, Lemon Ice, Basil-Pear Sherbet, Fruit Pulp Frozen yogurt (a good way to use up fruit pulp after juicing) and Berry Pops.

To complete the book there is a glossary and a helpful index. While this book is interesting it will take a greater deal of effort to find some of the ingredients. You can of course substitute many ingredients and still have good success with the recipes. I'd recommend this to the very adventurous juicer who loves herbs and spices and is willing to plant unique plants in his/her garden. I've been to many health food stores but I've never found some of the ingredients listed in this book. So many of the recipes require advanced planning.

~The Rebecca Review

The Most Creative Recipes Yet!

,

April 23, 2009

"...when you eat a fresh carrot, many of the important nutrients become trapped in the fiber so that you only assimilate approximately 1 percent of the vegetable's available beta-carotene. But when you juice a carrot and remove the fiber, almost 100 percent of the beta-carotene is absorbable." ~ pg. 2

Since you can get a good juicer for around forty dollars, almost everyone can now afford to increase their health with fresh fruit and vegetable juices.

"Ultimate Juicing" is truly one of the most creative books on juicing I've yet to see in my short time looking for juicing books. While I occasionally borrow books from the library to see how good they might be, this is one I bought without reading it first. I'd recommend you buy this book as soon as humanly possible because it will take your juicing to new heights.

The two juices I've tried so far have been spectacular. The recipe called "First Mango on the Moon" (which I'm drinking as I type) is an icy delight. It combines the flavor of mango and pineapple with lime. Then it is blended in a blender with ice and mineral water. This would be perfect to make for summer parties. If you don't want to use the sugar the recipe calls for you can use one packet of stevia instead. I also didn't use an entire lime - more like a quarter of a lime. I love this recipe because mangoes and pineapple are usually sitting out on the counter and they taste better cold.

The second recipe I tried was the Apple and Tangerine juice. Since I wanted more tangerine flavor I used double the tangerines and one less apple. The author says to feel free to experiment, which is easier if you know which fruits and vegetables go together well. You may also want to try:

Like Ginseng in the Rain
The Lime of Your Life
The Age of Asparagus
Peaches in Seattle
Cool Hand Cuke

Another reason I love "Ultimate Juicing" is because it begins with a brief introduction to all the fruits and vegetables you will be using in the recipes. Here you will find out things like how broccoli is a good source of calcium and cabbage is an excellent source of vitamin C. The author didn't mention Braeburn apples but I'd highly recommend them. They juice especially well and are full of flavor unlike some of the other apple varieties I've tried.

The only issue I have with this book is the author's advice to put sugar into the fruit juices. Why ruin a good thing? When making the cranberry juice just add a packet of stevia. You won't be able to tell the difference between sugar and stevia, it is that good.

~The Rebecca Review
My First Experience with Juicing

,

April 16, 2009

Since I had never juiced before I made sure to read all the reviews for various juicers and came away with the impression that the Black & Decker Fruit and Vegetable Juice Extractor was the best choice for the price. The first juicer this company sent me didn't work but they quickly sent me a replacement. All I had to do was cut off the cord and send it in with a note. I was very happy with the customer service I experienced and would buy other products from Black & Decker for just that reason.

As far as juicing goes there are some pros and cons. The food chute is fairly small so you have to cut everything up to fit down the chute. Carrots have to be sliced in half and cucumbers need to be sliced even more. Tomatoes and lemons need to be cut into wedges. The only things I found to be a problem was when I was juicing parsley and little bits of parsley would fall into the juice container. The juice container needs to be set tightly against the juicer otherwise juice leaks all over the counter. The machine also won't run if the removable pulp container isn't firmly in place.

Cleaning this juicer is pretty easy. You need a brush to clean the stainless steel cutter and then you can just disassemble everything and place it all in the dishwasher. Once I took the machine apart I could see that the pulp had backed up into the clear cover. This didn't seem to hamper operations. I did have to empty the pulp container a few times. More juicy items like tomatoes seem to splatter a bit so it is essential that you use the fruit and vegetable feeder to push down the items you are juicing. This covers the food chute and makes the experience less messy.

Do you have the time to juice? This question never entered my mind because I thought juicing was a fairly quick process. Not so! To make the following recipe (including clean up) took me half an hour. This recipe makes four servings and tastes very earthy:

3 small heads romaine lettuce
2 cloves garlic
¾ bunch parsley
4 celery stalks
1 cucumber sliced lengthwise a few times
6 radishes, cut in thirds
2 vine ripened tomatoes, cut into wedges
1 lemon without peel
4 carrots, unpeeled cut in half lengthwise

This recipe makes 4 servings as well:

4 carrots, unpeeled
2 apples, unpeeled
2 oranges, peeled

This recipe was a bit more messy to make and the juicer leaked
a bit. I didn't notice this while juicing, it was noticed later
when I was cleaning up the unit.

My favorite juice so far (1 tall glass or 2 servings):

1/2 lemon, peeled
2 oranges, peeled
1 apple, unpeeled
1 packet Stevia (natural sweetner)

This worked very well and only took 10 minutes to make.

If you have 15 minutes try this gourmet juice
(juice it in this order)-
I made this up and it goes faster if you prep all the
vegetables first and have them ready on a plate. That way
you're not turning the juicer on and off which seems
to waste time:

2 cloves garlic
5 basil leaves
handful parsley
2 tomatoes, cut into wedges
15 chives
2 celery ribs
1 carrot, sliced in half lengthwise
2 radishes, cut in half
1/2 cucumber, peeled and cut in half lengthwise
Stir in - a little hot sauce like Tiger Sauce
to spice things up a bit

Here is a recipe that takes 10 minutes:

2 pears, unpeeled
1 (16 ounce) container raspberries
1 apple, unpeeled
1/2 a lemon, peeled

My husband loved this next recipe so much he
drank it twice in one day:

2 oranges, peeled and sliced
8 strawberries, cut in half
1 apple, unpeeled and cut into wedges
1/4 lemon, peeled and cut into slices

Every day I make a new juice, here is
a delicious one with pineapple:

1 pineapple, cut off peel and cut to fit juicer
1 apple, unpeeled and cut into wedges
8 strawberries, cut in half

This juice extractor should come with a recipe book but it doesn't. That was a little disappointing but it is easy to find cookbooks with juice recipes. Just look for raw foods cookbooks or buy a book specifically for juicing. Here are a few of the more popular books:

The Juicing Bible

Ultimate Juicing: Delicious Recipes for Over 125 of the Best Fruit & Vegetable Juice Combinations- if you buy any book buy this first, it has an amazing recipe for mango and pineapple juice called "First Mango on the Moon." See my review for this book to find out more.

Juice Fasting and Detoxification: Use the Healing Power of Fresh Juice to Feel Young and Look Great : The Fastest Way to Restore Your Health

The Joy Of Juicing Book - Creative Cooking With Your Juicer By Gary Null, Ph.D. & Shelly Null

The Juice Lady's Juicing for High Level Wellness and Vibrant Good Looks

The Juice Lady's Guide to Juicing for Health: Unleashing the Healing Power of Whole Fruits and Vegetables

Juicing for Health

Juiceman's Power of Juicing

So as long as you have plenty of time to juice this juicer will impress you. It is small enough that it doesn't take too much room on the kitchen counter and it assembles and disassembles fairly quickly. I was very pleased with how this juicer worked and can recommend it to you as long as you don't mind spending the time to cut fruits and vegetables into smaller pieces. Once you start juicing you may find it is addictive. In just a few days I was trying out my own recipes and it is really quite a lot of fun to invent new recipes.

~The Rebecca Review

P.S. I've noticed the juices don't keep very well even in
the refrigerator. They tend to separate out and discolor. So
it is best just to make as much as you can drink immediately.

Freeze Your Juices in
these handy pop molds