Sensual Dining for Two

"Cooking and seduction are delicious arts that involve head, hand and heart. Great lovers are inspired by passion, as are great chefs." ~Diane Brown
"The Seduction Cookbook" is probably one of the most exciting cookbooks you will ever buy. Not only does it contain many secrets of seduction you can use on your husband or wife, the recipes are exotic and divinely delicious. Your lover will think you are a cooking god or goddess who has arrived to give them a tantalizing gourmet feast. They will worship you later in appreciation.
Diane Brown has been practicing the art of seduction cooking for years. Her recipes have also been featured in "Bon Appetit," "Gourmet," and "Sunset" magazine. Her introductions to all the chapters contain some of the sultriest sentence you will ever read and her recipes are all very easy to make.
What is Seduction Cooking? - This, you want to know! ;) Some great ideas that don't even involve cooking!
Seduction Staples - Diane shows you how to toast spices, purchase the freshest shellfish and roast peppers. Oh, and the all importantů how to whip cream with vanilla and powdered sugar.
Grow an Erotic Herb Garden - Imagine your garden bursting with fresh herbs, especially rosemary, lavender and basil.
Write a Sexy Invitation to Dine - Romance, romance! I love the ideas especially writing "secret codes" only your lover could crack or delivering items to your lover that he/she has to wear to dinner.
Seductive Starters: Getting Warmed Up - Diane shows you how to create a mood for love and her idea about the tablecloth and rose petals could help you discover the pleasures of finger foods. There are recipes for Artichokes with Warm Vinaigrette, Chile Lime Shrimp, Lover's Purses and the delicious Endive, Orange and Fennel Salad.
The Main Event: Seduction Dinners - Imagine dining on Baked Cod with Shitake Mashed Potatoes and Shitake Sauce or Cornish Game Hens with Orange, Ginger and Soy Sauce. Baked Salmon with Raspberry Cabernet Sauce is one of the most interesting recipes I've tried in this cookbook. Shallots, raspberry preserves and Cabernet Sauvignon make a syrupy sauce to coat the salmon.
Seduction on the Side - Looking for zesty and provocative side dishes? Try the Broccoli in Orange Chile Oil that has a sauce you pour over steamed broccoli. The Green Basmati Rice is actually one of my favorite seduction secrets. I think it is the garlic. This recipe alone proved this book works.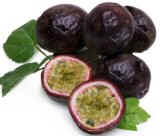 Intercourses: An Aphrodisiac Cookbook
Sweet Seduction: Desserts - If you love marscarpone cheese, the recipe for stuffed strawberries takes this creamy, dreamy cheese to new levels. Poached pears are drenched in a cardamom ginger sauce. Broiled Plums with Lemon Sorbet could not be easier and you have to try the honeydew recipe.
If you are looking for one sexy recipe for honeydew, it is in this cookbook. I made it twice in two days and plan to make it once a week. At first I was skeptical about the combination of rosemary and honeydew melon, but now I'm a believer. The syrupy sauce coating the melon is quite interesting and almost tingles on your tongue. I used vermouth but you can use a sweet white wine of your choice. Honeydew does soak up the syrup rather well, but I also love the syrup with other melons like cantaloupe. Imagine feeding your lover little slices or balls of melon dripping with an intoxicating syrup.
Late Night Seduction Snacks - Orange slices and Strawberries dipped in chocolate syrup or Toasted Cinnamon Raisin Bread with Cream Cheese are two of the ideas.
The Morning After: Breakfasts to Rekindle the Passion - Want to impress your lover with your "omelet" making skills? There are some delicious fillings too. Do Banana Pancakes with Caramelized Walnuts sound worth waking up for and how about serving breakfast with a seduction smoothie made from mangoes, strawberries and lemon yogurt. Diane even shows you how to make your own Chai Tea. There are also some "quickie" breakfast ideas like warm croissants with preserves.
Seduction Scenarios: Menus to Make the Mood - You will find Menus for: Valentine's Day, Romance of Italy, Indian Spice, Late Night Fireside Supper, Bewitching Bedroom Brunch and Decadent Dessert Orgy.
If you want to end up under the table, somewhere near the table or drifting towards the bedroom after dinner, this is your book. You might even want to eat dinner in bed or while reclining on velvet pillows in a room filled with candles.
This is one sexy cookbook! I'm in love with Diane's creative writing and sensual recipes. If you love to cook, this is a cookbook you will soon learn to covet.
~The Rebecca Review