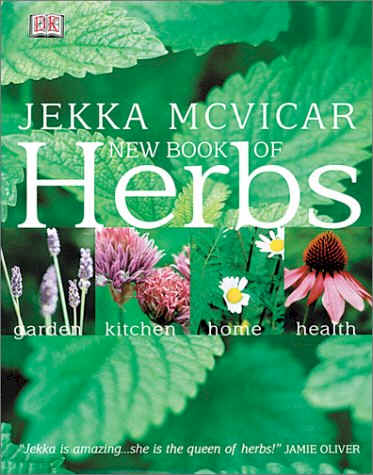 Herbs for the Garden, Kitchen, Home and Health, October 23, 2003
"Once you start growing and using herbs, I defy anyone not to become hooked." ~Jekka McVicar
If you are thinking of growing your own herb garden, I can't think of a more detailed and interesting book on the subject. You will find information about how to attract butterflies to your garden or the reason Queen Victoria requested that jam be made from Chilean guava berries. Have you ever read about a "curry leaf" in a recipe? Well, there is information in this book on how you can grow your own plant, but probably only in a greenhouse. A greenhouse seems essential if you are really serious about gardening.
Jekka McVicar is a popular radio and television personality. She has helped to revitalize the traditional use of herbs and shows how herbs can enhance your home, health and garden. Jamie Oliver calls her the "queen of herbs." Now I understand why he loves cooking with so many herbs.
My favorite section was the "kitchen" section where you can learn how to make everything from "borage ice cubes" to "roasted vegetables with herbs."
Some of the highlights include:
1. An A-Z of the top 100 herbs - Half the book is dedicated to pictures, cultivation techniques, harvesting tips and uses. 'After trying to grow French lavender from seeds (Hardy Lavender has more of a chance), I see the plants are best grown from cuttings taken in the spring. It seems only the "lavandula stoechas French Lavender" will grow from seeds and probably only inside with extra warmth, in "coir/bark/perlite," and covered with perlite (naturally occurring siliceous rock with a neutral pH).
I had never even heard of "perlite" before and this was all very enlightening for me. Coir is the outside layer of husk surrounding the shell of a coconut and bark would just be tree bark, but you need a fine grade bark and not fresh green bark. Finally, I realize why the poor little seeds I planted had no chance of germinating.
2. Organic Gardening - Many of the herbs can be mixed in with your vegetable garden. If you grow beans, you might want to grow "blue borage flowers" alongside as they will attract bees that will pollinate the beans, producing a larger harvest.
3. Lists of plants that will grow best in sand, clay, chalk, loam type soils.
4. Designing an Herb Garden
5. Detailed information on growing herbs from seeds, hardwood cuttings, layering, root cuttings and root division.
6. Using Herbs in Petcare
Ever since discovering a lavender furniture oil, I wondered how I could make my own. In the "Home" section, there are recipes for Natural furniture polish, upholstery shampoo and even herbal window cleaner. You might also want to make up an herbal first-aid kit. If you have ever steamed your face, you will appreciated the added benefit of herbs like lemon verbena or spearmint. There are recipes for mouthwash, shampoo, face packs, nail strengthener, bath tonics, bath bags and a foot bath. Having trouble sleeping? You can make a "hop pillow."
The Top 100 herbs include: Yarrow, Anise hyssop, Lady's mantle, Onions, Chives, Aloe, Lemon verbena, Angelica, Dill, Chervil, Horseradish, Arnica, Silver artemisias, Green-leaf artemisias, Borage, Box, Pot marigold, Incense plant, Caraway, Balm of Gilead, Bachelor's buttons, Gotu kola, Chamomile, Goosefoot, Chicory, Coriander, Sea fennel, Lemon Grass, Cardoon, Foxglove, Wild rocket, Echinacea, Cardamom, Wild rosemary, Joe Pye weed, Queen-of-the-meadow, Fennel, Wild strawberry, Sweet woodruff, Ginkgo, Licorice, Hops, St. John's Wort, Hyssop (gorgeous blue-violet flowers), Elecampane, Woad, Juniper, Bay leaves, Hardy Lavender, Colorful bract lavender, Tender lavender, Lovage, Flax, Luma, Gypsywort, Yellow loosestrife, Purple loosestrife, mallow, mandrake (toxic), White horehound, Lemon balm, Classic Mints, Peppermints, Meu, Wild bergamot, Curry Tree, Myrrh, Myrtle, Catnip, Black cumin, Basil, Eastern basil, Evening primrose, Olive tree, Hardy Oreganos, half-hardy oreganos, Scented pelargoniums, Fruit-scented pelargoniums, Shiso, Vietnamese coriander, Parsley, Pokeroot, Purslane, Primrose, Australian mint bush, Rosemary, French sorrel, Rue, Sage, Aromatic sages, Elder, Salad burnet, Lavender cotton, Soapwort, Savory, Virginia skullcap, Houseleek, Goldenrod, Betony, Comfrey, Mexican marigolds, Siler tanacetums, Green tanacetums, Germanders, Wood sage, Upright thyme, Creeping Thymes, Mounding thymes, Nasturtium, Chilean guava, Valerian, Vervain and Viola.
On each page there are cross-reference "buttons" to give you information on where to find uses for the plants in the home, garden and kitchen.
This beautiful book will also be of interest to writers trying to describe herbs or to cooks who want to know what an entire plant looks like.
A fascinating study of herbs that can also double as a fun-to-read coffee table book. There is a good helping of folklore, history and health information. Now I really want to know what jam made from the "Chilean guava berries" tastes like. I'm intrigued! ;)
The "New Book of Herbs" would make a perfect present for all your gardening friends.
Quite Impressive!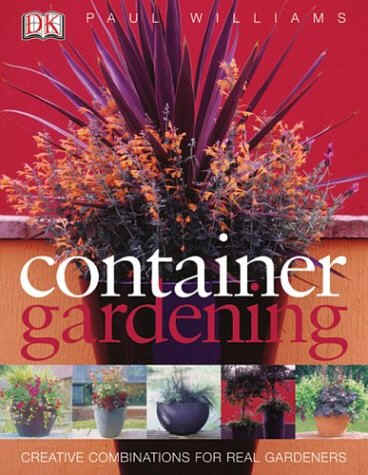 New Flowers for a New Home, July 6, 2004



Reviewer: The Rebecca Review

Although I've read a number of gardening books, I seem to have been having terrible luck with one container garden. Finally, I tossed all the soil and read this book. After realizing the draining system was not in place, not to mention I was using the wrong soil and the root system was in a tangle, I finally was able to create a fuchsia and violet themed flower garden complete with Daddy Blue Petunias, Easter Bonnet Violet Alyssum and pink Bearded tongue. The Columbine flowers are mixed in someplace and I think I have to rescue them from the petunias that are now taking over the planter.

Page 135 shows how to drill holes in the base of the planter, which was very needed. Then, while at the store, I accidentally dropped a clay pot, which was just perfect because you use the broken pot pieces to ensure free passage of water through the potting mix. The Miracle Grow potting mix now also has some water-retaining crystals mentioned on page 151.

By reading this one book you can learn everything you need to know to set up your own container garden in short order.

Features:

- Paul Williams original arrangements with close-up shots of every plant featured.
- An A-Z plant directory
- Detailed sections on how to water, choose pots, move heavy pots and design arrangements.
- Information on "when to repot" plants
- Interesting arrangements with "ingredients, planting details and container details."
- How to Clean Containers
- Choosing the right potting mix
- Interesting "capillary" watering method. Might work
if you travel a lot.

The arrangements all have themes. You might want a low-maintenance pink arrangement filled with Osteospermum jucundum (delicate pink daisy-style flowers) or create a lively arrangement bursting with golden stars (Bidens ferufolia). Many of the arrangements also help to set dreamy moods, like the Purple Haze with the fuzzy lotus hirsutus meandering with blue trailing petunias.

Paul Williams was trained at one of the UK's top horticultural colleges and is a regular contributor to horticultural magazines. His ideas are practical and inspiring.

I was so happy to read this book! Now I can look out of my bedroom window and see a beautiful, long-lasting arrangement inspired by Paul Williams.