= Fresh, Canned and in Cakes

Reviewer: The Rebecca Review

"I fervently hope that soon, Passionfruit will become as ubiquitous as the Kiwi Fruit. As demand rises, production will rise and prices will drop." ~Patrick Jesse Pons-Worley
As a child in Africa, I patiently waited for our granadilla vine to produce exotic flowers. Finally a fruit appeared and seemed to age on the vine as it developed a deep purple dimpled skin. Once ripe, the granadillas/passionfruit were cut in half and the golden fragrant pulp speckled with black seeds could be strained and used in a variety of desserts and drinks.
The problem with falling in love with granadillas/passionfruit is that it is very difficult to find unless you live near a grocery store that is willing to carry the "best tasting fruits on earth." On this, Patrick Jesse Pons-Worley and I agree.
I was quite excited to find his new cookbook. Not only are the recipes just amazing, I am already getting requests to make his "Passionfruit Spice Cake" again! It is RARE to find a cookbook for passionfruit. Trust me, I've looked.
Patrick is also an artist and designed the cover.
The Contents Include:

About Passionfruit - Patrick explains the passionfruit vine, different varieties, the fruit itself and explains how to get rid of the seeds.

Beverages - Everything from a Passionfruit Smoothie to Passionfruit Lime Punch.

Passionfruit Jams, Jellies - Imagine waking up in the morning and spreading Passionfruit jelly on your toast. How exotic!

Passionfruit Syrups and Sauces - There are many uses for passionfruit syrups. They are delicious with meringues and exotic fruit. You can make a Passionfruit Ginger sauce to serve over baked bananas or make a simple Passionfruit-honey syrup.

Gelatins and Puddings - Passionfruit curd can be spread on toast like lemon curd. Passionfruit Custard Filling will really surprise your guests. You can put this filling in cakes.

Frozen Desserts - A variety of sorbet and ice cream recipes including Passion Kiwi Sorbet and Passionfruit Ice Cream.

Cookies, Bars and Candy - Imagine sugar cookies with an exotic twist. The Purple Ribbon Passionfruit Pecan Fudge looks
absolutely decadent.

Quick Breads and Baked Goods- Passionfruit adds a very subtle flavor to baked goods. Try a Passionfruit Roll with a Passionfruit filling.

Cakes- All I can say is: PASSIONFRUIT SPICE CAKE!
Print this section if you want to make the cakes with a delicate spice flavor: For the cake I made, I adapted the recipe and only used 1/4 teaspoon ground cloves, ¼ teaspoon allspice. I also used "all butter" instead of shortening and strained canned passionfruit for the passionfruit juice. Patrick uses quite a bit more spice in his cake. I also ended up making a filling of (2 cans passionfruit, strained and blended with 1 tablespoon cornstarch and ¼ cup Apricot jam.) You heat the mixture for 5 minutes and then spread it between cake layers. I also doubled the icing (plus used more confectioners' sugar) and baked the mixture in three cake pans. That way, I just sliced the cakes in half, spread them with the filling and iced them. Perfect for surprising three friends in the Fall. A wonderful passionfruit spice cake experience.
Everyone I made the cake for, loved it! So, order some passionfruit in cans or order fresh passionfruit and enter the world of exotic cooking.

Pies- Dreaming of summer recipes? Well, Passionfruit-Orange Meringue Pie might become a favorite.

Side Dishes - By the time I got to this chapter, I was feeling a little heady. I've never thought of putting passionfruit in a recipe for chicken. Ok, I'm in love with this book.

Salads and Dressings- Passion Cucumber Salad might become a picnic favorite. The ingredients include balsamic vinegar.

Poultry, Meat and Fish- Imagine making a Passionfruit BBQ Sauce or a Passionfruit Tuna Fish filling.

Growing Your Own Passionfruit - Patrick Jesse Pons-Worley is an expert on growing passionfruit and he gives some great tips about growing your own vines. You might want to look for his book: Passiflora Handbook for American Growers.

Index - Quickly locate all your favorite recipes.
To say the least, I'm quite impressed with this cookbook. The recipes are easy to make and the instructions are
easy to follow. The author is an expert at growing this fruit and has been creating recipes for years. This book is
a true gift to the world!
Passionfruit & Exotic Produce
This fruit reminds me of my childhood. I miss watching the passionfruit ripen on the vine.
To find passionfruit, you almost have to order it online. Which is what I've ended up doing. You can find it in cans that are distributed by Protea Imports online or you can order them from Melissa's.
You might also love the deluxe exotic fruit basket that may contain any of the following:

Asian Pears, Baby, Red or Manzano Bananas, Baby Pineapples, Blood Oranges, Cherimoyas, Coconuts, Feijoas, Kiwano Melons, Kiwis, Kumquats, Lychees, Mangos, Passionfruit, Persimmons, Pomegranates, Sapotes, Star fruits, Strawberry Papayas, or Tamarillos.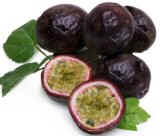 Papaya is divine with muscovado sugar and freshly squeezed lemon juice. Just let it get syrupy overnight in the refrigerator. Kumquats are like tiny sweet/sour oranges that you just eat whole or slice up for decorations. It is a "make a face" experience, but what a divine one. We used to pick the off the trees on the way home from school in Africa. Same with the Pomegranates growing on bushes near our home. What a life. I've started making "semi-preserved" star fruits. I make them and eat them in a few days. They are also perfect for drinks. Lychees are so delicious. You peel the thin skin off the fruit and reveal a very juicy almost translucent glossy grape like fruit.
They almost remind me of an exotic perfume. Blood oranges were all the rage in gourmet recipes for a few years. I still see they are quite popular.
Fresh Passionfruit is a true luxury. If you can afford it, order more than you think you will need. They really don't have that much "filling/flesh" but the flavor is quite exotic. If you order the cookbooks, they will tell you how to blend the pulp with juice to make
a mixture you can use in recipes.
It would be fun to join this club: Melissa's 6 Month Exotic Fruit Club
If you start shopping for exotic produce, you might enjoy:
The Purple Kiwi Cookbook by Karen Caplan – this cookbook has recipes for lots of exotic produce.
Granadilla is Passionfruit/Passion Fruit, December 10, 2005

As a child in Africa, I patiently waited for our granadilla vine to produce exotic flowers. Finally a fruit appeared and seemed to age on the vine as it developed a deep purple dimpled skin. Once ripe, the granadillas-or passion fruit-were cut in half and the golden fragrant pulp speckled with black seeds could be strained and used in a variety of desserts and drinks. Here is a favorite recipe using this product.

2 (115-gram) cans sweetened granadilla pulp
1 cup freshly squeezed orange juice
2 tablespoons freshly squeezed lemon juice
1/4 cup orange blossom or clover honey
2 cups cold water
Lemon slices
Fresh mint sprigs

1. Into a medium bowl, press the granadilla pulp through a sieve with the back of a dessert spoon. Scrape the pulp from
the underside of the sieve. Press the pulp from the top until
just the seeds remain, discard the seeds.

2. Pour the granadilla juice into a glass jug. Strain in the orange and lemon juice, then stir in honey and water. Sweeten more to taste if needed. Ice will dilute the juice slightly.

3. Fill 4 tall glasses with ice. Pour juice over ice and serve with a straw, lemon slice and fresh mint sprig.

Makes 4 (8-ounce) servings.

~The Rebecca Review
Lychees & A Recipe
with Passionfruit Juice
New Year's Resolution - Eat More Lychees, December 12, 2005

Lychees are a delicious fruit we used to eat in Africa and the taste is somewhere between a delicate sweet honey and the combined texture of a pineapple and a peach. They are a creamy white fruit with a hard thin shell.

They are definitely enhanced when you empty the liquid into a saucepan and add in passionfruit juice. Once you reduce the liquid, you can then soak the Lychees in the syrup overnight for a delicious passionfruit flavored Lychee fruit treat.

The Lychees can be sliced and used in exotic sauces served over Salmon. Why just the other night there I was wondering what to do with half a can of Lychees and the idea occurred to me. The recipe uses three Lychees and ingredients like mango chutney and Cabernet Sauvignon.

So to make the Salmon with the Chutney Glaze, fry the salmon in butter or prepare any way you like. If you have a salmon rub or fish spice, you can use it to season the salmon before cooking. I put on rice right when I start to cook the salmon.

The glaze can be made in the same pan. Mix together 1 teaspoon mango chutney, ¼ teaspoon orange zest (remove from orange with a zester), the freshly squeezed juice of 1 orange, 2 tablespoons passionfruit juice, 3 sliced Lychees, dash soy sauce, a splash of Cabernet, pinch dried onions (or you could use shallots), 1/8 teaspoon tapioca ground in a mortar and pestle (thickens the sauce), French sea salt, freshly ground Tellicherry peppercorns.

Pour the sauce into the pan all at once. Add a dollop of butter if you want and then just cook until the sauce turns into a beautiful glaze. Pour over your salmon and I think you will be impressed.

~The Rebecca Review