Dynamic Firming & Flexing Three DVD Set
The following reviews are single reviews for each of the DVDs in this set.

There are three DVDs.
Dynamic Firming & Flexing - 3 workouts

Dynamic Cardio - Three workouts plus warm up and cool down segments

Dynamic Toning - Total, Upper Body and Abdominal Toning
Each DVD has a variety of workouts to choose from. I will be adding reviews for Cardio and Toning soon. I recommend the entire set because I have been seeing excellent toning results and feel much more flexible.
Dynamic Firming & Flexing
3 workouts

Single DVD The Method Firming & Flexing

= Relaxing Workout with Real Results (Dynamic Firming & Flexing)

Reviewer: The Rebecca Review

"The Method Dynamic Firming & Flexing" workout is a peaceful escape from your daily challenges. Lakey Evans guides you through three target specific workouts. You can do all the workouts in one day and spend one full hour or you can choose from a Total Body Workout, Upper Body Workout or Lower Body Workout.
Total Body Flexibility (16 minutes) – A head-to-toe conditioning workout that will give your entire body a boost of energy. In this segment, your body will warm nicely and your arms and legs will tingle with all the new blood flow. You will do some side stretches, lots of forward bending.
Upper Body Flexibility (23 minutes) – Helps to tone the muscles of the neck, shoulder girdle and upper back. Dissolves stress and tension. As you continue into this segment, you will feel invigorated. Still, you are moving slowly. There are lots of creative transitions and you stretch and tone more than just your upper body. You get down on the floor and enjoy lots of deep stretching now that your muscles are warmed up. You will need an exercise band here for the floor workout.
Lower Body Flexibility (21 minutes) – Release stress in the lower back, hip, knee and ankle joints. You start with standing and then move into downward dog, cobra and cat pose. Lots of creative stretching for areas you really need to work on. You will also need an exercise band here.
This DVD workout is a combination of Yoga, Pilates and Precision Firming with live percussion and harp. If you are familiar with yoga, you will recognize the sun salutations, plank position, cobra, cat pose. The vinyasa style yoga with postures flowing spontaneously in a smooth sequence makes this an enjoyable and relaxing routine.
If you want to move lymph around in your body, this Firming and Flexing workout should do it. The exercises have a nice full range of motion.
"You have more lymphatic fluid in your body than blood. Lymph bathes every cell, playing an important role in immunity and detoxification. …yoga is great for improving lymphatic circulation." ~pg. 156, The Metabolic Plan by Stephen Cherniske
Portions of this workout reminded me of some of the movements in "The Method All In One Workout." The difference is that all the exercises in this DVD are slow and controlled. If there are any dance movements, they are done while standing in one place. There is no fancy footwork here! Thankfully.
Lakey Evans gives excellent instruction and educates you in many things, like listening to your body to know how far you should go in a stretch. This perhaps one of the best "All-Over-Body Stretches" you will ever experience. I like using this workout in the evenings.
You will need: Yoga Mat, Exercise band (better than a towel)
Results: You will feel taller, stronger and move like a dancer.
Alternate this DVD with any workout or for a total body makeover, use this DVD in combination with the Method Dynamic Toning and Method Dynamic Cardio workouts.
This DVD can be purchased alone or as part of the Dynamic Body Makeover Set of three DVDs.
Dynamic Cardio
Three workouts plus warm up and cool down segments
I personally can't handle the fancy footwork in this aerobics workout, but I know many women can and love this type of workout. It is a combination of basic dance and aerobics moves. If you are used to hearing the words: "Wrap, Lunge, Slide, V-step, March, "from the top," and "grapevine" ... this might be a workout for you. I'd say it reminds me of some of the older Karen Voight videos and while I couldn't always do all the steps, the music was very motivational and if you have enjoyed aerobics in the past, you might like this DVD. There are three workouts, plus a warm up and cool down session. For optimal results, you can mix and match this workout with other Method Toning workouts. I really love Dynamic Toning and Dynamic Firming & Flexing. If this is not your style, you might prefer the Walk Away the Pounds Workouts.
This DVD can be purchased alone or as part of the Dynamic Body Makeover Set of three DVDs.

Dynamic Toning
Total, Upper Body and Abdominal Toning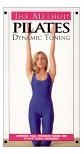 = Advanced Toning

Reviewer: The Rebecca Review

This is definitely one of the most advanced Pilates, yoga and "precision firming" type workouts I've yet to try. In fact, I doubt I could have done this workout six months ago. If you have been using some of The Method workouts or even have been trying any Pilates or yoga based workouts, this will still be a challenge. I'd start with Walk Away the Pounds and Winsor Pilates, then move on to some MTV Yoga DVDs and then try this workout after about six months of trying anything with Pilates or yoga that is less intense.
I say this because even after working out for years, this was pretty intense! There are balance moves which take muscle strength I didn't think I had. I even noticed one of the other "I assume" instructors got a bit shaky once.
The instructor is brilliant in the way she makes sure you know exactly what you are about to do at every "moment." For beginners, this would be way too fast. If you are intermediate or advanced, this will be a nice challenge. You have to first train your body to respond in seconds to this type of instruction. Marion Gotto is a master teacher and she will "work your entire body" big time! She is relentless and I loved it.
There are three precision toning workouts. Each is made up of the wonderful techniques and combination of movements that make The Method Workouts so classic. You will get to choose from three workouts or just start at the beginning and move through all of the workouts in 60 minutes. Need more of a challenge? Do a Walk Away the Pounds Two Mile Walk before starting this DVD.
So what are the three workouts?
Total Toning – You will be working out all your major muscle groups. You could use just this one section after walking on your treadmill. You start with head rolls, shoulder shrugs, forward bends and your arms get a nice full range of motion. This is a dancer-type routine. You will learn to balance, your feet will get an excellent workout and you will notice lots of Pilates-type moves like the roll-up, teaser. Then you move to some yoga moves while flat on your back and a cat stretch or two.
Upper Body Toning – The way you move on the floor feels like you are in a slow, beautiful dance with weights. The disciplined instruction is inspirational. You start standing, just lifting the weights and then you get more creative, you start using balancing moves while holding the weights. I loved the creative "mermaid" moves and also the incredible no-nonsense upper body workout. You will be making use of gravity in a big way. You never feel that you are doing a boring set of repetitions with weights. You feel like a dancer. Nice and creative.
Abdominal Toning – At this point, you are very happy to be flat on you back again. This segment will test your endurance, muscle control and balance. You can really feel all these exercises working. It took more concentration to complete this portion of the routine, but it was well worth it. Remember the teaser, well it takes on a new meaning here. Just wait and see! You will recognize Pilates moves like "saw, side kicks, single leg circles, leg lifts, pull-ups." Can I say this reminded me of the phrase: "no mercy." Ok, but if you are looking for a challenge, this is IT.
Use this workout when you have so much energy you can't wait to find a challenging workout. Then, when you make it through this workout, you will know you have reached a place where you can really feel proud of yourself.
Intermediate to Advanced! Worth Your Time. You might want to take a day off after this routine. You will deserve it! This DVD can be purchased alone or as part of the Dynamic Body Makeover Set of three DVD.