The Classic Lavandula Officinalis Fragrance June 20, 2002


To fully experience the essence of lavender, you must visit a lavender farm. The purple fields swaying in the breeze and the heady aroma of sun kissed flowers will soon intoxicate you. We often visit a farm on Whidbey Island in Washington State to experience walking through a lavender field.

During Medieval times lavender was thought to be an aphrodisiac. It is a universal oil that has traditionally been known to balance the body and has many uses. In ancient times, there are accounts of the use of lavender to scent the bath or laundry. Lavender essence is an efficient antiseptic and is used to treat burns and wounds. You can retain the intoxicating scent of lavender in sachets and pillows. In Elizabethan times, lavender oil was rubbed into oak furniture to give it a high gloss.

Provence Lavender has the sweetest fragrance, but English lavender has the sweetest taste. The whole experience of grinding lavender into sugar with a mortar and pestle is seductively primal. The scent of the lavender is almost intoxicating. It gets even better when the cookies are baking. Making lavender cookies is quite romantic.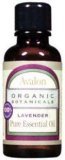 Avalon Organic Botanicals Essential Oil,...
So, back to the oil...
Taking sleeping pills normally makes you feel drowsy the next day. British researchers found that insomniacs who sniffed lavender oil at bedtime fell asleep just as fast as those who took a heavy sedative.
The scent of lavender is known to increase the brain's alpha waves, which are associated with relaxation. Lavender is analgesic, anti-coagulant, anti-depressant, anti-fungal, antihistamine, anti-infectious, anti-inflammatory, antiseptic, regenerative and sedative.

Other uses for this oil include:
Healing your skin- bruises and burns especially
Sunburn
Blemishes - 1 drop applied directly
Soothing Bath - 6 drops dispersed into warm tub water
Insect bites
Asthma
Reduction in back pain
Apply to arthritis pain
Scenting your laundry
Room Diffusing - 6 drops to refresh and purify a room
Herbal Pillow - 3 drops placed on a cotton ball and put into your pillow for sweet dreams
Keeping cats away from areas of your house
Refreshing Potpourri
Mix into creams - 2 drops to 3 ml facial cream
Soap Making
Soothes Sore Muscles
Treats Mild Anxiety
Mix into furniture oil or look for Sweetwater Lavender Herbal Furniture Oil
that is so heavenly.
Lavender just promotes a feeling of love, peace and general well-being. This product is made with 100% CCOF Certified Organic Lavender Essential Oil (lavandula officinalis). Lavandula Officinalis is also known as the English garden herb that is highly regarded for its classic fragrance in soap and potpourris. This oil was known for protecting clothes and stored linens from moths.
This English garden herb is highly regarded for its classic fragrance in soap, and potpourris, but lavender is also an important medicinal herb.
Favorite Lavender Painting:
Lavender Field at Monclos by Timothy Easton
Favorite Lavender & Herb Books:
The Herbfarm Cookbook by Jerry Traunfeld - has a great lavender cookie recipe
100 Flowers and How they Got Their Names by Diana Wells
The Lavender Garden: Beautiful Varieties to Grow and Gather by Robert Kourik
The New Encyclopedia of Herbs & Their Uses by Deni Bown, pg. 252-257
Reference Guide for Essential Oils by Connie and Alan Higley
Safe Herbs by Chris D. Meletis
Of all the Lavender oils I have found, I am more in love with the Avalon Organics Classic Lavender Fragrance. Also look for Avalon Organic Botanicals Therapeutic Lavender Hand & Body Lotion to keep by your bedside.
Sweet Dreams :)
Aroma Vera Pearl Aromatic Pottery
Secrets, January 28, 2006

When you see the picture of this adorable porous clay jar it almost doesn't do the "cuteness" justice. The jar is tiny and absolutely cute. Just remove the cork and pour in essential oils like rose or lavender. Perfect for stashing away in a closet or for keeping in a desk drawer. I have mine as a "message in a bottle" so when I take out the cork and look down inside the bottle, I see a secret message.

You could put this in a candle display with sand and shells or keep it in a pocket. The creamy glaze also has a swirl of rainbow glaze that makes this look like it is a pearl from the sea or half pearl, half freshwater pearl. Either way, it is one of the cutest little essential oil jars around. I love filling this jar with Sunshine Spa Rose Perfume Oil. It lifts my mood and makes me think I'm in a rose garden. The essential oil absorbs into the clay and then slowly releases, making expensive essential oils last much longer.

This item would make a perfect gift or stocking
stuffer present for Christmas.

~The Rebecca Review
Clay Mask with Essential Oils, April 10, 2007

This delicate mask is made very simply with clay and essential oils. This nature-derived formula deep cleanses and purifies the skin. Essential oils of lemon, lavender, pine, rosemary (antiseptic), myrtle (anti-bacterial/anti-inflammatory), marjoram, orange, tangerine, sweet lime are blended with clay, grapefruit extract and birch. Lime oil can brighten the skin by removing dead skin cells and lavender is known for being anti-inflammatory, antiseptic and regenerative. Birch is anti-inflammatory but should be avoided during pregnancy. With antiseptic citrus oils and numerous anti-inflammatory essential oils, this becomes a very calming, healing mask you can use a few times a week to purify the skin. The texture is similar to honey blended with clay and this is a mildly scented product.

~The Rebecca Review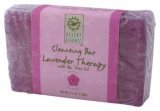 Lavender Therapy Cleansing Bar

Essential Oil Blends to Love

Since some essential oils are more expensive than others, it is always
wonderful to find blends of oils that are less expensive but provide the oils you want to use...


Aroma Land Essential Oils are Very Affordable and they also
have wonderful kits so you can try out a wide variety of oils.


Jojoba Based Oils, June 27, 2005

Reviewer: TheRebeccaReview.com

If you are allergic to almond oil, then you will appreciate the Aroma Land essential oils that are blended with Jojoba oil. This Body Fragrance Sampler is made from 2 -10% essential oils blended with 90% Jojoba oil so you can use them immediately without having to blend them. You may enjoy adding these oils into your skin creams or you can use them as single essential oil experiences.

This kit contains:

Chamomile - This is the Roman one that was used by ancient Romans to give them a clear mind. My essential oil book talks about mothers using chamomile to calm crying babies and it is definitely a calming essential oil. Blends well with Lavender and Rose.

Jasmine - Women have treasured this oil for centuries. The Jasmine flower symbolizes happiness, love and hope. Once you inhale this scent, you will want to buy Jasmine tea. This fragrance can help you increase your intuitive powers.

Neroli - Folklore tells the story of the Princess of Nerola, Italy. She loved this fragrance. Brides were known to use orange blossoms in their bouquets.

Rose - The rose oil in this collection has a spicy scent that mellows into a comforting rose garden fragrance you would find in a garden on a sunny afternoon. Perfect as a base when blending your own fragrances. Start with rose and then experiment by adding other oils. It is quite enjoyable to create your own perfumes.

Tuberose - A white tropical flower. This might be nice to blend into a bath or massage oil. I liked it mixed with the rose oil. Add a little Jasmine and you will have a very exotic perfume for a summer evening.

Ylang Ylang - Only add this to your blends if you want to feel very relaxed, totally
in love and maybe even a little giggly. Traditionally used for strong shiny hair, so you could add this to a conditioning treatment.

This was the first time I bought so many oils all at once and the Aroma Land oils are fun to try because you can buy a lot of oils for a very affordable price.

Also look for other Samplers: Romance, Energizing, Day to Night, Respiration, Classic Blends, Sports & Fitness, La Femme, Personal Spa, Home and Travel, Goddess, Made for Men and Sensual Sampler.

Through these sampler packets you can try essential oils like Lavender, Sandalwood, Patchouli, Rosewood, Vetiver, Tea Tree, Peppermint, Spearmint, Orange, Lemongrass, Nutmeg, Grapefruit, Juniper Berry, Cedarwood, Bay Laurel, Lemon, Clary Sage, Ginger, Cinnamon, Bay Laurel, Hyssop and Basil.

~The Rebecca Review

P.S. Look for books by Connie Higley if you are blending your own oils. She has delicious ideas and healing advice.

Aura Cacia Candle Lamp/Oil Burner
Safer if you have Cats

,

December 9, 2008

My little cat Meesa is notorious for sniffing at candles while they are burning. Since this was a big worry I decided to buy something where the candle was partially enclosed. This beautiful oil burner was a good solution and is a much safer option if you have cats.

The top of the oil burner can be filled with water and your favorite essential oils. My current favorite is The Body Shop Gingerbread Home Fragrance Oil but I also enjoy using Aura Cacia - Essential Solutions, Love Potion .5 Oz and Aura Cacia Fir Needle, Balsam Essential Oil Canada .5 oz.

If you are looking for something that will disperse your essential oils all throughout your home then this oil burner is an excellent choice. I can also highly recommend the following candles: Dozen Soy Tealight Candles. They are soy candles and last longer than other regular tea lights and come in a variety of scents that you can mix and match with your essential oils.

~The Rebecca Review
Buttery Gingerbread Scent for the Holiday Season

,

December 9, 2008

I finally learned how to use essential oils in an oil burner. At first I wasn't adding any water because no instructions came with the oils I had or with the oil burner. By adding water the scent seemed to disperse more evenly into the air (instead of smoking) and my entire apartment was then scented with essential oils. Once I learned this new trick I wanted to buy more fragrance oils. I'm currently using a Aura Cacia Candle Lamp - High Fire Kiln Dark Blue/Rust 1 ct as an oil burner.

The Body Shop Gingerbread Home Fragrance oil is perfect for the holiday season and has a rich buttery ginger and honey fragrance. There are hints of cinnamon but it is not overwhelming. I like using the oil with the following candles:Dozen Soy Tealight Candles Gingerbread Goodies. You may also enjoy lighting your candles with a Bic Luminere Candle Lighter.

~The Rebecca Review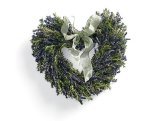 Essential Oil Dreams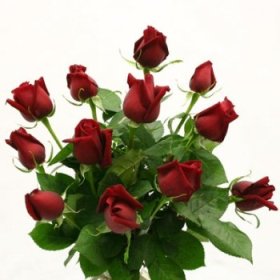 Comforting Woodsy Warm Rose Oil, March 13, 2006

"Highest of all the oils (Spiritual); approximately 320 MHz. It enhances the frequency of every cell, bringing balance and harmony to the body." ~Connie and Alan Higley

Many rose oils are reminiscent of a rose garden. This rose oil reminds me of a wild rose bush you would find in a cedar forest. There is a hint of comforting cedar wood with varied elements of fragrance not unlike a fine perfume. Spicy notes mingle with sweet rose perfection while delicate high points capture your attention. Of all the rose oils, this one has numerous elements to lift your mood and scent everything from bath products to laundry soaps. The highly concentrated oil will last for a long time. One drop of this in a spray bottle of spring or mineral water and you have a beautifully scented skin refresher. Put a drop on a cloth and toss it in the dryer for rose scented towels. Add to your fabric softener or drop the tiniest amount on a card you are sending to a friend.

The sheer value of this product is astounding when you consider how expensive rose oil can be. The high concentration is superior to all other rose oils I've tried and this is very affordable. In this case, you seem to get more than you paid for. If you are looking to add rose oil to your collection, this is the best one I've found for blending with other oils and making bath products and scenting products I use around the house.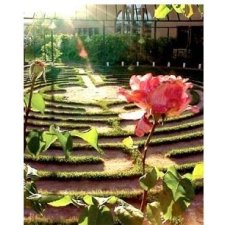 Essential Oils from Green Valley Spa


This oil will bring a poetic beauty to your life and can alleviate times of emotional upheaval. Use for dry skin (add to creams), addictive behavior, anger, despair, depression, grief, nervous anxiety, heart problems, emotional fatigue, irritability and insomnia. Since this is highly concentrated, you may want to blend it with jojoba oil first before mixing into beauty products.

Caswell-Massey also sells a divine Egyptian Musk, Ylang Ylang and Lilac oil. Very affordable oils and unlike other brands were you have to almost pour the oils in the tub, a few drops will do. Highly Recommended.

~The Rebecca Review

P.S. The Aroma Vera Pearl Aromatic Pottery Diffuser with a cork lid is perfect with this product.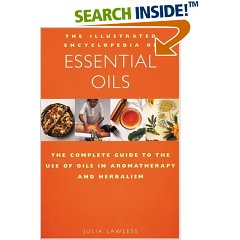 Aromatherapy Essentials

,

June 14, 2008

For quite some time I've been fascinated by essential oils. While they can at times be quite expensive to collect a few high-quality essential oils can go a long way.

This book is divided up into three main sections. In the first section there is a brief history of essential oils and an interesting picture to show steam distillation. There is information on why lavender and neroli stimulate new cell growth and how rosemary encourages healthy hair growth.

The second section is very helpful with ideas on which essential oils to use for a wide variety of common complaints. While it is interesting to note that cardamom and black pepper are good for heartburn, a recipe would be useful. If you want a recipe I can recommend the one for a chai tea in Savoring the Spice Coast of India: Fresh Flavors from Kerala. I made it tonight using soymilk and a rooibos teabag.

Part three in this fascinating book includes information on 165 essential oils. While I've read many books on essential oils there were numerous oils I'd never heard of before. In this section there are a few oils you want to avoid like wormwood that can cause brain damage. You may recognize bergamot if you have ever made Earl Grey tea. Could lemonade be part of a cure for arthritis? This book gives all sorts of new information and also has a helpful glossary.

While this book is comprehensive I think it would have been better to organize the essential oils according to their common name instead of their Latin name. Fortunately there is a good index so you can find your favorite essential oils fast. In the index you can find the common name (frankincense) as well as the Latin or botanical term (Boswellia Carteri).

If you are looking for any additional information I can also recommend anything by Connie Higley: Reference Guide for Essential Oils Tenth Edition, October 2006. I have the 1999 edition but have been considering the new edition to add to my collection.

~The Rebecca Review, currently wearing Aura Cacia Love Potion Essential Oil .5 oz. I love all the Aura Cacia essential oils.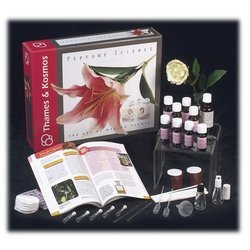 Perfume Science: The Art of Making Scents