Growing Lavender is so Fun. The bees love it in the summer and
then the seeds provide food for the birds.
Lavender, Candles, Seed & Flower Links:
Purple Haze Lavender Recipes Lavender Farms
Garden guides for lavender Fragrant Garden
Picnics on a Whim Lavender Oil Review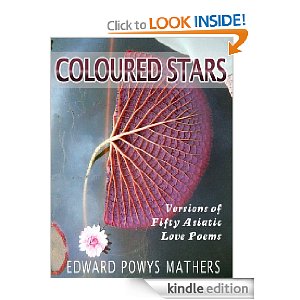 Extremely Beautiful Asian Love Poems
As you read this anthology of Asiatic verse you may find it stunningly beautiful. The translations are perfect and retain the original tenderness with which the poems were written. These are love poems that speak of passionate desires shrouded in mystery. The mentioning of veils and breath scented with rose water and honey makes these poems very exotic. I read a lot of poetry and this book is perhaps one of the top ten most beautiful books I've ever read. I have never read any of these poems in any other collection of world poetry. The author really seems to have collected some rare treasures. If you love romantic poetry you will adore this book.

~The Rebecca Review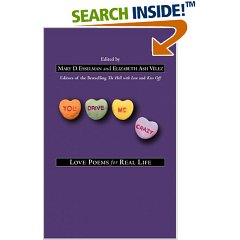 The ebb and flow of love..., February 20, 2007

Love Poems for Real Life seems to have been created for couples in a long-term relationship. The poems are arranged according to how the authors see love's initial passion and then how this ebbs and flows over time.

At first the poems radiate an intimacy that contrasts sharply with a desire for distance later in the book. The lovers express such sweet concepts as in E.E. Cummings "I carry your heart with me."

Later, Dorothy Parker displays her sardonic wit in the last line of a love poem - that feels more like elation and frustration. It seems she is depressed at the time and nothing is bringing her joy, so she writes of the sweetness and then throws in a line or two about how she wishes she had never met her lover who seems to live with sunny skies. After reading about her life, we know there were some storms, but was anyone listening?

I loved Al Zolynas' "The Zen of Housework." It is brilliant in the way it presents visual images for contemplation. Anna Akhmatova's "I Wrung My Hands Under My Dark Veil" is also stunning in beauty and emotional implication. Carolyn Creedon's poem shows great sarcasm and Sylvia Plath takes the cake for misery:

"The moon, too, abases her subjects,
but in the daytime she is ridiculous.
Your dissatisfactions, on the other hand,
Arrive through the mailslot with loving regularity,
White and blank, expansive as carbon monoxide.

No day is safe from news of you,
Walking about in Africa maybe, but thinking of me."

Margaret Atwood's poem "Habitation" seems to define this book as it explores the idea that in love, we are always at the point of "learning to make fire." The passion of the initial poems mellows into a nourishing comfort.

Mary D. Esselman and Elizabeth Ash Velez are careful observers of popular culture and of the daily lives of the seemingly typical love relationship in modern society. In their introductions to each chapter, they explore the ideas of Ecstasy, Stability, Monotony, Uncertainty, Misery and Clarity. Their commentary on the poems makes for interesting reading and makes the book feel more personal and ultimately more emotionally fulfilling. Most of the poems in this collection were new to me, so that was a delicious surprise.

~The Rebecca Review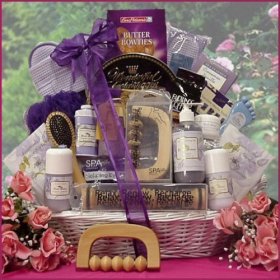 Caswell-Massey English Lavender
Lovely for Travel, October 31, 2006

Caswell-Massey English Soap Leaves are perfect for your purse
or when traveling. Unlike bottles of liquid soap, these never spill
into your purse. Each sheet dissolves quickly in warm water
and scents your hands with a warm lavender scent.

~The Rebecca Review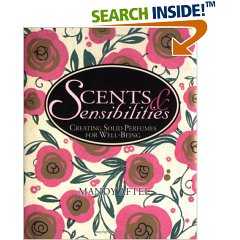 Scents & Sensibilities Creating Perfumes
Lovely Cozy Style with Practical Appeal, July 26, 2006

Review: The Rebecca Review

"Using solid perfumes is a simple activity to incorporate into your life for reduction of stress...over time, just a whiff of your special fragrance can help you to become calmer and more grounded." ~Mandy Aftel

Mandy Aftel's work has been featured in Vanity Fair, Vogue and Allure. She creates unique perfumes for private labels and for individual clients. In this lovely colorful book, she explores how you can make your own solid perfumes and maybe even refill a collectible compact you discovered in an antique store. This book has made me want to go visit more antique stores to look for the little compacts you refill with the liquid perfume mixture. You could also use glass or new metal containers.

A Brief History of Perfume introduces you to the process of extracting the essential oils from plants. Entertaining facts about the Egyptians wearing solid perfumes on their heads makes this very enjoyable.

"As the ancients used perfumes in brooches, rings, pendants, and charms, so can we incorporate the same pleasurable effects of solid perfume in jewelry today."

The chapter on essential oils also explores top notes, absolutes and concretes. Perfume ingredients that are described include: Bitter Orange, Bois de Rose, Ginger, Lime, Pink Grapefruit, Virginia Cedarwood, Clary Sage, Jasmine, Lavender, Nutmeg, Rose, Ylang Ylang, Bezoin, Cocoa, Frankincense, Labdanum, Oakmoss and Vanilla.

Tools, beakers, bamboo skewers...so many things I didn't know to use when making perfumes. You will probably find you have many items in your kitchen.

A Basic Solid Perfume Recipe is the starting point for your own discovery. Detailed instructions with pictures lead to the blissful moment of your own creation.

A soft, warm and sensual blend I made up recently: Ylang Ylang III, Egyptian Musk, Lavender and Patchouli. You can mix your own essential oil blends and then add them to the solid perfume while still a liquid.

~The Rebecca Review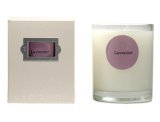 Lavender Field at Monclos by Timothy Easton

In ancient times, there are accounts of the use of lavender to scent the bath or laundry. Lavender essence is an efficient antiseptic and is used to treat burns and wounds. You can retain the intoxicating scent of lavender in sachets and pillows. In Elizabethan times, lavender oil was rubbed into oak furniture to give it a high gloss. If you want a wonderful source for a Lavender /Herbal Furniture oil, please call: 1-800-884-9287. You can also write to: Sweetwater Lavender, Ltd, 58 Jacobs Road, Coupeville, WA 98239. They also have potpourri, honey, tea, soap samplers, creams, perfumes and essential oils. The furniture oil is to die for! I use it on my windowsills and desk, not to mention...kitchen cupboards and just about all my oak furniture.

Experience the essence of lavender. Purple fields swaying in the breeze and the heady aroma of sun kissed flowers. If you visit Whidbey Island you will see a beautiful lavender farm on your right hand side when driving from Deception Pass to the Guest House Cottages. You can purchase handcrafted products or even lavender honey from Provence, France. Visit a lavender festival to see all the lavender varieties. Provence lavender has the sweetest fragrance, but English lavender has
the sweetest taste, so it depends how you want to use it, in cooking or perfumes!

The whole experience of grinding lavender into sugar with a mortar and pestle is seductively primal. The scent of the lavender is almost intoxicating. It gets even better when the cookies are baking. If you love lavender half as much as I do, you will love Jerry Traunfeld's new cookbook. He makes the best lavender cookies. I make the dough simply, grind the lavender into the sugar and then sift it into the butter. I stir it with a wooden spoon and add the flour, roll the dough and bake. It works well. Sometimes cooking is more fun if you use just a wooden spoon and a bowl to make cookies. Making lavender cookies should be more romantic. These are cookies you want to share with someone you love. They can also be packages and given as gifts. I use a round biscuit cutter with a curly edge. It gives the cookies a nice shortbread look. The dough seems suited for a cookie mold which would be very pretty. I found the recipe is also good with chopped pecans pressed into the top of the cookies before baking them. To make a lavender sugar, combine 1 cup sugar with 1 tablespoon dried lavender.
The Herbfarm Cookbook : A Guide to the...
Lavender Cookie Recipe, adapted from: The Great Big Cookie Book : Over 200...Great Big Cookie Book
In a large bowl, cream two sticks of butter with 1/4 cup granulated sugar
until creamy, set aside. In a mortar (see above), grind 2 tablespoons dried
lavender into 1/4 cup sugar until most of the lavender is finely ground.
Sift the sugar into the butter. Stir well. Add 2 cups
unbleached all-purpose flour. Stir to make a soft dough. Roll the dough on a floured
breadboard to 1/4 inch thick. Use a Biscuit cutter to cut out rounds of dough.
Place on baking sheet and bake for 20 minutes or until lightly browned.
When the cookies are cool, they can be dipped halfway into melted
chocolate and left on wax paper to set completely.
These can be wrapped in cellophane bags with a big bow.
You will want to insert some dried lavender into the bow.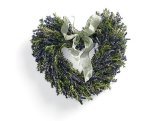 100 Flowers and How They Got Their Names

Lavender is one of the easiest plants to grow. It is advisable to add a handful of lime and bone meal to the soil before planting lavender. The soil should be alkaline and have good drainage.
Ylang Ylang



Dreamy Dreamy Essential Oil, August 15, 2004

Recently I've been interested in trying more than lavender. Essential oils are doors to new experiences and Ylang Ylang is a more sensual oil that can be blended into massage oils and creams.

The tree is native to Indonesia and Malaysia and star-shaped pale yellow flowers with trailing and twisting petals produce a heady aromatic scent that also seems to have a slight lemony edge. The flowers are collected at night in May and June and the essential oil that is distilled is a highly evocative fragrance.

Soft, exciting, sensual and almost invigorating yet makes you sleepy. A highly complex fragrance that leaves you a bit heady and definitely in the mood to relax. This oil is perfect for sensual moments, massage, bubble baths or just to apply to your wrists before bed. I've also been known to sprinkle this around smooth stones placed around candles.

The Complete Book of Essential Oils and...


If you are looking for a rich and healing moisturizer with this scent, try the Burt's Bees Evening Primrose Overnight Crème. It can also be used as a massage cream. I would only recommend this essential oil for use when you don't have to be very aware. It can make you feel a bit "in love" at times and you might find yourself putting the soy milk in the cupboard with the soy butter instead of back in the refrigerator. I'm not kidding.

This stuff is a heady potion. I always put things that go in the refrigerator in the kitchen cupboard when feeling in love. lol I don't know why. But maybe you will find yourself wanting to just climb into bed after inhaling this essential oil.

~TheRebeccaReview.com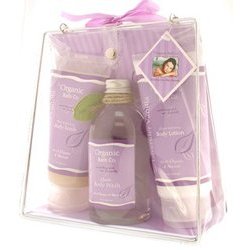 Lavender Vanilla Ready To Glow Kit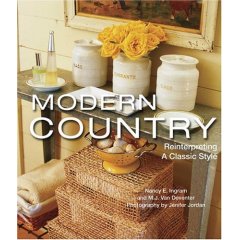 Charming Country Style with Chic Appeal, July 26, 2006

Reviewer: The Rebecca Review

If you are dreaming of the country or want to redecorate your house...or even just find a few new decorating ideas, this book is filled with charming style and chic appeal. Classic and comforting designs warm the pictures as antiques add mystery and a sense of the past.

A granite washbowl is perched atop a antique wooden cabinet, modern lamps blend with wicker chairs, an indoor grass garden adds calm and outside tables find their way into the living room.

The antique, teal-painted cupboards even have sight wear and glass containers filled with breakfast cereals. The ideas in the kitchens are "on display." The teacups are not hidden and country fruit dinnerware highlights the country appeal. Baskets are found throughout whether they are wicker or metal.

The bedrooms have Victorian style with plump down comforters and upholstered chairs for reading. A laundry room doubling as a workout room - now that is something new. This book is filled with unique ideas like chalkboard paint on cupboards so you can leave notes. They even have chalkboard painted mugs.

~The Rebecca Review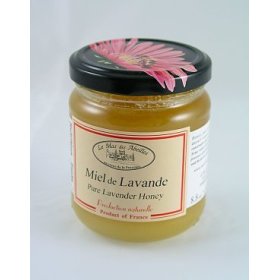 Miel de Lavande Pure Lavender Honey