= Volumptuousness of Italian life

"I thought I was strange to feel this way. Since I've met so many people who read Under the Tuscan Sun, I've found out that lots of people feel this way. It's complicated but feels so very easy. The warmth of the people, the human scale of the towns, the robust food, yes, but I've begun to think, too, that it's the natural connection with art, the natural exposure to beauty on a day-to-day basis." –Frances Mayes
Frances Mayes presents a sensual celebration of Tuscany with hypnotic descriptions of culinary bliss and everyday rituals on long days when she savors the sun. This is creative writing heaven! She is not only a best-selling author, widely published poet and gourmet cook; she is also a travel writer who can describe lands and culture in sensuous and evocative language.
Halfway into the book, I became heady with the desire to just run away to Tuscany. I want to write like her, I want to think like her, I am intoxicated by her creativity.
I first fell in love with creative writing when my teacher in Africa explained metaphors to me. It is no wonder I have just completely fallen in love with Frances Mayes' writing style. I also discovered she is a creative writing professor at San Francisco State University and has directed The Poetry Center and chaired the Department of Creative Writing.
Frances first started visiting Tuscany when she was fresh out of college. In 1985, she rented a farmhouse for the first time and enjoyed going to the local markets to buy suntan lotion and culinary specialties. After this visit, she and Ed rented various farmhouses around Tuscany and finally decided to buy Bramasole.
Frances Mayes gives a vivid and compelling account of how she bought and started restoring this farmhouse in Tuscany. "Under the Tuscan Sun" is really an outgrowth of the diary she kept about her experiences when she first moved to Italy.
Bramasole
She sees homes as metaphors for the self and gives herself to decorating and renovating them with a certain passion. "The houses that are important to us," she writes, "are the ones that allow us to dream in peace."
In sumptuous detail, Frances Mayes describes her home and Italy like a delicate poem as she balances enjoyment of life with responsibility to finishing an extensive renovation. Her writing shows she is most at home in Italy and enjoys immersing herself in words that describe her private escape. She is living the fantasy and sharing every delicious bit of her joy in this fascinating memoir.
I love her observations about life. While they sometimes have little to do with Tuscany, they are enlightening. Through gorgeous descriptions, she says: "Life is beautiful, take deep breathes, enjoy food and pleasure." Through intimate reflection, she considers how life changes so we can go forward in our thinking.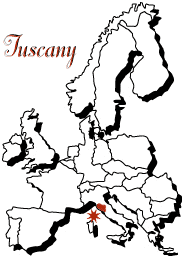 She writes about tours of ancient churches and towns, fig-pollinating wasps, the ancient tile roof, books with blue leather binding, art, festivals, walks through the piazza, gardens and even gives us her precious recipes.
Then she continues to describe lush fruits, vegetables, and flowers, olive groves, orchards, and vineyards violet blue hazes, pelting rain, green landscapes, olive oil, hot waterfalls, olive wood fires, cool walks through chestnut forests, blood oranges, jars of plum jam, mascarpone custard, cherries, bees burrowing in pears, pecorino cheese, fertile earth rich as chocolate cake, wild strawberries, white peaches, fresh herbs and baskets for picking tomatoes.
Thankfully I had some fruit cobbler and pecorino in the refrigerator or I would have gone half mad not being able to taste fruit and cheese after listening to the completely delicious descriptions.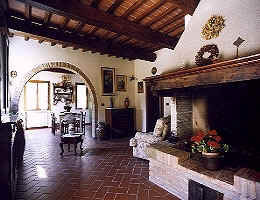 A similar house in Tuscany
She also vividly captures a humorous moment when she has cement poured all over her head and gives a hilarious recounting of her first wall-building endeavor. She paints evocative descriptions of nearby Cortona, thinks about Elizabeth David's recipe for peach marmalade and considers passages from books. Her knowledge of the world is impressive and fascinating.
I'm going to admit that a few times while listening to the unabridged version narrated by Barbara Caruso, the writing was so beautiful I was at times overwhelmed. I believe many of us feel a deep need to live in an almost rural community where people actually care about their neighbors or at least talk to them. Frances is now an honorary citizen of the town.
At the end, she starts to talk about her life growing up in the South and focuses on religion and even makes a few observations about the sensual life and afternoon naps. There are moments throughout the book when she stops to compare her Californian and past Georgian existence with this Italian paradise.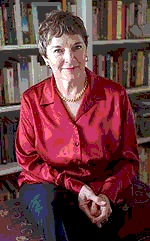 Frances Mayes
While some may say this is domestic sensuality at its best, I think it is love. Love for the land, love of food and love of life. Frances Mayes sees beauty in life and this book will be equally loved by those who also share the desire to find beauty in the simplicity of existence. Many have read this book and have changed their lives. The descriptions of life that moves at a slower pace have the power to make you want to leave America fast and arrive in Tuscany early.
Read or listen and then plan your escape! I've just printed out information about a farmhouse in Tuscany. I shall continue to dream. I'm also going to go make some Biscotti!
A lyrical account of a love affair with Italy you will never forget.
~The Rebecca Review .