Mystical Romance

"The sun was wounded and falling slowly from the sky, victim of an arrow shot by the night. Its blood spilled in red luminescence onto the stark blue of the sky, creating pools of glistening crimson. The clouds raced to stanch the flow, but only succeeded in turning their white loveliness a pale pink. The streaks of their tears formed a rainbow against the sky…"
J. Winter is a master of the metaphor. He makes love to each page with visions that could only come from a keen sense of observation and extended contemplation. Personification also moves to an entirely new magical level and the simile is unabashed in its beauty as it lays open on the page.
There is such intense beauty in the writing style it becomes a perfume that drifts through the pages never letting you escape its pure scent. The rhythm of the words entice you into poetry and spiritual elements so rare, the writing at times becomes art.
The basic plot is one of a tragic love story that lays bare the pain of separation, the loneliness of the human heart, true love and ultimate sacrifice. These elements blend into a unity and here and there a tiny droplet of horror emerges to balance the romance.
The love between a Korean woman (Changmi) and a Native American man (Ainsley) flesh out the story with sensual images painted in lyrical language. The long flowing sentence mingle with warm conversation and all have the undercurrent of emotion needed to connect the feelings of the characters with the readers own deep and perhaps even hidden emotions.
Changmi/Rose is untouched by love until she meets Ainsley. She is working at a cat house while he is an animal trainer working with Tigers, Lions and Jaguars. He has never been scarred by love, but carries a physical scar inflicted by a jaguar. Rose and Ainsley almost seem to stalk around one another, only getting close enough to let their wild natures show for moments in time.
Ainsley is lonely and seeks comfort in the arms of Rose who refuses to become emotionally involved due to the nature of her employment. They never realize that their relationship will turn into a mystical journey into the depths of loneliness and sacrifice.
The story begins with Ainsley saving a girls life after she falls into a Tiger exhibit. He risks his life and is willing to die. He seems to be one with the animals in a spiritual way and is unafraid of dying. This fearless spirit is heroic and yet is his dangerous rebellious spirit that haunts him.
I found the theme of cats and flowers fascinating throughout the novel. The entire story resembles two roses tangled together and growing towards the sun or the warmth of love. Changmi's story weaves around Ainsley's life in such a way as to take hold of him and bring them both beauty and pain. This story unravels at its own pace if you let it flow through you.
T'ongil is completely satisfying, unpredictable, unique and stunningly sexy. This is a story you could read repeatedly just to drown in the decadent descriptions! This novel will leave you purring in anticipation for a second reading experience.
Meow!
~The Rebecca Review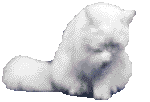 Sometimes he will sit in front of you with eyes so melting,
so caressing and so human, that they almost frighten you,
for it is impossible to believe that a soul is not there.
~Theophile Gautier (1811-1872)