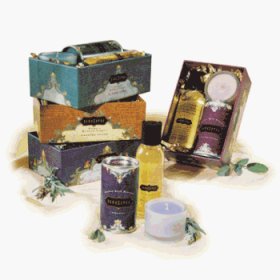 Kama Sutra Therapy Bath Salts and Massage Lotions
Geranium and Orange, September 19, 2006

Water glistening in the candlelight, sinking into solitude with music to set the mood of relaxation or romance. The possibility for a passionate interlude is always present, but these botanical kits also make beautiful gifts for relaxation. The three items you will find in this kit:

Scented Mineral Bath Salts
Fragrant Massage Oil
Aromatic Votive Candle

Each item is scented with the "Soaring Spirit" essential oil blend. The massage oil contains almond oil, grapeseed oil, avocado oil, Vitamin E, sesame oil, peppermint, spearmint, orange, lemon, rose, geranium, ginger and fennel. This oil moisturizes and calms as it soaks easily into the skin to heal body and mind.

The Bath salts do not produce any bubbles, so you can add your own by using a scoop of the blue salts from the Treasures of the Seat Bathing Kit. I think the salts are fine on their own, but once you try the Bathing Kit salts, you might miss the bubbles. The salts also contain oatmeal and aloe to soothe the skin and wheat germ oil for nourishing.

The frosted candleholder comes with a pale blue candle that turns into a liquid pool of turquoise ocean. If you set this candle inside a bowl with sand and shells, you create your own little oceanscape. You can refill the candleholder with regular tealight candles.

The Serenity kit works well to wake you up for an evening out or in the morning when you feel like you need more energy. You may also enjoy the Kama Sutra Massage Therapy Kits.

~The Rebecca Review
Warm and Sensuous, August 29, 2006

Kama Sutra Treasures of the Sea is an intriguing bath salt with a warm sensuous room enveloping fragrance. One scoop of the salts in a tub of water and you transform everyday bathing into bubbles and water the color of the ocean. The color reminded me of the turquoise waters near the Aiya Napa white caves in Cyprus. The texture of the water turns silky and you may notice your skin is more moisturized from the natural oils, especially the Wheat Germ Oil.

While many may see the color as "Azure" there is a definite green vs. purple color mingling in the depths of blue and this does contain Algae. The texture of the salt is more like a sand than a salt and the shimmering finely ground blue salt crystals mingle with what looks like tiny pieces of broken marble. Of course, this all dissolves quickly and the bubbles last through the entire bath. In fact, the more you move around, the more bubbles appear.

The warm scent soothes the soul and the color is dreamy and the bubbles look like clouds floating across an open sky. A shell of salts is all you need and a beautiful shell is included. A natural sponge is in the tin and works well for exfoliating the body.

I had so much fun taking a bath with these salts, that I ran my husband a bath too. These salts seem to inspire sharing.

~The Rebecca Review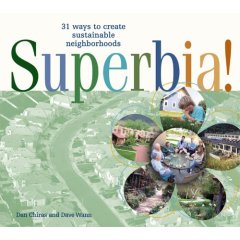 Beautiful Ideas for Reinventing Neighborhoods, July 24, 2006

"Researchers have demonstrated that a feeling of community reduces suburban depression."

The first pictures I observed upon opening this book were of a lovely neighborhood in much need of comfort and the beautiful results after the streets had been lined with trees. Sidewalks had also been created and pathways up to each front porch created a very inviting environment. The trees shaded the walkways and people enjoyed riding their bikes down the streets. The contrast was eye opening and the results very comforting. You can imagine the people living in this area finally feeling like they were home.

The contents include:

The Changing Face of Suburbia
Reinventing Our Neighborhoods for Health, Profit, and Community
Imagining a Sustainable Neighborhood
How to Remodel a Neighborhood
Germination: First Steps
Leafing Out: Bolder Ideas
Your Neighborhood Blossoms: Boldest Steps
Suburban Revitalization I: Can This Dream Become a Reality?
Suburban Revitalization II: Making Bold Dreams Come True
Taking Care in the Neighborhood

This book helps to emphasize the isolation of the typical suburban house and shows how the community design seems to emphasize private space instead of community. This promotes a lack of connection. Could the way we live promote depression and a lack of friendships? Could the way we build communities lessen domestic violence, encourage community interaction and promote a general feeling of well-being?

Like Feng Shui, this book gives ideas for building or restoring neighborhoods to promote happiness and to reduce stress. While some say we are not a product of our environment, it only takes a little research to find out that where there is more hope and a greater sense of community, humans seem to thrive.

"...research reveals that in a closely knit community, levels of serotonin (a natural anti-depressant) are higher, so the neighborhood is collectively more optimistic and energetic." ~pg. 26

The transformations in communities is revealed in pictures that explore the role of nature in our comfort level. Would you rather live behind high brick walls or enjoy a more peaceful and serene landscape of short fences and flowered walkways? In one section, an alleyway between living spaces is transformed into a little piece of heaven.

Some of the features include:

Ten Basic Design Principles for Remodeling Neighborhoods
How to Sponsor Community Dinners
Neighborhood Clubs
Organic Gardens
Replacing asphalt with porous pavers - to reduce heat absorption

As a child, I remember two types of homes. One with a backyard, tightly fenced in, and another with wide-open spaces and easy access to walking through community spaces. I can tell you, I preferred the latter.

This book is filled with wisdom and great advice for city planners and I've seen the idea of producing an edible landscape work efficiently in some areas. As a child we used to pick fruit off trees on the walk home from school. It is a dream that can come true and this book has many ideas that once implemented will improve the lives of everyone in the community. By reading this book, you may also decide to move to a location that values these ideas.

~The Rebecca Review
Currently living in an area without fences and lovely tree-lined walkways
Warm Honey Mango Baths, August 7, 2006

Alba Bath and Shower Gel can be used to create lovely bubbles in the bath. As you add this to the bathtub, a warm tropical scent rises from the water.

Your skin will also love the benefits of the additional ingredients. Chamomile, sage and rosemary are blended with sea kelp extract and jojoba oil. Not only will your skin feel softer when using this in the bath, you may also notice a feeling of happiness because of the tropical mood.

To enhance the experience, add in essential oils, baking soda, some sea salt, a small mesh/cloth bag of oatmeal and some milk powder. This will ensure smooth soft skin.

Now the only thing left to think about is what you
will be reading in the tub...

~The Rebecca Review

P.S. The LUSH Therapy massage bar is beyond amazing and works very well on warm skin after a bath.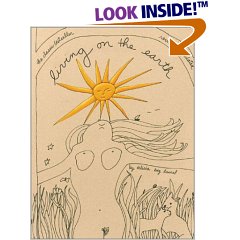 Memories of Childhood and Wood Fires, November 17, 2004

After waking very early this very morning, I started to read Living on the Earth and was halfway through by breakfast. While I had considered a hand-lettered book to be more difficult to read, I could not have been more wrong.

The hand lettering brought a sense of comfort and the contents reminded me of my childhood in Africa. If you lived in a rural area during the 60s and 70s, many of the items in this book will be very familiar. If you love handwritten letters from friends, then this book will quickly find a place in your heart.

So, there I was stirring a 5-grain oatmeal mixture for breakfast and I looked down and caught a glimpse of my painted toes reflecting in the glass oven door. Suddenly I was transported to the years of my childhood where we build our own tree houses, watched carrots grow, milked cows, raised chickens, learned how to sew, experienced tick bite fever and snacked on friendship cake while walking barefoot on the warm earth.

Living on the Earth is an enchanting read filled with lyricism and whimsy. It is written in a spontaneous style and the topics range from soap making to building rocking cradles out of barrels. Alicia Bay Laurel has illustrated the entire book and it is a completely personal experience.

Some of the highlights include backpacking tips, making hammocks with macramé, making your own soaps, sewing peasant blouses, making your own moccasins, and building a kiln for making pottery.

There is also information on how to make candles, bamboo flutes, bean bags, clothing, rose petal jam, organic diet soda, vanilla extract, dried fruits, nut butters, ice cream, sunflower milk, miso, roasted soy beans, smoked fish, bread, beef jerky, sour dough starter, steamed acorns, plum pudding and herbal tinctures.

As I sit here with my lovely cozy heated blanket and fluffy slippers I can dream about living out in the wild as my washing machine swishes about with the Seventh Generation laundry soap I recently found at a health food store. This book has many ideas you can incorporate into your normal home life. You don't have to live in a commune to enjoy the information about essential oils, nature-inspired products or environmental issues. The author recommends things like hemp paper and explores the many uses of apple cider vinegar and pumpkin seeds.

To say the least, I was intrigued. This is definitely a must-read book for everyone interested in natural remedies. There are recipes for making herbal tinctures and you may find yourself looking for "myrrh." If you love to cook you may be intrigued by the recipe for Plum Pudding.

Alicia Bay Laurel is writing a modern sequel for the global family. "Still Living on the Earth" will be published in 2005. This book was updated in 1999 and is filled with useful addresses and websites. I loved the list of "more books that are still valuable 30 years later!" A helpful index completes this fun guide to living on the earth.

So as you sink into your adjustable airbed with your electric blanket, you can dream of simpler times when you shivered in a sleeping bag out in the middle of a forest. Remembering the scent of a wood fire as wild dogs encircled our camp is making me a little misty.

I loved reading this book! While reading you may find yourself becoming nostalgic, enthusiastic about hiking or even making lists to buy a variety of herbs.

~The Rebecca Review
Comfort and Healing, August 1, 2006
The comforting art of head massage is one of the secrets of healthy hair and has been practiced for over 4,000 years. In India, women pass on this tradition to their daughters. Men also incorporate head massage into their routines to help to combat hair loss and to alleviate stress.

Brushing the hair has similar results, but the benefits of Indian head massage extend into the areas of relaxation and nurturing. While brushing the hair helps to distribute natural oils, massage effectively stimulates blood flow to the hair follicles and is also a way to incorporate essential oils for overall health. The use of patchouli oil and olive oil is discussed and a variety of essential oils are suggested for their relaxing properties.

If you have any interest in alleviating headaches or preventing migraines, this program explains the causes of headaches and shows how to massage the shoulders and neck for prevention and healing. This DVD explains why we get headaches and migraines while working on the computer.

I can highly recommend this to new massage therapists and hairdressers who wish to observe the techniques in action. It is easier to learn while watching a demonstration than just reading a book, although I intend to also read books on this subject.

If you can find a hairdresser or massage therapist who has learned how to give a head massage it is well worth trying. When you visit a hairdresser ask for an essential oil hair conditioning treatment. They are likely to use something like Rene Furterer's Complexe 5 which has regenerative properties and is made with lavender and orange oils. You can also buy this for yourself and it makes your hair really shiny and healthy, plus you can imagine yourself walking through an orange orchard.

The Day at the Spa DVDs are very relaxing to watch, with beautiful waterfalls and relaxing scenery interspersed with tips on beauty products (Tea Tree and Apple Mint shampoo) and practical healing advice. If you enjoy making your own beauty products, then this gives ideas for lightening hair with lemon or darkening hair with henna.

I've seen a direct correlation between headaches/migraines and neck and shoulder tension. If you have frequent headaches, ice helps for the short-term discomfort, but for long-term comfort, shoulder and head massage truly helps. I have had great success helping my husband with his headaches when using the techniques in this program.

~The Rebecca Review
Sacred Yoga Practice Vinyasa Flow with Rainbeau Mars
Ocean Waves, July 28, 2006

Rainbeau Mars practices yoga by the ocean and this specific yoga practice is mostly a seated series of exercises with stretching and relaxing as the focus. I will agree that Rainbeau Mars is for serious students of Yoga who have been practicing for a number of years. Her escapes into pure focus demonstrate perfect techniques and she gives key pointers to make sure you are doing the exercises correctly and with a sense of dedication. At times she starts talking about the movements slightly ahead of time, but this is OK because then you are well prepared for the next step. She has a beautiful spirit and never sinks into mediocrity. Each pose is perfected and performed like a work of art. In this DVD, you surrender to gravity as ocean waves crash behind on rocks. There is a balance between the ocean's energy and Rainbeau Mars inner tranquility. As you nourish the body with breath, you gain a sense of calm to face life's chaos.

~The Rebecca Review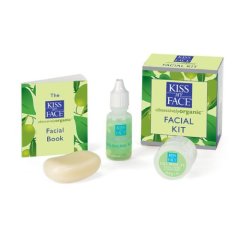 Kiss My Face Obsessively Organic Book
Basic Introduction to Skincare, July 28, 2006

The Kiss My Face Facial Book is an introduction to Kiss My Face Skincare, complete with a tiny book about the company and product information. This doesn't have any "facial" recipes, but is more like a basic cleansing kit. This would be fun to take with you in a travel bag because it takes up so little room.

This kit contains:

Soy Soft Facial Cleansing Bar - a tiny sample soap made from soy, aloe and shea butter. It doesn't dry out your skin and has a rich lather.

Balancing Act Toner - Refreshing and balancing, this toner contains grapefruit, orange, ginger, lemon, seaweed, ester C, Vitamin E and essential oils.

Cell-Mate 15 - Contains lavender, chamomile, Echinacea and grapeseed oil. Designed to enhance skin tone and smooth out fine lines.

If you are interested in the history of the Kiss My Face products, then this little booklet with a box of basic skin care products is worth buying. The entire Kiss My Face Obsessively Organic line is healing and nourishing. If you love natural products with essential oils, then the blends in these products will impress you.

~The Rebecca Review