You have to make the Zucchini Soup in this cookbook!

When you think of "slow cooking" you might imagine a full day of cooking, yet really with slow cooking, you can get out of the kitchen for most of the cooking time. The most delightful thing about slow cooking is that you don't have to worry about burning something on the stove top and you can hardly ruin a meal even if you let it cook way over the suggested cooking times.
Evenings are fun times to use the slow cooker to make a stock. Often in the past, I found the cooker invaluable for making chicken stock while I was happily sleeping. With Lora's new book, I finally learned how to make a delicious vegetable stock. She recommends roasting the vegetables first and this adds more intensity to the stock. You can roast the vegetables, then toss everything into the slow cooker and then head off to bed while the cooker does all the work.
You will find recipes for chicken and vegetable stocks in the pantry chapter. I highly recommend you make these stocks for the recipes. A powdered or base stock does not do the recipes justice. If you are vegetarian, you will enjoy the fact that you can substitute a vegetable stock for the chicken stock in many of the recipes.
One thing I noticed with some of the recipes was the times seemed a bit short. I would take the times that say "2 hours" with a pinch of salt. I doubled those times and the recipe worked much better. I also found you could leave the stock on high heat all night and let it go way over the recommended 6 hours. I left the vegetable stock in the cooker for 10 hours and it was even more flavorful.
Visit Lora Brody's Site
Before you start a recipe, check to see if you have to make another recipe first!
If you need to make a recipe for "Duxelles" before making the stuffed mushrooms, Lora gives you the page number. You don't have to stand in your kitchen staring at the page and wondering where you are going to find duxelles (dook-SEHL). You simply turn to page eleven and see that in fact, you are only making a thick paste used to flavor sauces, soups and other mixtures. It is just mushrooms and shallots and Lora shows you how to make this paste in the slow cooker.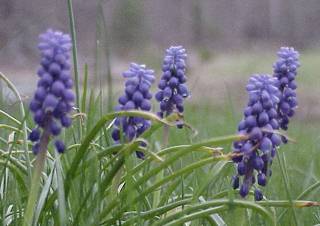 Many of the recipes are gourmet, but that is what makes cooking fun. Lora used to work in a French restaurant and it shows! There is also a definite Italian flair to many of the recipes. In the recipe calling for "cipollinis" you will have to look for the bulbs of the grape hyacinth and they are used in Italian cuisine. You could substitute pearl
onions. I also found it difficult to find baby zucchini where I lived so I just used regular
sized zucchini and cooked the soup a bit longer.
While this book is written for cooking at home, you will feel a bit like a chef when using a hand-held immersion blender to transform vegetables and stock into a satiny smooth soup right in the cooker.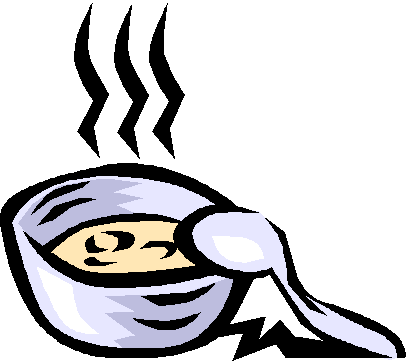 If you have never tasted a homemade soup, you owe it to yourself to pull out that slow cooker. It is very satisfying to make homemade soup and it is so delicious. Most of the recipes in this book say to season to taste. You add the salt and pepper at the end. In a way, I wish she had given a basic measure of the salt and pepper, but if you are trying to cook with less salt, you will like the fact that you can add just enough for your own taste.
Many recipes include a "Variation" or a "Note." If you can't find herbes de Provence, Lora shows you how to make it yourself. Lora also includes fun headnotes so you feel that you know her better. "I wandered into an Indian grocery store in my neighborhood and perused the shelves for an ingredient I hadn't tried before. Tamarind paste caught my eye....." and so this is how the recipe for Tamarind Sweet Potatoes came into existence.
You will especially like the design of this book. It has a beautiful blue cover and the binding will last a long time. The index is well organized, although it is easy to find anything you are looking for just by flipping through the 200 pages. There is not a color picture to be found, yet that does not seem to detract from the book. I like the artsy style of the layout with a light gray border at the top of each page and a slow cooker design element running through the book. You will find recipes for appetizers, soups, vegetables, meat, poultry, fish, pasta, breads, grains and desserts.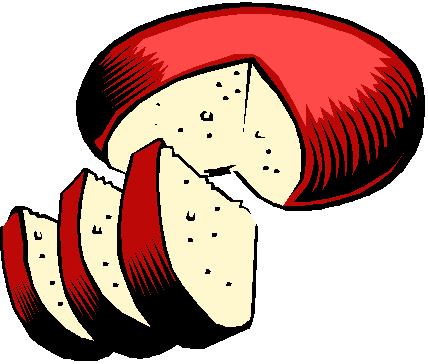 Using smoked Gouda cheese in the Smoky Stuffed Chicken Breasts might give your mother's slow cooker a bit of a shock but it sounds delicious to me! Your slow cooker might just become indispensable! I am really looking forward to making the Vanilla Ice Cream recipe in which you make the base in the slow cooker in order to infuse the cream and sugar with vanilla essence from a vanilla bean.
Tonight I am serving the Cream of Zucchini Soup that is quite good with a sprinkling of paprika and a few toasted pumpkin seeds. I added 1 teaspoon of seasoning salt to the soup. You might prefer more or less salt. I just took a taste and the flavor is just superb. The color is an almost mustard yellow and the texture is smooth and creamy.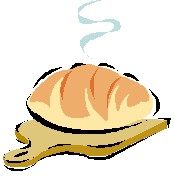 While you are making the soup, you could also make some bread in your bread machine. After all, Lora is famous for her bread baking skills.
Looking for more Vegetarian Recipes?
100 More Things To Do With a Slow Cooker
More Vegetarian Recipes, December 29, 2004

Stephanie Ashcraft and Janet Eyring love to cook and also love teaching. They enjoy sharing their recipes and if you tried the recipes in their first book, this one might become another favorite cookbook. There are recipes for beverages, fondues, dips, soups, stews, vegetarian delights, turkey, chicken, beef, pork and desserts.

So, for everyone who wanted more vegetarian recipes you can now look forward to Zesty Bean Burritos, Corn on the Cob, Thanksgiving Dressing, Veggie Lasagna, Honey Wheat Bread and Cranberry-Orange Bread.

Holiday Recipes:

Christmas Hot Chocolate
Raspberry-Chocolate-Caramel Fondue
Apple Cider Turkey
Sweet-and-Sour Meatballs
Dulce De Leche (South American Caramel)

The authors also give a list of helpful hints. Each recipes has a short list of ingredients and the instructions are so short you may think you are dreaming. They are divided up into sections for the steps, which is perfect. A few have extra tips at the end and some give serving suggestions.

~The Rebecca Review