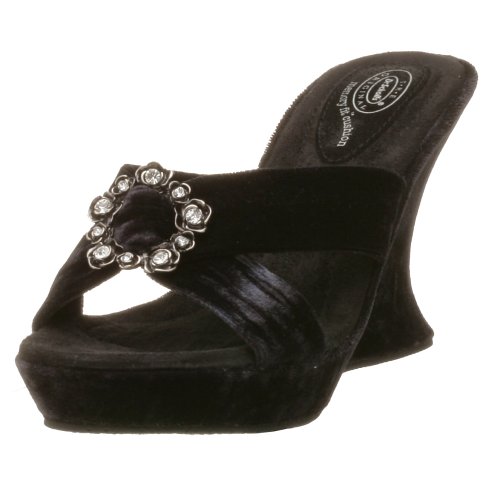 Cute, Sexy and Comfortable - Black Velvet, October 23, 2006

Dynasty shoes are way more impressive once you take them out of the box than they are online. I could not believe how cute and sexy they are and how they make your foot look smaller, slimmer and sexier too.

Once you put these on, you may have trouble taking them off.You could use these as sexy slippers because the black velvet and diamond broach styling is fancy enough to wear with other velvet or silky items.

Holiday parties will also be all the more enjoyable because of the "Memory Fit" Cushion Insole. The memory foam cushioning fits the unique curves of your foot. I rarely find shoes I like, so these were a fun discovery.

Shoes have come a long way since my first pair of Dr. Scholl's sandals...

~The Rebecca Review
Spicy Cinnamon Orange Pumice Scrub, February 20, 2007

LUSH Volcano is made with kaolin, papaya, tomato, bentonite, potato, lemon peel oil, cinnamon oil and perfume. It has the scent of a spicy cinnamon orange cream but has finely ground pumice, which makes it perfect as a scrub.

I promised my husband a little foot pampering so I ordered this along with the Fair Trade Foot Lotion. Together they work miracles and leave your feet feeling refreshed and soothed.

The Volcano "mask" goes on thick and you have to put your feet into plastic bags and sit for 10 or more minutes. Then, it requires you to sit on the edge of the tub to wash it all off for another 5 or so minutes. Then, after you dry your feet off, you can enjoy a massage with the deliciously pepperminty foot lotion rich with almond oil, cocoa butter, spearmint and peppermint oil.

~The Rebecca Review
Paragon Beautiful keepsake tray to preserves memories and cute African animal napkin holders.
Patagonia Clothing for cold weather.
Pictures

Thousands of prints.
Pier 1 imports Unique accents for your home.
Price Scan Save money and hassles.
Price Search Price comparison shopping agent.
Productopia Buying advice and consumer opinions.
Real Size Clothes and in-depth beauty, fashion and lifestyle tips for women
who wear plus sizes.
RECYCLE or DONATE - Print this list for a handy resource:

Eyeglasses and Sunglasses - www.lionsclubs.org
Jewelry - www.indiogrescue.org
Luggage - www.suitcasesforkids.org
Shoes - www.bolderboulder.com/shoesforafrica.cfm
Rain Gear - www.realchangenews.org
Boots - www.wildize.org
Clothing - www.goodwill.org www.salvationarmyusa.org
Career Clothes - www.careercloset.org www.careergear.org
Maternity Clothes - www.cityteam.org/heritagehome/donate.php
Wedding Clothes - www.idofoundation.org/resources/dresses
Coats - www.nycares.org
Red Envelope Gifts.
Reel Clothes Clothing from TV and movie sets.
Renaissance Fair Online Specializing in Medieval and Renaissance merchandise.
Food, crafts, books, Celtic jewelry.
Sears Look for their Timberland, Wolverine, Roebucks and
Diehard products. Great work shoes! See Caterpillar Sheffield boots.
Secondi Chloe, Agnes B, Betsey Johnson, J. Crew
and Gap items marked down 20 - 40 percent.
Shop Now Connecting buyers and sellers worldwide.
Shopping Search for product and find a list of retailers.
Shopping.com Price-comparisons, also
try www.froogle.com, www.bizrate.com and www.pricegrabber.com
Shopping Yahoo

Thousands of stores all in one wallet.
Shop Wise Big savings from your local stores.
Sierra Trading Post Casual and career clothing, shoes, accessories
from Woolrich, Dansko, Ex Officio and Ecco.
Silhouettes Look for their Goddess Lace Bras and cute Pajama sets.
They have a great selection of clothes from 12W-34W.
Smart Bots Lists smart search engines.
Spiegel

Fashionable clothes and fine home furnishings.
Star Wares Clothing from the personal closets of the stars.
Style Click Comparison shopping with a long list of brand-name clothes.
Target Fun items, cheap prices.
Taylor Gifts Micropearl abrasion, video professor computer education materials, hair regrowth.
Techno Scout Look for the shower filter, weight management software, 120 Seconds for life computer software for relaxation.
Ten Thousand Villages Distinctive collections for your home. Items are handcrafted by artisans in 32 countries.
The Country House Fill your home with country charm.
The Snob.Biz Chanel, Ellen Tracy, Giorgio Armani, Jimmy Choo and Pucci.
The Snob Shop Denver Top designer fashions including items from Vera Wang. Discounted items
that cost hundreds instead of thousands.
Thomasville Fine furniture and inviting couches.
Tog Shop Cute clothes and shoes you won't see anywhere else.
TV Inventions See what is being sold on TV, it is now online. Look for a shoe storage solution.
Uncommon Goods Oh I love that Vortex Vase.
Ulla Popken Cute clothes in sizes up to 30.
Village Hat Shop A wide array of headgear with emphasis on straw hats and sun hats.
Vitamins They give free shipping in the U.S.A.
Viva Terra Candle holders made from stones.
White and Black Sophisticated apparel and accessories in white and black.
Wireless The site for everything wireless.
Page 1 of Internet Shopping Trip
A Lovely Place to Find a Beautiful Bra