= Rain-Soaked Romance in the Real World

The rain-soaked scenes in this movie are nothing short of visual intoxication. With the rain comes a feeling of renewal and child-like exuberance
Mira Nair is a director who brings a sense of soul and passion to her movies. As in her movie, Kama Sutra, you become so absolutely entranced, you forget you are watching a movie and imagine you are living within one of the character's minds. While the Kama Sutra movie is intoxicatingly erotic, this movie focuses on contemporary culture and is a window into a world you would otherwise never see unless you traveled to India. Together with the writer, Sabrina Dhawan, she has woven the ancient traditions of a Punjabi wedding with the life and pulse of contemporary India.
It is a more realistic expression of the culture and cares of modern society. The R-rating seems mostly for swearing which is at times comical although mostly unnecessary.
Delhi is a city where tradition collides daily with global culture. Mira Nair focuses on the family relationships taking place at an affluent farm-house on the outskirts of Dehli where women sing and dance in intricate silky saris.
While this is mostly a family comedy/drama, the director occasionally draws your attention back to the street life in India. She celebrates the sensual pleasures of cinema, while also succeeding in taking hold of your heart in the most interesting way. There is a sense of intimacy as she delves into the minds of her characters, revealing their hidden hopes, dreams, anxieties and well-guarded secrets.
What is most fascinating about this movie is the familial relationships. Family arrives from all over the world to attend the wedding. The dialogue shifts effortlessly and between English, Punjabi and Hindi reflecting the real India where speakers often use both English and Hindi in the same sentence.
The story begins four days before the wedding. A lavish garden ceremony has been planned at Aditis's home. Almost immediately, you are drawn into Aditi Verma's (Vasundhara Das) sorrow, her sense of loss during a moment in time where you would imagine she would be opening a new door in her life. Instead we see her ex-boyfriend (Vikram, her boss) closing a door as he walks back into his life.
Aditi's unmarried cousin, Ria (Shefali Chaya), watches her plunge herself recklessly into marriage and warns her that she might not want to divulge all her sexual secrets. Aditi hardly seems concerned that she is leaving India for a life as a housewife in Houston, Texas and that she has never met the man she is about to marry.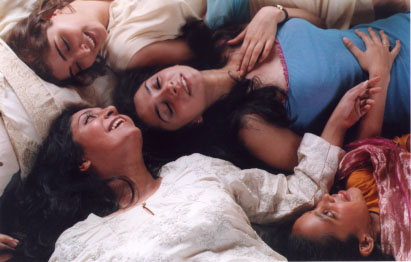 Rita is soon to devulge her own secrets and this highlights some intensely emotional situations where the devastating family betrayal brings out the absolute best in Aditi's father as he has to decided between family loyalty and a strong moral position. Some of the scenes in this movie show such intense love and care, they will take your breath away.
Aditi finally meets Hemant (Parvin Dabas), who seems to long for a pure innocent Indian bride who is a flower waiting only for him to pluck her from this sea of custom and take her back home to America. I would love to see Mira Nair take "Of Marriageable Age" by Sharon Maas and turn it into a movie. Hemant reminded me so much of "Nat" in her novel who was also looking for a sweet innocent Indian bride.
What he finds is a slightly wilting flower, still longing passionately for her ex-boyfriend. Drawn by destiny the couple has submitted to their parents wishes and while they both have known deep love, their commitment to this marriage is highly romantic. There is a beautiful moment where Aditi's fiancé forgives her for not saving herself for him and admits that he too has loved deeply and been hurt before. This moment brings out such respect in Aditi's heart and is a real turning point in the movie.
Aditi's father, Lalit Verma (Naseeruddin Shah) can't afford the ceremony and already the wedding planner has requested an additional fee to waterproof the tent in case of rain. As with any wedding, the wedding planner has to deal with last minute anxieties and the Bride's father is not at all pleased with the marigold archway which is disintegrating before his eyes as petals fall onto the ground, perhaps symbolic of his daughter's situation. He seeks solice in the arms of his wife Pimmi (Lillete Dubey) and they share some extremely touching moments that show their true love for one another.
P.K Dubey (Vijay Raaz) is responsible for the wedding and seems rather jaded and seems to have a penchant for eating marigolds which actually are a bit spicy. He has planned so many weddings and has yet to find his own true love. Alice (Tilotama Shome), the Verma's maid shows him a small kindness and gets his attention.
I found the Marigolds to be of interest. Marigolds have at different times stood for sacred affection, life, fertility, protection from evil, jealousy, faithfulness, and submission. These flowers make their appearance throughout the movie and seem to be symbolic in many ways. They are considered to be sacred and said to cure the trembling of the heart. This might be why Dubey keeps eating them as he is falling in love with Alice.
Monsoon Wedding will leave you feeling refreshed and longing for a sense of family and tradition in your own life. This is a beautiful expression of culture, creativity and connection with an emphasis on rain, romance and relationships.
= Haunting & Exotic

Monsoon Wedding is one of my favorite movies. The story is contemporary but has a very traditional appeal. It has all the elements of a good story and lots of romance.

The music varies dramatically through the movie. It is really a mosaic of music that mixes beloved love songs from old Hindi films with bawdy celebrations songs. And then there is the haunting "Your Good Name" which I could listen to all day. I also loved "Fuse Box," "Banished" and the tribal beat in "Mehndi/Madhorama Pencha." They must have really known we would like "Fuse Box" as there are three versions or one original and two remixes.

The music is used in the same way the characters in the movie would use the music. They use the music to celebrate, mourn or honor occasions.

You have such contrasts throughout the soundtrack it really does keep this very interesting. "Hold me, I'm falling" is terribly romantic and is piano played in such a delicate way as to inspire dreams.

What a contrast. Then you hear "Aaja Nachle" which throws you into a sort of modern frenzy of sounds and interjection of words and fast phrases.

Definitely a soundtrack to own if you have seen the movie. If not, then this might make you want to see Monsoon Wedding.

~The Rebecca Review
An Umbrella Opera, August 20, 2005

Umbrellas of Cherbourg is quite a few levels beyond a musical due to the operatic elements and fairytale sets. The summery pallet of pastel pinks and blues contributes to the childlike wonder and innocence in this romantic classic.

The wallpaper is magnificent and the sets are decorator dreams. The placement of umbrellas throughout the movie creates a magical element and seems to echo the protection Geneviéve (Catherine Deneuve) craves from her true love and how none of us are truly protected from the rains of true love which can drench us in overwhelming desires.

Geneviéve experiences passion with Guy and after one experience becomes pregnant. Her mother handles the situation fairly well, and instead of delving into moral lessons, Jacques Demy focuses on the exaltation of love and a subtle acceptance of life's challenges. He has also beautifully woven kindness and eventuality into the complex human experience.

Do you have a new box of tissues? The score was written to induce a tearful response. Not only does it succeed, it "excels" in this task. The music is dreamy and comforting all while taking you through a very human experience.

Umbrellas of Cherbourg is filled with sweet dreams, snow, rain, fantasy candy-colored sets and difficult decisions which seem to be made more by circumstance and financial considerations.

Camera techniques are blissfully creative and characters wander from room to room in a natural flow of experience. Singing continues throughout, creating one of the most memorable musical experiences in cinema.

~The Rebecca Review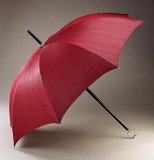 Lippincott Burgundy Silk and Lurex Umbrella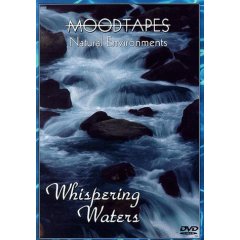 Instantly Calming

, June 5, 2007

Whispering Waters is a series of artistically captured water images designed to soothe the soul and bring instant calm to your day. Shot on location in Yosemite National Park, the scenes are beautifully serene. The natural landscapes are set to an original piano score and the water images range from majestic waterfalls to delicately peaceful streams. As water cascades down sheer walls and one images fades into the next a sense of calm descends on you making this a very relaxing escape when you are in need of solace. Many of the images would only be accessible to the most adventurous hiker so the stunning beauty is eloquently captured as water cascades into hidden pools surrounded by lush vegetation. If you enjoy the Moodtapes, "Serenity" is also a beautiful journey into nature.

~The Rebecca Review