Rich in Spirit, January 28, 2004

When I first saw The Oprah Magazine I thought it seemed to be the same style as Martha Stewart's magazine, just with different content. The size and style is really quite similar. The price? Well The Oprah Magazine is far more affordable. If I had to make the choice between the two magazines, I'd pick Oprah's because it is richer in spirit. It is more about the reader and has more articles to enrich your life.

I compared the October, 2002 issues and this is what I came up with:

They both have calendars. The O calendar is very unique. It is not about a list of "Must do or the world will end" and "Stress." It is a relaxation calendar filled with quotes and ideas on how YOU can relax. This really focused on the reader. In Martha's calendar we find "Martha's" schedule. This was all about "what needs to get done."

What a contrast.

There seems to be an equal amount of advertising, although the advertising in the O magazine is a bit sexier and more focused on beauty.

There is more humor in the Oprah magazine. Who will ever forget Oprah standing waist deep in water next the waterfall completely drenched and completely happy. That is my favorite Oprah picture ever. It shows her soul.

I also like the themes in the O magazine.

The first few pages in the magazine are dedicated to the contributors with full pictures and mini-biographies and information. I also like reading the notes from readers about past articles and features.

Some of the articles included information on:

Telling it like it is by Dr. Phil
(He just says it like it is...I love that! Is there any question this man can't answer?)

Financial Freedom
Turning Points in Lives
Working Spirit

Something to Think About - A card where you can fill out the answers to life changing questions. Inspirational.

Reading Room - Books to entertain and entice. Reviews and suggestions. Then, Books that Made a Difference in a life. All the more reason to have a wish list!

O to Go - Cards for the fridge you attach to peel-and-stick magnets. They are quotes.

Uncommon Sense
Healing
Couples
Use your Life
Tales of Adventure
What I know for Sure

The O List - add a little extravagance to your life. Oprah sure must have fun shopping online. Amazing, I've actually tried the Irish Oatmeal she likes.

Style
Comfort Zone

Beauty - Cute article on why we love lipstick.

Great Food - The focus of this magazine is more on inner beauty than food, but hey, we all need to eat. The recipes are quick to make.

Health - News, challenges, fitness. A nice section on Yoga.
Features - Special interviews and special stress relief section

The last page of each magazine is also very revealing.

Reading Oprah's magazine is like taking a mini-vacation and I feel refreshed and ready to get on with life in a more relaxed way.

This magazine has real class and a heaping dose of inspiration in every edition.

~The Rebecca Review

Oprah Books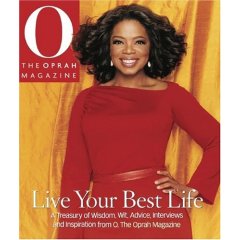 This Page is Dedicated to Oprah
because she is an inspiration to the world
and because she loves books and quotes.
I started reviewing because of an Oprah Show in 2000!

My Reviewing Journey
Thank you Oprah! You opened up my world. :)

To hear Oprah's healing voice, send yourself
a quote: Oprah.com - Look for Audio e-cards