= Magically Colored Patchwork

There are moments when you mind connects two thought so obscure, you wonder how you found them both on the same day. However in this case, the thoughts seemed to meet instantly and the minute I saw this book the words: "Words, like gold" appeared in my mind.
Having fallen in love with writing with gold gel pens, I thought of the melodious, sensuous poetry of Elinor Hoyt Wylie.
Pretty Words
Poets make pets of pretty, docile words:
I love smooth words, like gold-enameled fish
Which circle slowly with a silken swish,
And tender ones, like downy-feathered birds:
Words shy and dappled, deep-eyed deer in herds,
Come to my hand, and playful if I wish,
Or purring softly at a silver disk,
Blue Persian kittens, fed on cream and curds.
I love bright words, words up and singing early;
Words that are luminous in the dark, and sing;
Warm lazy words, white cattle under trees;
I love words opalescent, cool, and pearly,
Like midsummer moths, and honied words like bees,
Gilded and sticky, with a little sting.
~ Elinor Hoyt Wylie (1885-1928)
If you enjoy the simple pleasures of collecting quotes, poetry or your own random thoughts, then this book might just be for you. I love writing in gold on the creamy lined acid-free, archival-quality pages, which take any ink beautifully.
To explain the textured cover:
It is exquisite and is a high-quality representation of tribal embroidery from the Kutch area of Gujarat in India.
This land is so ancient, yet still rich maintains a rich cultural life. The handicrafts represent a love of color and detail. This can be seen in the mirrored Kutch embroidery that consists of cotton and metallic threads interspersed with brilliant metallic or mirror sequins that look like tiny round mirrors.
The needlework of the tribal artistes of Kutch, Gujarat is famous all over the world due to its precision and finesse. The wives of herdsmen, nomads and agriculturists sew in order to bring in a second income.
The background is made from vegetable dyed fabric. A hook is used to create loops with metallic thread and a repetition of this movement leads to a line of chain stitches. Between these stitches, snakes of gold, cerise or pearl sequins enhance the beauty.
This book looks like a cushion cover covered with rustic embroidery. This is not a fabric cover, it is smooth like leather, but has a representation of the needlework which is quite fascinating in itself. The sequins representation on the book sparkle, which can't be seen here in the picture online.
This journal is hand sewn with a classic Coptic stitch. This type of binding originated with the Copts, or Egyptian Christians as early as the 4th century. The stitching used on this book is a type of knot called the chain stitch and it is appreciated by bookmakers and booklovers for its intricate beauty.
There are 128 pages on which to write your precious thoughts. A gold gel pen seems appropriate.
An Exotic Journal to match your love of words, smooth golden words you might write long into the night
the cover sparkling in the glow of a patchouli candle.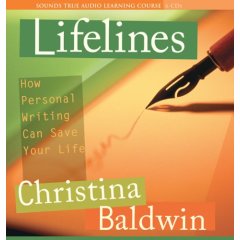 Lifelines by Christina Baldwin
An Inspiring Writing Journey, September 6, 2005


"Only you can discover exactly why it is that you write. I write to leave evidence that I was here, and to make my life journey as fully conscious as I can." ~Christina Baldwin

Christina Baldwin's beautiful voice leads the listener into a writing journey. She tells stories of her own experience with writing a diary and then explores a variety of exciting possibilities. If you are interested in writing a journal, creating a scrapbook or even writing the story of your life, then this is an excellent starting point. Christina Baldwin uncovers the true reasons we write, why we must write and why we love to write. She introduces "Flow Writing," "Collage Journals," and "Day Books." The main topics include:

Why Do We Write?
A Brief History of Writing
The Types of Writing - online, computer, pen and paper
Writing a Lifeline
Writing our way out of Despair
Writing a Love Letter
Creating Goals
Conversations with your Soul
Creating a Writing Sanctuary
Making Time for Writing
Writing about Relationships
How to Create Journals for Gifts
Bringing Art into the Writing Process
Starting a Writing Group

You may find yourself listening to each CD more than once before moving onto the next CD. The topics are inspiring and there are so many ideas for making writing part of your life. If you especially enjoy any part of the CDs, there is a way to quickly find the area on the CD by marking it on the sheet of topics. There is also a card set with topics from each CD. On card eleven:

"Consider making special books that hold the best of what you have to say, and giving them as gifts to loved ones."

The ideas for creating your own private area to write and the nurturing quality of writing struck a deep chord in me. I fell in love with writing all over again. This course will show you how to take your writing from a casual observance to a dedicated practice. You can jump-start the creative process with exercises or even start your first journal.

Listening to this CD set brought me to a new awareness of how writing can be a path to wholeness and why when we write we find beautiful moments of insight. Writing can encourage a new approach to life after changes occur or it can explore various ways to unleash the words that want to flow onto the page line after line.

While working on ideas for a lifeline photo journal (pictures with memories in my handwriting) it truly felt like I was on the right path and Christina Baldwin is right when she says that writing organizes life. You may also enjoy her book: One to One: Self-Understanding through Journal Writing. She is an author, educator, speaker and retreat leader who specializes in the process of personal writing.

I remember the first night when I realized I could write and I wrote for about eight hours straight. Christina Baldwin reminded me of all the reasons I love to write, she is completely in love with writing and her teaching style is more than inspiring.

~The Rebecca Review