OM Mani Padme Hum May 7, 2004

A philosophy of life is a work in progress. ~Miriam E. Cameron

Miriam E. Cameron's work in "Karma and Happiness" is not only a direct result of her journey to Tibet, it is a summary of how to conduct our lives all while knowing we are going to die. This book will interest readers who have an interest in the relationship between the health of individuals and their ethical values. Can spiritual growth lead to emotional and physical healing?

Throughout her life, Miriam has found that no single wisdom tradition meets everyone's needs and that there is a universal desire to be happy. Good choices lead to a happier, healthier life and what goes around, comes around (karma). In this book, Miriam explores Tibet and also takes a journey into the internal world of our own happiness and suffering.

Contents:

The Relationship between Ethics, Spirituality, and Healing
Something Missing - Miriam's journey through Christianity, Judaism and Yoga
Buddhism - The Four Noble Truths, Karma and Ethics, The Sixth Wisdom Tradition
Ethical Problems - What is the right thing to do?
History of Tibet
Mindfulness - Hindu Roots and a Tibetan Refugee Camp
Suffering - Dreams, Pain, Anger, Disappointment, Anxiety, Fear
The Nature of Reality - Interdependence and mutual need
Impermanence - Equanimity and nonattachment
Personal Healing - Mind-Body Interconnectedness and Tibetan Bioethics
Buddha Nature - Nature of the mind and freedom
More Ethical Problems - Questions about Tibet
Compassion - How to Practice Universal Compassion
Healing the World - Diversity and Unity of Values

After reading Miriam's description of enlightenment (She recorded from the teachings of Dorje Rinpoche), I finally understand the concept in full. If you have any interest in Tibet or in Tibetan Buddhism this is an essential book. I have rarely found Buddhism explained quite so succinctly and illustrated quite so creatively. This is a journey into ethics, spirituality and healing with an added dose of humor. Miriam's writing is vivid and her creativity paints vivid recollections of a spiritual journey that becomes a test of physical endurance. Throughout the book I could visualize the journey like a movie.

Miriam's journey to Tibet took her to the limits of her own physical endurance all while taking her to the heights of her own spiritual journey. I loved the conversations she has recorded in detail, the insight gained from her personal experiences in Tibet and how she weaves her philosophy of life into a once-in-a-lifetime journey. She writes with authority and seeks to present a balanced view of Tibet's history. Not only does she explain the current conditions, she writes from the heart and is a seeker of truth.

I liked the concept of being like a beautiful lotus rising out of the mud. If you are looking for a collection of ideas to promote inner peace and settle outer conflicts, you will love this book. After reading this book once, I realized I wanted to read it again because it is a highly interesting story and there are so many concepts I'd love to apply to my own life.

Miriam E. Cameron, PhD, RN, is a faculty member at the University of Minnesota Center for Spirituality and Healing and is also the best-selling author of "Hello, I'm God, and I'm Here to Help You."
A Visual Journey to SAMYE, May 29, 2004


Samye was founded by Tantric master Padmasambhava and Shantarakshita from Indian in the eight century A.D. This monastery is built in the form of a three-dimensional mandala.
"Put in its simplest terms, a mandala is a diagram or pictorial representation of a three-dimensional universe used as an aid for Buddhist meditators."
Mikel Dunham has made many trips to Tibet and became the last student of the late thankgha master, Perma Wangyal of Dolpo. He spent years learning how to paint with mineral pigments and 22 carat gold. He then painted murals for a Tibetan temple in Sarnath, India. He was then given full access to Samye to document treasures that have never been photographed.
After a foreword by his Holiness the Dalai Lama (his actual letter has been photographed - how unique), the book is divided into six sections:
Building the Inconceivable
Approaching the Mandala
Entering the Mandala
Within the Monkhood
Above the Mandala
Precarious Preservation
Even his Holiness the Dalai Lama was not able to visit Samye and explains how he was very close to Samye when he crossed the Tsangpo river nearby in a yak skin coracle during his escape in 1959. After the occupation of Tibet, the building were damaged and irreplaceable books were destroyed.
If you have any interest in Tibetian Buddhism or have an interest in world travel, this book is sure to offer intriguing insight into the "Land of the Snow Lions." Pages 2-33 display mostly art (ancient murals) and then after page 36, the Samye compound is photographed from every conceivable angle, including a view from Mount Hepori.
There are also pictures of monks studying outside beneath the trees, monks and nuns performing daily chores and ceremonies, prayer flags draped across long ropes across the mountains, pilgrims wearing yellow khatags (ceremonial scarves), close-ups of elaborately designed doors, yak butter lamps and gorgeous pictures of the red walls with detailed paintings and patterns.
Mikel gives insight into what has happened to the art and even describes how preservation is at times as basic as filling parts of vandalized paintings with flour paste to prevent further deterioration. There are also pictures of grafitti painted across the Great Stupa Wall and beautiful rooms that have now been turned into junkyards.
If you have read books like "Karma and Happiness" by Miriam E. Cameron, you will enjoy the visual representation of her descriptions of Tibet in this photographic journey.
~The Rebecca Review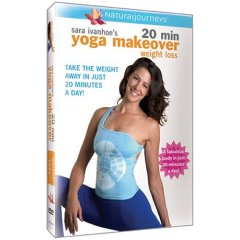 Sara Ivanhoe Yoga Makeover Weight Loss
Spiritually Cleansing Flowing Routine, August 6, 2006

As you move faster through these exercises, you may feel your body heating and your heart beating a little faster. This is definitely a cardiovascular workout with aesthetic appeal. You have a beach in the background with waves gently lapping at the shore. Sara Ivanhoe exercises on the grass and you feel like you are at the beach.

The deliciously challenging twists were the highlight of this practice session. The Vinyasa sections are exciting and challenging and you move from plank to cobra to down dog. Then she ups the challenge with a flowing series that moves into an upward facing dog.

The active postures make this an invigorating and calorie-burning workout that also strengthens the arms and tones the entire body.

The special features on this DVD include a section where you can select to workout without narration and you can view pictures of the postures.

The 20-minute Yoga routines are very healing and especially fun. If you have 20-40 minutes you can get an excellent workout with added emotional benefits. I always feel spiritually cleansed and physically energized after a Sara Ivanhoe routine. I hope she continues to make more DVDs because I love her positive energy. These 20-minute routines are like Yoga Vacations.

~The Rebecca Review
Sara Ivanhoe Yoga Makeover Sculpted Buns & Thighs
Explore, Balance and Celebrate - Intermediate Workout, August 6, 2006

Sara Ivanhoe's routines are a pure joy to follow and this one is perfect in combination with the 20-minute weight loss routine. The first routine warms you up and this one pushes you just that little bit further so you get the best workout possible. She teaches everyone from Hollywood stars to normal people like me who don't want to go to the gym and prefer working out at home.

This creative routine will sculpt buns and thighs and also cleanse your soul. By focusing on breathing, you nurture every cell in your body. If you have been working out for quite a few years, some of the exercises in this routine can help you figure out if you are intermediate or advanced.

While beginners will still enjoy most of the exercises, intermediate students will enjoy knowing if they can do a back bend (you are kneeling and you lean backwards) and touch their ankles or if they are still working on flexibility. I can tell you that for the last few years I've been trying to touch my ankles and tonight I actually did. It is definitely worth working towards and boosts your self-esteem substantially. There was just this sense of joy when I could finally touch both ankles. All those hundreds of hours of practice suddenly seem worth the effort!

Mountain, Chair and Triangle pose are included as is a Temple Pose with three lovely variations. There are also some excellent outer hip stretches in this 20-minute routine.

What I love most about this DVD is the aesthetically pleasing environment and the highly creative exercises. The mood of Sara's workouts encourages my full participation and I find them especially enjoyable. Do two of her workouts and then go take a long bath with sea salts and essential oils. Life becomes art...

~The Rebecca Review, intermediate