After ordering the organics original sampler, I noticed how long the produce lasted and was willing to try the larger box of produce. This is a box of the most popular items and includes all the basics like lettuce, green beans, green onions, mushrooms, carrots, potatoes, parsley, cucumbers, avocado, onions, zucchini, apples, lemons, tomatoes and even a mango. Well, fruit and vegetables are sent when in season. Zucchini or summer squash may arrive. You may see a papaya or a Mango, Kiwi or Satsuma Mandarin. Whatever arrives, it is guaranteed to please. Each item is carefully packaged in paper and even the little tomatoes were in their own box, nicely protected. The mushrooms come in paper so they last longer.

You may notice an increase in your energy and even a more positive mood. Receiving a box of produce is much more exciting than shopping for it at the store. I am not sure why, except that such care goes into packaging this box of organic produce, that the positive energy seems to infuse your home with happiness. Plus, everything tastes better and if you happen to get one of the Satsuma Mandarins, your life will finally be complete. I cannot even explain how delicious they are and the only word to describe them would be "honey sweet."

The sheer perfection of the items you receive will make you wonder why you bought produce anywhere else. I have never seen organic produce that is so beautiful. Even the parsley is pure perfection. Not overly watered like at the grocery store, but as if you went into your garden and snipped off some parsley right before cooking.

The only item I missed in this box that was in the smaller box (Original Organic Sampler) was the Basil with the parsley. This box had more lettuce and larger items, like the potatoes were larger and the tomatoes looked vine ripened as opposed to cherry tomatoes. The onions seem of a very high quality and the bananas were especially sweet and perfectly ripe.

It is difficult to decide between the two boxes because I love them both! Next, I'll try the Gourmet sampler.

~The Rebecca Review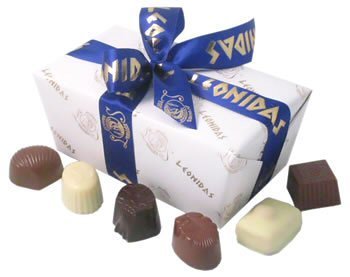 The Perfect Gift

If it is possible to fall madly in love with a box of chocolates, then the assortment is the perfect place to start such an adventure. These chocolate are named after Leonidas Kestekidis, who definitely knew how to create chocolates for the true chocolate connoisseur.

When he moved back to Belgium he not only married his true love, he created chocolates the world now adores. When you taste these chocolates, your taste buds will also finally know true chocolate happiness. Whether you try one of these with a cup of coffee or tea or enjoy one as a daily indulgence, these will impress.



If being "in love" gives you a zest for life, then the "I Love You" chocolate with dreamy lemon filling embodies this sentiment. Each chocolate has a unique design and the I Love You chocolate has two hearts, ribbons and a seal. After you sample the variety of chocolates, specific flavors will stand out as favorites.

Here are my favorite creamy fillings (ganache and butter cream) which come in dark, white and milk chocolate depending on the selection:

Antoinette - A smooth Brandy flavored ganache



Lingoit Lait - Absolutely delicious vanilla flavored fresh butter cream filling. Time definitely stopped while tasting this chocolate.



Irrésistible - Dark chocolate and Strawberry sauce.


For ever - If you love coffee this may be one of the most delicious milk or dark chocolate chocolates ever made as it is filled with a special coffee cream that has hints of caramel. I ordered an entire box of these and they come in a variety of flavors. The milk chocolate and cherry filling is like Claude Debussy's Rêverie. It is difficult to describe besides saying it is like a delicate cherry icing wrapped in milk chocolate.


Merveilleux - Milk or dark chocolate filled with coffee ganache.


Europe - Dark or milk chocolate filled with rum filling.


Ganache - Milk or dark chocolate with pure ganache.


Tosca - Milk chocolate with a special ganache.



Poésie - Dark chocolate and a Cointreau filling.



Antoinette - Delicate caramel hints in the milk chocolate coating mingle nicely with the vanilla filling.


Eve - Milk or dark chocolate with a creamy dreamy banana filling.



Alexandre le grand - A milk or dark chocolate with caramel cream.


Also Recommended:

If you wish to also try the Napolitains, I'd suggest the 1 pound sampler Ballotin with six varieties. You may also want to look for the new Palet d'Or. A deeply delicious and strong bitter chocolate filled with ganache. The center is made with butter, cream and chocolate and the outer coating is a masterpiece with gold decorations.

Leonidas now has over 1700 stores and sales locations worldwide and they offer over 80 varieties of fresh chocolates. The chocolates are air freighted weekly from Brussels so you will always find the quality to be superior.

My chocolates arrived fast and were as fresh as if I had purchased them in Belgium. They were carefully packaged in the famous gold boxes with signature/seasonal wrapping and a ribbon. The boxes were then placed in protective Styrofoam containers to protect the chocolates during shipping. The expedited shipping is recommended from May to early September.

~The Rebecca Review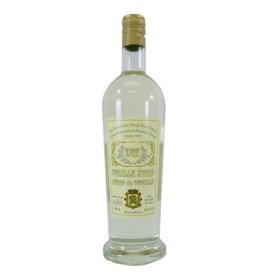 Old Fashioned Syrup from France, March 7, 2006

The RIEME Vanilla Syrup is not overly sweet like most vanilla syrups and is made with 100% Beet Sugar. It is a silky smooth vanilla infused syrup with hints of delicate lemon and undertones of floral sweetness. It is not only perfect for sweetening beverages, but you may find yourself drizzling this syrup over fresh strawberries.

Ingredients: beet sugar, water, vanilla flavor.

The best part about this syrup is the beautiful bottle that looks at home on the counter and also gives a touch of elegance to tea time or when making lemonade. Perfect for use in fruit salads, drinks and your favorite recipes. While other syrups may seem sticky, this one is silky and has a crystal shine.

~The Rebecca Review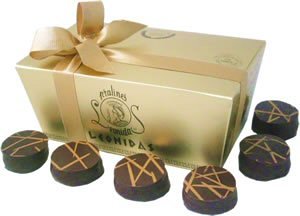 Gourmet Chocolate Masterpiece, October 12, 2005

Chocolate makes otherwise normal people melt into strange states of ecstasy. ~John West

To taste 72% Pure Origin Sao Tome is to enter chocolate connoisseur heaven where chocolate becomes poetry. The delicate snap of the chocolate when you take the first bite, the smooth melting of delicious fine chocolate as you only feel the smoothest of chocolate melting on your tongue in a buttery bliss.

Palet d'Or is a deeply delicious rich chocolate filled with ganache. The center is made with butter, cream and chocolate and the outer coating is a masterpiece with gold decorations. The intensity of this chocolate relies on premium cocoa beans found on the island of Sao Tome.

This distinctive flavor is a rare bliss for chocolate connoisseurs who wish to taste a pure chocolate without any flavorings or fillers. The coating is just pure chocolate made with 72 percent cocoa, sugar, cocoa butter and soya lecithin.

The world stops for minutes at a time as you savor a mingling of the silkiest chocolate you have ever tasted with a smooth melting filling. According to my friends who believe life should be lived as a masterpiece, if there is a better chocolate, they haven't tasted it. Such perfection!

If you are looking for the truest chocolate flavor, savoring these delicacies may be one of the heights of your chocolate tasting experience on the planet. These are chocolates you must eat slowly, letting them melt in your mouth as the superior richness fills your mouth with chocolate bliss. They are rare, addictive and begin to be available as the air cools and autumn approaches.
While I am in love with the quality of Leonidas chocolates, the customer service and shipping speed is equally impressive. The expedited shipping is recommended from May to early September.

Leonidas chocolates are a thoughtful gift for friends or you may just want to order them for your own chocolate pleasure. I can guarantee that once you taste these chocolates, you will never be fully satisfied by less than the best. When you long for the purity of chocolate in its most refined state, then these are the chocolates to order!

Definitely an Indulgence that reveals culinary genius!

~The Rebecca Review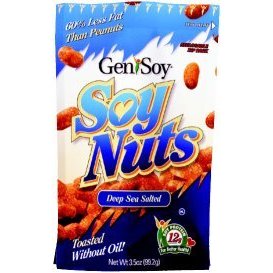 Deliciously Crunchy, June 7, 2006

GeniSoy makes some of the best Soy Nuts around and these are especially good with a Deep Sea Salted flavor. You can eat them alone as a snack or use them in recipes calling for nuts and peanuts. Perfect to substitute if you have nut and peanut allergies.

To make up your own health mixes, stir in pumpkin seeds, dried cranberries, cheese snack crackers (Annie's Baked Cheddar Bunnies are fun), sunflower seeds and anything else that gives you a nice mix of sweet, savory and salty.

Ingredients: IP roasted soybeans, organic sea salt, organic expeller pressed canola oil.

Never overly salted and perfectly delicious!

~The Rebecca Review

Natural Cheese Crackers - Great for Snack Mixes, June 7, 2006

"...made without hydrogenated oils - which is a good thing since it's difficult for our bodies to absorb trans-fatty acids that come from hydrogenated oils." ~box

These are definitely natural snack crackers to bounce around about. I mean, it is so rare to find even natural foods without hydrogenated oils. I can't count the times I've read labels only to be disappointed to find that "natural" does not always mean healthy.

Ingredients: Certified organic wheat flour, expeller pressed safflower oil, aged cheddar cheese (contains milk, salt, enzymes, cheese culture), salt, yeast extract, paprika, annatto extract (for color), ground celery seed, onion powder, yeast.

I've made my own cheese crackers and these really do taste homemade. About 24 tiny crackers will satisfy any cheese cracker craving and that is about 70 calories.

These crackers are Bernie the Bunny (Annie's beloved mascot) approved. They are also made with only vegetarian ingredients. I love the cute rabbit shape and you can add these crackers into snack mixes with pumpkin seeds, chocolate chips, dried cranberries, GeniSoy Soy Nuts and anything else you can think of including sunflower seeds.

~The Rebecca Review

Death by Chocolate, February 15, 2006

Skip making brownies, walk right by the chocolate cake, taste one of these for a healthy and delicious (ok, somewhat ecstatic) experience of chocolate flavor. The "Dutched" Cocoa and Chocolate Chips gives this a deep rich chocolate flavor while the roasted soybeans give a little crunch, like almonds.
These bars are naturally sweetened with cane juice and that enhances the flavor significantly. Fig paste almost makes these romantic. A touch of sea salt brings out the flavors perfectly and this is an excellent choice for indulging while maintaining health. Clif bars are still the best health bars on the planet!
The Carrot Cake and Apple Cranberry are also favorites.

~The Rebecca Review
Use this in Spice Rubs, July 20, 2005

Star Anise is a star-shaped pod from an evergreen tree. Each segment contains a small seed that has the same oil that anise seeds have and they look like shiny little nutmeg colored beans.

Crush one seed in your mouth and the delicate outer covering gives way to a mysterious mild flavor. The real flavor seems to be in the outer brown covering that is a slightly more bitter anise flavor and has almost bursts of lemon-lime and it numbs your tongue a bit like cloves.

I wasn't sure how to use this product, but took the chance and ground the entire seedpod. This seems to be what you are supposed to do and the flavor is delicious when blended with coriander, cumin, fennel, cloves, smoked paprika and saffron.

To use this in a recipe, look for "El Farol: Tapas and Spanish Cuisine" by James Campbell Caruso. You may also want to try crushing these seeds in your mortar and pestle and adding them to cookies or bread recipes.

You may recognize this spice from Chinese Five-Spice Powder.

~The Rebecca Review
Spanish Music and Smoked Paprika, July 20, 2005

The scent of smoked paprika conjures up the comforting memories of a thousand lives lived before in a thousand places. You get the feeling you have experienced something wonderful before and want to experience it again. Maybe you were dancing on a beach by a fire or standing above a field of burning veld in an African dream.

I bought this item without even knowing how I was going to use it. Most recipes don't allow for a smoked paprika unless you want to dramatically change the flavor. It seems to work best when blended with other spices or when used in barbecue recipes or barbecue sauces.

If you are looking for ways to use this paprika, look for the "El Farol Pincho Spice Mix" recipe in the El Farol cookbook.

~The Rebecca Review
Oils




Try this instead of Garlic Oil, December 9, 2005

Truffles remind me of garlic with an added dimension of aromatic appeal. In fact, I'm convinced that you

can use truffle oil in many recipes that are compatible with garlic oil. While black truffles are highly prized, you may prefer the white truffle oil in a rice recipe. Shop for Truffle Oil

"Risotto with Red Bell Peppers and Truffle Oil" is a good example of a recipe using truffle oil. I actually created this recipe using the URBANI truffle oil and it is superior in flavor!

The chicken base gives excellent flavor and is less salty than most bouillon cubes which are less flavorful.

1 T. Urbani "white" truffle oil
1 T. salted butter
1 chicken liver, chopped, this is optional
1 T. chopped yellow onion
1 T. chopped fresh parsley
1/4 c. chopped celery stalks
1/4 c. chopped red bell pepper
1/4 tsp. ground black pepper
1 tsp. garlic salt
1 c. uncooked Arborio rice
1 T. chicken base
4 c. boiling water

Heat the oil and butter in a 6-quart Dutch oven over medium heat. Fry chicken livers, then add onion, parsley, celery and bell pepper. Cook 5 minutes. Add pepper, garlic salt and rice. Stir until rice absorbs the butter and looks transparent on both ends of the grain. This actually takes 2 minutes. Stir in 1/2 cup of the water with chicken base. Stir until most of the water is absorbed. Continue to add water in 1/2 cup additions for the next 30 minutes. This dish must be continually stirred and is completely done when water is almost completely absorbed and there is a creamy sauce coating the rice. Serve immediately or the creamy sauce will be absorbed into the rice and you will have a drier, but still delicious, dish.
Makes 6 servings.


Affordable Can of Truffles
(Normally it seems the fresh ones are 10X the price)



Recipe Note: This creamy dish is perfect as an accompaniment to Roast Chicken. Red bell pepper has a dramatic effect on any dish it touches, any remaining bell pepper may be chopped and frozen to be used later for decorating a cream
soup. Add small slices of truffles if you want to add more flavor.

~The Rebecca Review
New Favorite Aged Vinegar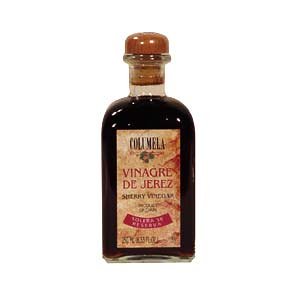 Aged 50-year Sherry Vinegar (Rare Vinegar)
While Traveling in Spain..., July 20, 2005

OK, so I haven't traveled in Spain, but recently I discovered a Spanish Tapas cookbook called: El Farol: Tapas and Spanish Cuisine by James Campbell Caruso. In this cookbook the chef calls for ingredients like Star Anise, Sweet Smoked Paprika, Saffron, Olive Oil and Sherry Vinegar.

So, I splurged on this tiny bottle (250 ml/about 1 cup) of aged vinegar that has been sitting in barrels of American Oak. The flavor is mild and well rounded, like a hazelnut flavor that is very mild, but present if you sit and think about it. I will admit to drinking a teaspoon to meditate upon the flavors, and then I had another teaspoon.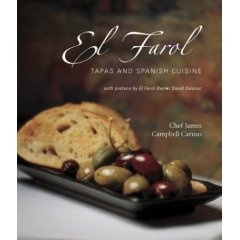 El Farol: Tapas and Spanish Cuisine

On salads, it mixes well with virgin olive oil or you can add one tablespoon to a spice mixture with three tablespoons olive oil. Once you have the spice paste, you can flavor lamb, chicken, pork, vegetables or shrimp and beef. I used this in place of lemon juice in a recipe and found it worked very well.

This is a product of Spain and is a beautiful cork topped bottle with what looks like a polished oak top. It is very aesthetically pleasing and you may find yourself enjoying this vinegar straight from the bottle, sprinkling it randomly over salads or into sauces.

You may want to use this in place of balsamic vinegar in your salad dressing recipes. The cookbook mentioned above also has a recipe for Grilled Artichokes in Saffron Butter and you will only need 2 tablespoons sherry vinegar.

~The Rebecca Review
Essence of Sicilian flowers, October 4, 2004

The scent of this flavoring could border on an exotic perfume. In fact, I've dabbed a little on my wrists just to see if people would follow me down the street looking for a bakery. The scent is similar to absolutely nothing I've ever found before, except it reminds me a bit of Danish Pastries or the famous Italian Panettone (amazing toasted and served with butter and confectioners' sugar) or any festival breads filled with orange zest, dried fruit peels and raisins.

Here is one of my favorite ways to use this flavoring.


Seasoned with Love Zucchini Bread

When making this bread, remember to pack the zucchini into the cup to create a moist bread. Muscovado natural cane sugar provides a rich flavor, but the secret is Fiori di Sicilia. This bread freezes well and can be given as gifts.

1 cup muscovado or dark brown sugar
1/4 cup canola oil
1/4 cup applesauce with cinnamon
1 large egg
1 cup (2 med.) shredded unpeeled zucchini, packed into cup
3 drops Fiori di Sicilia flavoring
1 1/2 teaspoon vanilla extract
1 1/2 cups all-purpose flour
1 1/2 teaspoon apple pie spice
1 teaspoon baking powder
1/2 teaspoon salt
1/2 cup coarsely chopped black walnuts

Preheat the oven to 350°F. Spray a 8 1/2 X 4 1/2 X 2 1/2-inch loaf pan with nonstick spray or butter and flour the pan. In a large bowl, use a wooden spoon to mix the brown sugar, oil and applesauce. Beat in the egg, then stir in the zucchini, Fiori di Sicilia and vanilla. Measure flour, apple pie spice, baking powder and salt into a sifter. Sift the flour mixture over the egg mixture. Stir the with a wooden spoon until blended. Stir in the walnuts. Pour into the prepared pan. Bake in the preheated oven for 55 minutes. Makes 1 loaf.

This flavoring could produce an elated, love for life feeling that is only increased when a few drops are added to baked goods and you savor the final treats. I also use this flavoring in pound cake and a Christmas fruit bread. You can use it in place of vanilla for an exotic twist.

Happy Cooking,

~The Rebecca Review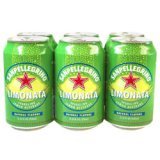 Sophisticated and Delicate, July 5, 2007
When you compare the zesty Limonata Sparkling Lemon Beverage to other sparkly lemon beverages, you begin to realize the sheer perfection of the Limonata beverage by San Pellegrino. The balance of lemon, sparkle and zest takes this drink to the level of a gourmet beverage, which requires no mixing. I may have tasted this before, but recently ordered it while eating out at a Restaurant.

San Pellegrino is also made with mineral water found near the town of San Pellegrino Terme which is located 70 kilometers northeast of Milan. The water flows from a thermal spring at the foot of a Dolomite mountain wall. The use of this water definitely adds to the energy this drink seems to possess. The carbonation seems more sophisticated and delicate. The only way to describe it is to say these waters are the champagne of sparkling waters.

~The Rebecca Review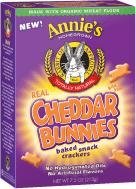 Snack Crackers, Cheddar Bunnies, Baked, 7.5 oz.
Food Find: No Hydrogenated Oils, May 9, 2004
"...made without hydrogenated oils - which is a good thing since it's difficult for our bodies to absorb trans-fatty acids that come from hydrogenated oils." ~box
These are definitely natural snack crackers to bounce around about. I mean, it is so rare to find even natural foods without hydrogenated oils. I can't count the times I've read labels only to be disappointed to find that "natural" does not always mean healthy.
Ingredients: Certified organic wheat flour, expeller pressed safflower oil, aged cheddar cheese (contains milk, salt, enzymes, cheese culture), salt, yeast extract, paprika, annatto extract (for color), ground celery seed, onion powder, yeast.
I've made my own cheese crackers and these really do taste homemade. About 24 tiny crackers will satisfy any cheese cracker craving and that is about 70 calories.
These crackers are Bernie the Bunny (Annie's beloved mascot) approved. They are also made with only vegetarian ingredients. Each cracker is about 1" x ½" and you will love the cute bunny shape.
Perfect with Yogurt and Fruit May 9, 2004

"From the pristine North Cascades mountain range of Washington State, we're proud to bring you more than 100 delicious, high quality, organic products." ~Cascadian Farm
If you are looking for a basic granola that tastes like crunchy vanilla morsels then this is a great choice. The addition of crispy rice makes this granola much easier on your teeth and the flavor is perfect for breakfast or for an addition to a bowl of fruit and yogurt. I like cutting up kiwi or apples or about any fruit and then topping it with a flavored yogurt. Top with this granola and you have a very healthy breakfast or snack.
If you enjoy organic and natural products, you will start to taste chemicals in less than natural products. The taste of organic products is so pure you can really taste the difference and you will never want to go back to other granola once you taste the purity in the Cascadian Farm Organic Granolas.
If you are allergic to nuts (a top allergy) like almonds then you know how difficult it is to find any granola without nuts. I've been making my own, but recently found this wonderful product. This saves me a lot of time. Making granola is not difficult, just it takes time away from reviewing!
Also look for: Wheat Crunch, Honey Nut 0's and Multi Grain Squares.
Why should you eat organic? (summary from back of box)
National standards prohibit the use of synthetic pesticides, hormones, steroids and antibiotics in organic foods. USDA regulations prohibit all synthetic colors and flavors as well as ingredients that are irradiated or genetically engineered. Organic farmers rely on time-tested natural methods that have a positive impact on the environment.

Rich Dark Brown Sugar July 5, 2007
I first found this sugar while working at Larry's Market in Seattle. The India Tree company is also located in Seattle. It was one of the greatest food discoveries I'd forgotten about. Well, not quite. I just had no idea why the sugar we ate in Africa was so rich and similar to molasses in color. This sugar is milled on the island of Mauritius off the coast of Africa and has the divine flavor only possible from cane growing on volcanic ash.

Here in America, most of the brown sugar seems like white sugar coated in a brown coloring in comparison to this rich, dark and almost seductive slightly salty tasting sugar. When I found this sugar, it brought back tons of childhood memories. Mostly memories of eating a spoonful of sugar as a treat. This sugar is "that" good.

Muscovado is slightly moist, has a very high molasses content and is delicious in gingerbread, coffee cakes, chocolate cakes and anything with chocolate in it. You can basically use this sugar in any recipe that calls for "dark brown sugar."

When making cookies, you will notice some of the lumps don't quite work themselves into the dough. This is no problem, because then you just find a few sugar lumps in your cookies. If you prefer your sugar to be perfectly soft, you can add a piece of apple to your sugar jar until the sugar softens.

This is one of my "Top Ten" ingredient finds of the century.
~The Rebecca Review
Delicious Sweetener for Tea and Baking, January 25, 2004
Organic Sucanat is many levels above regular white granulated sugar. This sugar takes baking and tea drinking to new levels of pleasure.
When holding this sugar in the palm of your hand, you will notice the irregularity of the crystals and the "dark brown sugar" color. This does have a flavor that is reminiscent of brown sugar and yet the texture is much more natural and the crystals take longer to melt on your tongue.
Recently I've been discovering a variety of more natural sweeteners. This on is perfect for tea because it not only adds sweetness; it adds a caramel flavor to teas in which you use milk. There is a purity in the flavor and you feel better because you are supporting organic farms and keeping your body healthy.
This is a one-for-one replacement for refined white or brown sugar.
Sucanat is made from 100% certified organic sugar cane. The sugar cane is "green cut." This means the fields are not burned and the leaves and tops of the cane plant are left in the field. The sugar is minimally processed and once the sugar cane is harvested it is pressed to squeeze out all the cane juice. This juice is then clarified, filtered and evaporated. This helps to remove excess water. The syrup is then crystallized and a sugar with a molasses flavor is produced. There are also vitamins, minerals and trace elements from the sugar cane plant. One teaspoon of Sucanat contains 10mg of Potassium and 6mg of Calcium.
If you are still using white sugar, try Sucanat. It might surprise you with added flavor, goodness and purity. I find the flavor to be superior to refined white sugar. This sugar will add a touch of caramel flavor to all your baking.
If you are looking for an even deeper flavor for chocolate recipes, try Muscovado sugar. It has a rich flavor that can't be matched by any regular brown sugar you would find in your grocery store. With Muscovado and Sucanat, you can take your baking to the next level.
Baking
King Arthur Unbleached All-Purpose Flour - 5 lb
Warm Creamy Colored Flour November 3, 2003

If you are looking for a flour which will take your recipes to new levels, this is a flour I've been using for more than 5 years and I can say it is one of the best finds of the century. Not only does it make my "Rick's Favorite Brownies" recipe incredibly delish, I can't make Whoppie Pies without this flour.
You can use this flour to make amazing bread, cookies and brownies. It is definitely the "hard wheat" that is making the recipes so delicious. I think some recipes are better with soft-wheat flour, but there are some recipes which benefit from a mixture of the best hard red wheat.
The higher protein content gives your bread and all yeast-raised baked goods a better texture.
Never Bleached
Never Bromated
No Chemicals Ever Added
Ingredients: Unbleached hard wheat flour, malted barley flour, niacin, reduced iron, thiamin mononitrate, riboflavin, folic acid.
Holding a bag of this flour in your hands might be similar to holding a bar of gold. I just received an order of two bags and get a bit happy thinking about all the holiday treats I'm going to be baking.
My husband has been begging me to make my chocolate chip cookies "the way I used to." I finally realized that this flour makes them better and that was part of the secret. Well, this flour and muscovado brown sugar.
King Arthur Flour has an amazing catalog for baking. I have lists and lists of things I want to buy from them, but I am trying to be patient. :) I could write essays about all the products they carry. They also have a black cocoa that is difficult to find.
Talk about Baking Heaven!
Bob's Red Mill Stone Ground Whole Wheat Flour


Bob's Red Mill Stone Ground Whole Wheat Flour May 14, 2004

"We use and believe in stone milling because no machinery has yet been developed that grinds grains into flours, cereals, and meals quite as well as the flint-hard quartz stones used by master millers since early Roman times." ~Bob's Red Mill Site
The 100 % Stone Ground Whole Wheat Flour is my favorite flour for use in a variety of whole wheat bread recipes. It is all natural and doesn't contain any preservatives. You can use this flour for bread machine baking too and it produces superior results. I've used the recipe on the back of the bag and adapted it by using a mixture of whole wheat and regular bread flour because I didn't have any "gluten" as called for in the recipe. If you substitute 1 ½ cups of regular bread flour for part of the whole wheat flour you don't seem to need the gluten.
Bob's Red Mill products remind me of my childhood when my father took me to the Graue Mill in Oakbrook, IL where we watched corn being milled. It is now the only operating waterwheel gristmill in Illinois. While Bob's Red Mill products don't arrive in a cloth bag, the paper bags do have an old fashioned feel and have a string-sewn closure. I love the crinkly sound of the high-quality paper bags.
Bob's Red Mill uses slow turning, 100-year-old millstones to naturally grind together the bran, endosperm and germ that contains the nutritious oil. This is a "cool stone grinding process" which preserves nutrients normally lost in high-speed, high-heat milling.
This company produces more than 400 products. Look for everything from hot cereals and mixes to flour milled from a wide variety of grains. If you love making natural breads in your bread machine, the flours are superior and produce deliciously nutritious breads.
Whole Wheat Oat Rolls
1 c. water, warmed to 110°F
5 T. fat-free milk powder
2 T. clover honey
2 T. salted butter, melted
2 1/2 tsp. active dry yeast
1 lg. egg
2 c. bread flour
1 c. Bob's Red Mill whole-wheat flour
1/2 c. Bob's Red Mill thick-rolled oats
2 T. wheat germ
1 1/2 tsp. salt
Melted butter
Oats
The dough may be made in a bread machine or by hand. Bread machine method: Place the water, milk powder, honey, melted butter, yeast, egg, bread
flour, whole-wheat flour, oats, wheat germ and salt into a bread machine pan. Set bread machine for whole wheat, dough and large loaf cycle. Form rolls.
Hand method: In a large bowl, whisk the water, milk powder, honey, melted butter, yeast and egg. In an extra large bowl, mix the flour, whole wheat flour,
oats, wheat germ and salt. Stir in the yeast mixture.
Place dough on a well-floured breadboard. Knead until smooth and elastic. Place in an oiled bowl, turn once, then cover with a damp cloth. Turn oven on to 200°F, when you can feel the heat on your hand, turn the oven off. Place bowl in the warm oven and let the dough rise until double.
Punch the dough down and cut into 16 pieces. Form rolls then brush with melted butter. Sprinkle the tops of the rolls with the oats. Let rise for 45 minutes or until double then bake in a preheated 400°F oven 10-15 minutes or until lightly browned.
Makes 16 rolls.
(A recipe from Seasoned with Love: A collection of best-loved recipes inspired by over 40 cultures)
~The Rebecca Review

Tea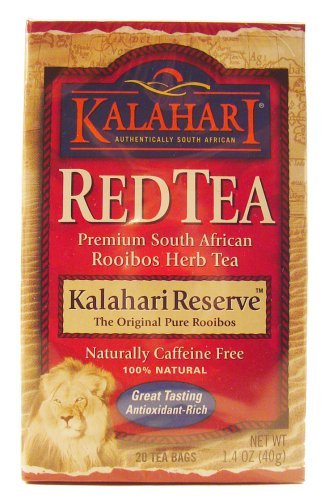 Memories of Africa November 3, 2003
This tea brings back memories of sitting outdoors on our deck in Africa in the afternoon. Now they have discovered that Rooibos is an antioxidant rich tea and is a tea of choice just like green tea. Although, I've read that Rooibos has 50 times the antioxidant properties of green tea.
I've been drinking this tea since I was seven years old and finally they are importing it all over the place! Apparently it has been popular in Europe as an herbal tea and remedy. This tea is caffeine free, additive free, preservative free, colorant free and very low in tannin.
The Rooibos plant grows in the Cedar Valley deep in the heart of Africa. It is a natural herb that is only harvested every two years. Drinking this tea could inspire wandering thoughts of roaming through the African veld.
Other Varieties to Love:

Chamomile Red Tea
Exotic Tea November 3, 2003
"There is a garden overlooking the Yangtze River gorge where an elderly man contemplates his life while sipping a cup of Green Ginger. Perhaps you would like to join him." ~on each tea packet

A friend sent me this tea and I've been in love with the more exotic green tea flaor. It is quite fragrant. The ingredients are green teas, natural flavors, ginger and lemongrass.

This tea begs to be blended with orange blossom honey. I've tasted many teas and this is by far the most exotic green tea I've tried yet. This is pear ginger bliss.

~The Rebecca Review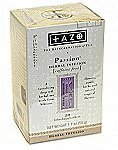 Herbal Infusion, June 25, 2006

The deep purple/red color and hibiscus fragrance is enough to make anyone passionate about tea. Yet, is this really tea? It looks like tea, but it is really an herbal infusion made by steeping hibiscus flowers, orange peel, licorice, cinnamon, rose hips, lemongrass and red poppy in a swirling of hot water.

The flavor is slightly reminiscent of hot apple cider or hot cranberry juice. This tea leaves a tingle on your tongue and I think it goes very well with a spoonful of honey.

I love Tazo Teas and have been immersing myself in the mysterious experience with a sense of abandon. So far I've tried most of the flavors and have always been impressed.

I do think you need two tea bags for each cup of tea to fully intoxicate the senses and experience the magic of the ingredients. Caffeine Free.

You can drink this as you type into the night…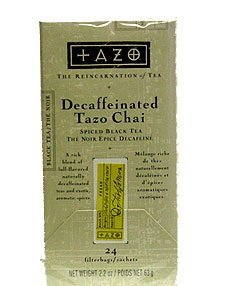 = Chai Tea
"Throughout India, chai wallahs can be found serving cups of decaffeinated chai to souls who naturally seek inner beauty at a slightly gentler pace."
If you like your Chai with a peppery kick, then this tea will interest you. Rooibos, cinnamon, ginger, decaffeinated black tea, cardamom, ginger, chicory, cloves, star anise and other natural flavors seem to take a back seat to the delicious peppery flavor of this tea. This tea tastes similar to a tea I first tasted in Africa, where Rooibos tea is grown.
Best served with milk/powdered milk/soy milk or a dash of cream and some honey. Since this is a decaffeinated tea, it is perfect for late night writing sessions or when you want something calming to drink that doesn't taste like chamomile.
I recently discovered Tazo Teas ad have been immersing myself in the mysterious experience with a sense of abandon. So far I've tried four flavors and have been impressed. I do think you need two tea bags for each cup of tea to fully intoxicate the senses and experience the magic of the ingredients.
Caffeine Free tea with exotic spices.
For Breakfast, January 25, 2004


"There are few hours in life more agreeable than the hour dedicated to the ceremony known as afternoon tea." -Henry James, Portrait of a Lady

This "English Breakfast" style tea is quite satisfying and has a rich flavor that is quite delicious.

I'd like to say that their teas are best steeped for an extra 5-10 minutes to draw out all the delicious flavors. I use my coffee maker to make tea. Simply put the loose tea in a coffee filter or the tea bags in the coffee pot, then allow the boiling water to drip over the tea leaves.

The sensual blend of exotic spices, teas and herbs used in their teas include a mixture of the following: Black tea, green tea, hibiscus flowers, chamomile flowers, lemongrass, spearmint leaves, blackberry leaves, cinnamon, Rooibos, Gingerroot, rose hips, orange peel, rose petals, licorice root, safflowers, black pepper, lemon verbena leaves, cardamom, cloves, peppermint leaves, chicory, sarsaparilla root, lemon balm leaf, star anise and red poppy flowers.

This is a blend of black teas, but all their teas are worth trying.

~The Rebecca Review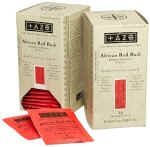 Creative Caffeine-Free Rooibos Blend, February 29, 2004

After growing up in Africa, one becomes rather fond of Rooibos tea and I never thought the day would arrive when I would recommend anything but a pure Rooibos tea. Tazo has taken Rooibos tea to a new level by blending African Rooibos (red bush) with hibiscus, lemon myrtle, lemon verbena, orange peel, rosemary, and lemon balm.
Rooibos has quite a distinctive fragrance that reminds me a bit of a fragrant flowers waving in a warm afternoon breeze after an African veld fire. I remember mixing in a tablespoon of condensed milk as a child. Now I mix in powdered milk and honey. Honey seems to bring out the rich flavors in this particular tea blend. For some reason, this blend is rather delicious with a toasted and buttered cinnamon/raisin bagel.
I've recently rediscovered the health benefits of Rooibos although I can truly say I've been drinking this tea for most of my existence on this planet. Rooibos is naturally sweet, very aromatic and is high in magnesium, calcium, iron and copper. Mothers in Africa will often add an infusion of this tea to a bottle of milk for babies to cure colic. An application of cold Rooibos tea can also aid in clearing the skin or is recommended for allergies, indigestion, insomnia and nervous tension.
This is one of the Tazo teas that should not be steeped for too long because of all the delicate flavors. If you enjoy this tea, you might also want to try Tazo Honeybush tea.
I'm giggling over the Tazo "history" on this package. They do love to amuse. I must say that the Tazo company really has my attention with their packaging, amusing tales of ancient Tazo wheels and they know how to blend tea to absolute perfection.
~The Rebecca Review
Coffee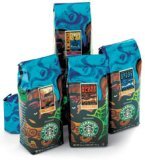 Deep Intoxicating Flavor November 3, 2003

When I am not being seduced by the "Breakfast Blend" this is a coffee that you can drink later in the day without the fear of being wide eyed and online all night.
This flavor reminds me a bit of hazelnut or toasted nuts. I like using vanilla syrup or vanilla flavoring and stevia to sweeten this coffee.
Review is for the Decaf coffee.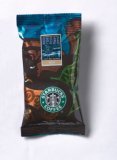 Starbucks Breakfast Blend Whole Bean Coffee
Rich Full Aroma November 3, 2003

This particular blend of coffee beans reminds me of cold mornings when you would look forward to the scent of bacon, pancakes and maple syrup. For some reason, the aroma in this coffee blend seems to be mingling with those memories.
I keep a bag of this coffee for when my parents visit and I will then indulge in freshly ground coffee. When you open a bag of the Breakfast Blend and inhale deeply, you can almost feel a bit high. This blend completely inspires a passion for coffee. The scent is creamy, chocolaty and reminds me of the time I worked in a bakery where I learned to make coffee in an espresso machine. These beans are roasted to perfection and are some of the finest coffee beans you can buy.
Yes, I lived in Seattle for a few years. I'm a Starbucks coffee fan. When I inhale this coffee, it reminds me of walks out in the cold around Greenlake with a cup of Starbucks coffee, coffee spills in my car, the dreamy scent of the coffee isle and the inviting scent drifting from latte stands.
~The Rebecca Review
Spices & Flavorings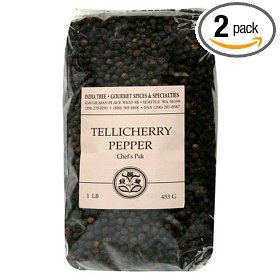 Superior Fruity/Spicy Pepper Flavor November 3, 2003

Green, black and white peppercorns grow like tiny grapes on the Piper Nigrum vine. Green peppercorns are picked when under-ripe. White pepper is black pepper which has been soaked to remove the outer husk. Tellicherry peppercorns are the largest black peppercorns.
Tellicherry peppercorns are superior to regular store bought peppercorns. Peppercorns are believed to be indigenous to the Malabar Coast of India. They are spicier, enhance the flavor of all your recipes and can take things up a notch. Of course, there are still recipes where you don't want the intensity of Tellicherry peppercorns, but after you taste the freshly ground flavor, it is difficult to go back to using anything else.
I find myself grinding the peppercorns over scrambled eggs and sprinkling them liberally over salads and pasta. I now use tellicherry peppercorns in nearly every soup recipe.
Make the change and you will never be able to go back to regular ground pepper. You may laugh, but there are some of us who fear the thought of regular pepper.
Fun Fact: Pink peppercorns are not from the Piper Nigrum vine. They are the dried berries of Baies rose plant grown on the French island of Rèunion and make a colorful addition to sauces.
~The Rebecca Review
Gourmet Salt July 5, 2007

Fleur de Sel gives more intensity to salad dressings and is the moist, caviar of salt that is hand raked from the surface of salt ponds on the coast of France during July and August. You will need a mortar and pestle to grind the salt, but it is so worth your time.
This salt looks a bit like tiny snowflakes or moist granules with a distinct salty-from-the-sea flavor that is unique to these salts.
The flavor just fills your entire mouth. Normal table salt will pale in comparison and almost has a chemical aftertaste in comparison to this highly prized salt. French chefs have known this secret forever and when I found this salt, I told everyone I knew about the flavor. Sprinkle this salt onto anything you want just before serving, especially good on steaks or freshly cooked vegetables. Also delicious with butter and rosemary on freshly baked bread.
Want to taste the best caramels ever? Look for Fleur de Sel Caramels. They will not last long.

~The Rebecca Review
Made with famous French sea salt, October 20, 2005
Ingredients: Sugar, glucose syrup, whole milk, butter 12%, dextrose, fleur de sel (salt), natural vanilla aroma, sodium hydrogen carbonate, seasoning

I first ordered these from a store named Zingermans and can honestly say I've never tasted any caramels since that have impressed me this much.

They are chewy, slightly salty and are so delicious you won't be able to stop eating them. I'm craving them just writing this review!

~The Rebecca Review
Cheese and Crackers



Vincent or Rembrandt?, December 21, 2005

If you are looking for an entirely new Gouda experience, try aged Gouda from Holland. I was first introduced to regular Gouda, then Smoked Gouda and was interested in the smooth, creamy taste with crackers.

Since then, I've discovered imported aged Gouda that is fully ripened, slightly crumbly, tangy, sweet with an interesting "crunchy like sugar crystals within the smoothness" flavor.

Frankly, this is the most interesting "sweet" cheese I've found and have only just started to discover the possibilities. It is perfect with slices of apple, whole wheat crackers, tiny slices of onion bread with butter, grated over pasta or just savored for its delicious flavor.

It seems the Vincent Cheese is aged for less time, so it has a slightly less profound flavor. The Rembrandt Aged Gouda is aged and nurtured for 12 months, which makes it very complex with flavors of honey and butterscotch.

So, if you are looking for the more intense flavors with a highly gourmet cheese, try the Rembrandt. It is unforgettable. Both are very enjoyable, but I think I now know which is my favorite.

~The Rebecca Review


Curry Powder


Condiments
The Best Chutney Ever November 3, 2003

While I'm tempted to write this review in Afrikaans, I'll resist and just tell you that this is the chutney I ate through my entire childhood while living with my parents overseas as missionaries. I could not believe they actually are selling this at Amazon and had to blink twice.
I make a beet salad with an orange chutney dressing that really doesn't taste the same without this chutney. Yes, there is mango chutney, but I prefer that with Indian food. We also use this chutney to make curried bananas, Bobotie, curried eggs and Lamb Sosaties.
It is so essential to cooking in South Africa. If you need a recipe using this chutney, just e-mail me from my site.
One of our favorite ways to use this chutney is as a sauce with beef stroganoff. I know it sounds strange, but something about the "peaches" and the "creamy taste" of the sauce just works perfectly.
If only there were Jacaranda trees outside my kitchen window in Washington. Sigh.


Health Foods
I.M. Healthy SoyNut Butter

I had about given up on finding anything that tasted even remotely like peanut butter. If you have any allergies to nuts or peanut butter, you know how frustrating it can be to have to avoid a peanut butter and jelly sandwich. I haven't had one for what seems like years.

Then, I found this amazing soynut butter. It is totally peanut free, which means it is also made in a "Peanut/Nut" free facility.

Ingredients: Roasted Soybeans (Non-GMO), Naturally Pressed Soy Bean Oil, Maltodextrin, (from Corn) Soy Protein Isolate, (Granulated Cane Juice), Mono and Diglycerides (derived from Vegetable Oil), Salt.

This product is also temptingly delicious with Mi-Del Gingersnaps that are made with non-hydrogenated canola oil.

I'm imagining the possibilities - SoyNut Cookies instead of Peanut Butter cookies.

Other features:

30% Less Fat than Peanut Butter
Cholesterol Free
Dairy & Gluten Free
Low Sodium

~The Rebecca Review
The Best Crystallized Ginger ever..., December 20, 2005

This is absolutely the most delicious crystallized ginger I've ever tasted.

If you like natural spicy flavors, this ginger is especially delicious with a medium spicy flavor and a sweet crystallized taste.

The ginger seems to be of an especially high quality and is delicious either in tea or as a candy. Good for eating after dinner or anytime you want something sweet and spicy.

Ingredients: Ginger root, sugar.

Favorite use: Snip slices with a scissors and add to a chocolate chip cookie dough without the chocolate chips to make a delicious ginger cookie.

Benefits of Ginger: Can be used to treat nausea or motion sickness and contains gingerol and shogol - substances that help to prevent nausea.

Consult with your physician before using this during pregnancy. May be too spicy for children.

~The Rebecca Review


Meats & Fish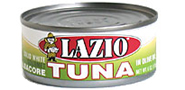 Gourmet Lazio Tuna in Olive Oil
Gourmet Tuna November 3, 2003

I found out about Lazio Tuna a few years ago. It is the best tuna on the market. In fact, we have ordered boxes of this tuna to share with family. My grandmother was famous for her tuna sandwiches and agreed that this tuna was one of the best canned tuna products she had tasted.
If you have had to endure the store-bought varieties that are fishy and somewhat oily and you can't really discern what you are eating, then give this tuna a try. The tuna is firm and the texture is just perfect and not soft or mushy like other brands.
I have used this tuna in my "Ricotta Rolls with Dill and Tuna Filling" recipe and in my "Dill Tuna Melts" recipe with great success.
This tuna is a real winner when you can find it.