Poetic Lyrics and Ecstatic Reverberations, January 13, 2005

Rarely has one album made me a fan, but honestly I am addicted to this CD. I think this album has lyrics every woman wants to hear. It is a complete lyric fantasy. Not only will the romance appeal to your inner goddess, the intimacy is intertwined with musical ecstasy.

The entire album seems to be about unconditional love, peace, humor, romance, insight, care for the world, unveiling of the heart, positive soul experience, rebirth and honest expression. How could you not fall madly in love with a man who wants to hear what you think or who allows you to stay a child in your heart? The concept of giving your heart to the world and asking the world to "make it break." That is beauty. Bono's lyrics present a stunning side of his heart and soul.

"Sometimes You Can't Make It On Your Own" was especially meaningful to me this last year and especially:

"Listen to me now
I need to let you know
You don't have to go it alone"

This was the first U2 album I ever purchased and it made me an instant fan. Bono's voice seems to at times be swirling in an eternal ethereal ecstasy of notes and then he can focus your attention so precisely on the words, it is as if nothing else exists but his voice and the pictures he paints with poetic lyrics. I feel a little high when he starts singing "And I miss you when you're not around..."

If you are thinking about a new stereo, this CD should convince you it is time. This CD sounds amazing on the Sharp CD -ES600 which has a remote control so you can sit at your desk and play this CD endlessly day and night. Thank you to the amazing friend who told me about this album and who sent me a stereo for Christmas so I could listen to music the way I've never heard it before.

If you are a true romantic, this album will make you breathless. Honestly, this album has the best lyrics I've ever heard to date! Impressed beyond 100 stars.

~The Rebecca Review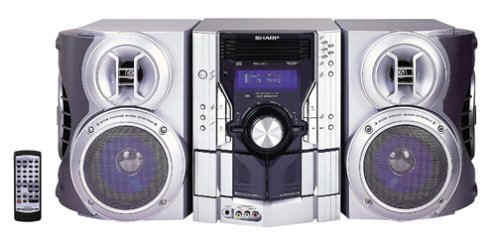 Classy Stereo System in Silver, January 13, 2005


First, I must thank the amazing friend who bought me this stereo for Christmas. Not only does he tell me about the best music in the world, he now sent me a stereo that plays music in the way I always dreamed music could sound. Normally my ears are too sensitive to listen to Bass and this stereo has a little button on the front that turns the X-BASS on or off. You can also do this from the remote control to customize your listening experience.

Features:

High Quality Remote Control - you can change CDs with the touch of one button, change to tape or play random selections from 5 CDs. You can use the Timer/sleep option and fall asleep to your most relaxing CDs.

Quick Start Guide - Very easy to set up the stereo, but I can promise you, you won't want to leave home for hours after you start playing CDs.

5 Disc Trays with disc number selections buttons and direct play button. Easy to change what you are listening to at the stereo or from the remote.

Two Impressive Speakers - Total 240 watts.

Recording Capabilities - Record from the radio even if you are away or sleeping, from tape to tape or even from several CDs continuously.


Also comes in black and red:




Extras:

Front Game Terminal - You can listen to the playback sounds of Games or hook up your VCR or DVD player. I plug in my cordless headphones when I want to take music anywhere in the house.

I rarely take this stereo above volume 7 but there are definite possibilities. The sleep function is so comforting. I fall asleep with a blue glow floating over me as I go to sleep. The only funny thing that happened is I unplugged the stereo, which seems to have changed the sleep setting. I was woken up in the early hours of the morning by Bono singing Vertigo. Now, that will get you out of bed fast.

Once I had this all set up I was in musical bliss. Definitely recommended for the stereo features. To listen to the radio, you may have to hook this up to an outdoor FM antenna. I get a few stations, but mostly listen to CDs.

~The Rebecca Review
Comment from Reader at Amazon:

"Your insight into the lyrics of "How to Dismantle an Atomic _____"
prompted a review yesterday - unlike any other I've written. Actually that
review of yours and an emailed question from
a friend prompted my latest review.
Did I say I LOVED that review of yours?
You're still my favorite top ten reviewer." ~M.