= Nourishment for the Spirit

Reviewer: The Rebecca Review.com

"Love in its myriad forms is a portal that leads to a world of peace, happiness and ecstasy. The more we are able to love ourselves and others, the more others can love us. The more we are loved, the easier it is for us to love others." ~Brent N. Hunter

THE RAINBOW BRIDGE is a book for all people who are seeking a deeper understanding of the common ground between the world's major religions. After a series of spiritual awakenings and realizations, the author decided to write a book he felt would help others who are going through a challenging time or are seeking more meaning and peace in their own lives.

Brent N. Hunter was born part Muslim, part Jewish and raised as a Christian. Through his life he has been practicing the pursuit of knowledge through spiritual studies. In this book he draws on the wisdom from Buddhism, Christianity, Earth-based traditions, Hinduism, Islam, Judaism, Native American traditions and Taoism.

I was especially happy to find "The Invitation" on pg. 116. It is a profound statement and draws on a deeper wisdom of the inner world. While we often become distracted by our outer lives, what really matters is the inner journey. It is a beautiful series of statements speaking about what sustains us from the inside when everything else in our lives dissolves.

Through reading this book you will also find a moment of sheer beauty. Mine occurred on page 108 when I read: "I am a star, awoken from its sleep, by the longing cries of mankind's dreams." From A Child of the Universe by Ralph-Armand Beck.

How absolutely beautiful to know that each of us are here because someone needs us to exist. The quote on pg. 115 was also especially meaningful as Trina Paulus describes what it takes to be a butterfly instead of a caterpillar.

Some of the topics include: Life, Death, Respect, Service, Karma, Love, Friendship, Mystery, Power of Now, Dedication, Devotion, Commitment, Surrender, Meditation, Ego, Change, Peaks, Valleys, Breathing, Trust, Interpretation, Discernment, Music, Listening, Patience, Forgiveness and Sharing.

The author has envisioned an international project that includes a book series, board game, television show and interactive website. This is the first book in the series which he hopes will lead humanity to a place where all beings are showered with love, compassion, happiness, joy, peace, bliss, ecstasy, appreciation, prosperity, pleasure, dedication, devotion, commitment and devotion.

"You will manifest what you focus on."

During the reading of this book, I started to wonder about a few of the statements the author made. A few pages later, I felt like I was reading an interactive book as my question was answered.

I am not yet "beyond the dualistic world" as I believe there is still right and wrong, good and evil and that you can't always make decisions from your heart. From my own experience, it does seem that if you always make decisions from your heart, you can also at times hurt people more than if you make a well-thought out decision.

It helps to balance the author's belief of making decisions from your heart by understanding the "path of the heart." If you are following certain principles, then technically you are using your mind to help your heart decide. The author discusses some of these principles.

I also appreciated how the author mentions how the media is overly focused on the ills of society and that even in our technically advanced world, we still struggle with race issues, poverty and violence. And all we really want is to be loved and to give love.

So why can't we experience this deepest desire? Why is the world filled with hate? Who can forgive us and who can help us find our way to God? While this book does not deal with the issues of personal faith or any particular faith, these ideas are worth considering in your own personal search.

The Rainbow Bridge Translation team is currently translating this book into Arabic, Chinese, Dutch, French, German, Hebrew, Italian, Japanese, Russian, Spanish, Swedish, and Turkish. It will also eventually be translated into Farsi, Hindi, Korean and Portuguese.

I must also say that the art on the cover is perhaps the most spiritually beautiful cover I have seen. I also like the picture of the glowing emerald eyed Sphynx cat, Orion on the back cover. Brent's eyes also shine with a peaceful knowing.

THE RAINBOW BRIDGE is a beautiful expression of the inner child's desire for world peace. It is a guide for a world seeking a deeper understanding of their current existence on a planet filled with conflict.



If you enjoy this book, I think you
might also enjoy books by J. Donald Walters

or listening to:

... and reading about your emotions
in this ground breaking work:
Mother Teresa Reader: A Life For God
A Heart-Captivating Devotion to God, August 18, 2009
"If we want to be able to love, we must pray! Prayer will give us a clean heart, and a clean heart can see God. If we see God, immediately God's love works in us. And we need to love not with words, but with deeds!" ~ Mother Teresa

Mother Teresa was such an incredible human being that it is difficult to read her words without being close to tears. There is such beauty in her thoughts and in her desire to take care of anyone who is in need.

This book is a collection of Mother Teresa's thoughts organized according to categories like love, prayer and sacrifice. As you read this book you will realize why she was such an inspiration to millions.

While she chose a life of poverty all her needs were taken care of and more. Her life of service also brought her such wisdom, which is shared in the pages of "A Life For God." Reading this book can only make you a better person spiritually.

Before I read this book I knew Mother Teresa worked with the poor in India but what I didn't realize was that she inspired people to take action and create homes for the poor all over the world. What an incredible joy this must have brought her throughout her life. There is something so magnificent about the way she viewed the world. By reading Mother Teresa's words your life will change!

What I especially enjoyed about this book was the interview questions and answers. They truly gave insights into why Mother Teresa wanted to help the poor. Throughout this book you will find hundreds of reasons to follow in her footsteps. Her thoughts about abortion are also sobering. What love to offer to take in any child that was unwanted.

If we could all have even an ounce of the confidence she had this world would be a better place. She trusted God completely to work miracles so she could look after the poor. There was never a day when she had to turn away anyone who was in need.

"If our poor die of hunger, it is not because God does not care for them. Rather, it is because neither you nor I are generous enough." ~ Mother Teresa

~The Rebecca Review
Beauty Products to Heal and Nurture the Soul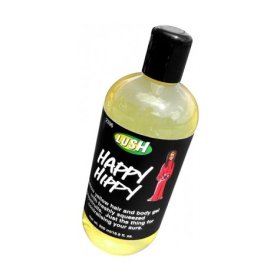 Soul Cleansing Body Gel, August 2, 2006
Reviewer: The Rebecca Review

I had no idea that after using this body gel, I would feel like my soul had been cleansed. Bergamot, Grapefruit and Frankincense blend together beautifully in a smooth cleansing gel to give you an almost unifying experience. There you were all stressed out and jumping in the shower and then suddenly you want to take another shower right after the first. This is what Lush products do and they can be addictive.

This gel may be slightly drying to dry skin, but the deep cleansing experience is worth having to rub a little extra lotion all over. I feel light and refreshed. This would be the perfect gel to take with you when traveling, when you are camping and anytime you want to feel refreshed and relaxed. Goes very well with the I Love Juicy shampoo and Veganese conditioner, both based on lemon oil. If you feel stressed out or have had a rough day, try these three products. You may be amazed at how good you feel and how they balance the emotions.

This completes the soul cleansing citrus experience...

Until next time,

~The Rebecca Review
Dreaming of the "Secret Lush Stash"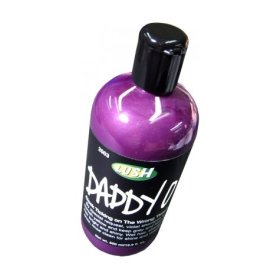 One of the Best Lush Shampoos - Body and Bounce, April 4, 2007

If you ever wondered what it would be like to wander in a field of violets, then this shampoo gives a lush interpretation of what it would be like to walk through one of Raymond Gehman's photographs.

The deep purple color is remnicent of crushed blackberries and the scent is a mingling of lemon, coconut, Bergamot and violets. The truth is, this shampoo is one of the best shampoos Lush sells and I think it gives even more body and texture than Rehab. Use this and follow with the Coolaulin conditioner for shiny bouncy hair that is scented with violets and coconut.

The fragrance follows you around for hours and envelops you in a comforting warmth. This shampoo may have you dreaming about the Purple Haze gift box filled with violet, lavender and blackcurrant items or looking into the "Gratuitous Violets" soap.

To complete the experience, you may want the "Smitten" hand cream - quite luxurious and comforting. For some reason, the All That Jas bath item worked well with the violet scent so my house is now scented with Jasmine and Violets and I feel like I'm walking in fields of flowers.

~The Rebecca Review
Light Conditioner for Combination/Oily Hair, August 1, 2006

If your hair alternates between various moods every day of the week, then a good supply of conditioners and shampoos should keep you happy all year long. The lemon oil in two of the Lush products work together especially well. Veganese Conditioner and I Love Juicy shampoo could not be a better solution if you need to deep clean your hair. Like after you have put too much hairspray in your hair or you went swimming or say you fell in a mud puddle (In that case, also reach for Happy Hippy body wash).

You just never know what may occur and one must always be prepared. The Veganese is also a lovely vegetarian product that can be enjoyed by anyone. It has a very clean, happy energy and a lemony scent. The slippery conditioner slicks across your hair, making it shiny and manageable without weighing it down.

This also contains rosemary infusion, lavender flower infusion, seaweed and fresh lemon juice. Will be appreciated by anyone trying to lighten their hair.

If you use the henna products by Lush, these two products might slightly lighten your henna results. This could be desired or you may want to go back to using Rehab and American Cream if you want to keep a deeper henna shade.

If you want to feel light and breezy, this conditioner won't weigh you down. My hair feels fluffy and deliciously light and bouncy. I have this strange urge to go wander in lemon orchards, run through mud puddles and pick flowers by the side of the road.

Now officially in the mood to make lemonade!

~The Rebecca Review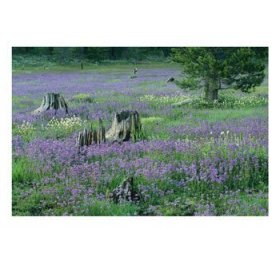 A Field of Violets by Raymond Gehman Art Appreciation