Got Me Organizing Immediately!, May 7, 2017

Have you ever wished for a caring friend to talk you through your organizational challenges? That is what will happen when you read this wise, thoughtful and healing book on organizing your life during major life transitions. This is a book for anyone who now has an empty nest, is taking on caregiving responsibilities, has reached retirement, has just gone through a divorce, has experienced the death of a spouse or is welcoming a new pet, child or grandchildren.

This book seems aimed at women 30-70 who are experiencing change in their life and need to reorganize their space and rethink how they are spending their time. Sixty percent of this book is about organizing your home and the advice on how to let go of things is great. Then there is a section on how to manage your time.

Some of the things I found helpful was the advice to ask important questions before starting any project that involves emotions. Susan Fay West seems to understand how we get emotionally connected to our stuff. She explains how to gently give things away in meaningful ways. I really loved all her ideas.

Books on organizing are good to read in the spring as then you are ready to toss out things you don't need and welcome things in that you really want. It is also a great time to reevaluate how you are going to spend the rest of the year, after winter has passed.

I also thought this book is good for people who have been on a diet and need to redo their wardrobe. I just lost ten pounds and am eager to put new clothes in my closet. I was feeling overwhelmed with the task of deciding which clothes to keep and which to get rid of. Finally after reading this book I got the idea to put two organizing boxes under my bed. Yay. Problem solved.

This book also gives good advice for parents who want to know what to do with all their kid's stuff once the kids have left home. For the entire time I was reading this book I felt like I was having a very caring conversation with a trusted friend. If you take this book step-by-step you will feel like a new person at the end. What more can you ask from a book?

~The Rebecca Review

The Organization Book Everyone is Talking About!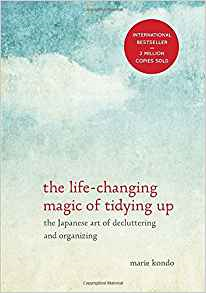 The Life-Changing Magic of Tidying Up
Cute and Cozy Read, August 8, 2015
"The Life-Changing Magic of Tidying Up" by Marie Kondo is a cute and cozy read. However I found myself disagreeing with about half of the advice. I like balling up my socks and keep them in little baskets. I also like organizing one room at a time. That I can handle. Thinking of organizing a whole disorderly house at once gives me a headache. What I did agree with was that "tidying must start with discarding." This is essential advice that really does help the process or organizing. If you have less to organize in the first place, that makes a lot of sense.

As to the question of "Does this bring me joy?" - I'd have difficulty keeping most of what I own. I'd keep my desk, kitchen items, a book of poetry and a few outfits. I'd have almost nothing left. lol I guess I'm more practical and believe that not everything you own has to fit certain criteria. I'd like to keep what is OK, I like and what I love. If something makes me feel bad, of course I'll get rid of it and have.

I did like reading that the author still has a copy of Alice in Wonderland from her childhood. I do too and will never get rid of it. I have mixed feelings however about getting rid of photographs. I have all mine sorted into the years of my life but haven't put them in albums. I could get around to it in the next decade.

I think the author could have emphasized a bit more that people need to buy less to begin with. Buying new things is fun but if you have nowhere to put the new things, what is the point? You are just then on an endless treadmill of buying and tossing. I would have also liked her to talk more about donating things to charity. I hated to think that all the people she helps are just throwing things in the trash. She talks a lot about trash bags.

I'd also advise people not to use sponges at all. I'd suggest they use cloths that can be washed in the washing machine with bleach. Sponges are just too dirty to keep even if you put them out in the sunlight.

And I'd have suggested that people just keep one file box or one file cabinet to keep their important papers in. It is not possible to throw out all papers even though they do tend to pile up.

What some Americans may find a bit odd is talking to inanimate objects. I think I would rather talk to my cats who can talk back. I don't think I'll be talking to my house or purse anytime soon. lol There is also information about the Shinto religion and worshiping deities and gaining good luck. I think it is better to just pray to God for health, etc.

I do hope the author never comes by to see that I still have two closets of clothes. I change out my clothes twice a year according to the cold or hot weather. So far I'm happy with this arrangement. Maybe American closets are sometimes smaller than Japanese closets. I don't know. I just don't have anyplace to put most folded clothes except on the shelf in my closet.

Now as far as hiding books away in a closet I have to ask why? Shouldn't books be on display and show your good taste in books? I think so. And tossing away a book I haven't read yet...that is never going to happen!
I just read a lot more than most people I guess.

So while I found this book highly entertaining I did have some issues that prompted me to write this long review. Half the advice I agreed with and the other half did not work for me personally. I still am glad however that I read it because it has given me more motivation to keep tidy.

~The Rebecca Review