= Go To The Ocean Directly, October 26, 2003

Reviewer: The Rebecca Review

"For the raindrop, joy is in entering the riverů" ~Mirza Ghalib
Have you ever wished you could escape to a place of peace? "The Gap" is a place between your thoughts. It is the place where you can be still and release yourself from the 60,000 thoughts hurtling through your mind during the course of a day.
Meditation can encourage physical healing, reduce stress, eliminate fatigue, make you feel younger, brighten your eyes and complexion, keep you focused on your spiritual connection, alleviate depression, and improve your memory. Meditation also allows you to find some of the secrets of peace. When you are thinking about God, how can you think of problems? How can your heart be anxious when it is freed from pain and sorrow and is resting in an ocean of love.
Once you have experienced this "place of peace/the gap," you can go there again. I first experienced this "space between my thoughts" during the end of a yoga workout. I had no idea you could escape the pain of life in this manner. I felt good for two days after doing the meditation section of the workout.
In this book, there is a CD that allows you to quickly enter the silence without the yoga workout, although I still like putting a fluffy down comforter on the floor as I do when I do yoga workouts. I was encouraged to learn that there is no "correct posture" or place for meditating. I actually meditate better when lying flat on my back. You could be sitting in your chair at work with your eyes closed during a 10-minute break, you could be at home, on a plane, or you could be out in nature.
The book has six chapters explaining Japa Meditation and shows how this form of meditation can affect your life in a positive way. The meditation CD is in a little envelope at the back of the book. There are two meditations on the 40-minute CD. The first 10 minutes explains the CD. You can listen to this each time or forward to one of the meditation sections.
The second section on the CD is a 10-minute meditation. The third section is a 20-minute meditation. In the first guided meditation, you say the name of God twice each time between the words you are visualizing on the screen of your mind. Then, in the longer 20-minute meditation you say the name of God four times between the visualization. It is very calming.
You visualize a word and then a second word. Then you "slip back to the space" between the words and I noticed that I was taking a deep breath each time. It was as if I was giving myself permission to relax. The further you go into the CD, the more relaxed you become.
The first time I tried this CD, I was in total emotional conflict. I was crying when I started listening and in 20 minutes, my mind had totally become refocused and I felt like I could again enter the world. I was amazed at how quickly my focus changed from feeling very emotional to feeling very strong, loving and peaceful. It was as if I'd slept 8 hours and awoken without the past nights conflicts haunting me. I was amazed at how rested I felt.
The feeling this CD evokes is similar to floating on an ocean of subtle vibrations that penetrate every part of your entire body making you become one with the ocean. It is like being unconditionally loved. If you have never said: "Ahhhhhh" along with a spiritual teacher, I highly recommend it. The beauty of this meditation is that you don't have to belong to any specific religion. Japa meditation is the Yoga of the Mind. It is actually practiced by all of the religions of the world but under different names.
While this book has examples of how meditating even brought financial wealth, the greatest wealth is in the peace you will experience while meditating on the name of God.
"Wisdom of the Ages" was my first introduction to Wayne Dyer. I love the quotes he finds, the passages he presents and how he weaves the past and present together to encourage a more peaceful future. His words have always captured my attention and had a profound effect on my life. I highly recommend this book and CD as an introduction to meditation. You can journey from stress to peace in as little as 10 minutes. "Getting in the Gap" is a true soul escape!
Great teachers can speak to us if we listen..., April 30, 2001

Reviewer: The Rebecca Review
Being an avid advocate of ancient wisdom, I immediately felt a connection with Wayne Dyer. I first saw his videos on Public Television. His relaxed manner and deep wise voice immediately had my attention. When I heard about his new book: Wisdom of the Ages, I knew this was a book I would want to own.
Ancient wisdom is fascinating to me. It can teach us as much as it taught our ancestors so long ago. When I find a quote or a poem I feel a connection to, I collect it like a treasure. You know that you are learning something wise, something which is lost in the hurried twenty-first century.
Wayne Dyer has captured the wisdom from sixty great teachers. They come from various backgrounds, cultures and religions, yet their writings hold truth. These are the writings of highly imaginative, productive and perceptive individuals. If you appreciate poetry, quotes, and prose selections which inspire; you will thrive for sixty days as your soul grows in a new garden of awareness.
The words from our ancestral scholars hold keys to our own spiritual advancement. Wayne takes each portion of writing and unfolds the cocoon for us. He sets the butterflies of truth free to circle in our minds as we gaze on their beauty. He puts each piece of wisdom in the context of our lives today and gives a practical application.
These short essays will speak to your heart. Each section begins with a selection and the explanation follows. Wayne Dyer is a natural teacher who so effortlessly draws on his own collected wisdom and the experiences in his life that most fully represent his new lesson. He challenges the reader to make his book a two-month project in which you read one section a day and try to apply the principles you have absorbed.
As you read this great work, you will feel as though you have entered a unity of consciousness with the writers. Their world suddenly becomes yours, their lessons become a gift of enlightenment. Can pain in our lives help us to accent to a higher plane of acceptance? Can someone really make you unhappy without your consent? Can we turn anger over a situation in life into a peaceful and fulfilling solution? What are the six mistakes we all make?
Here you will learn how to stop giving your precious energy to things you don't believe in, how to find a quite place, or how to become more aware of that feeling of peace you so desire. While I don't believe I am God, I do believe God can show his love through us and his son can live in us. The voices I heard through the words of the sixty writers did not conflict with my own beliefs. They reinforced some of the wisdom I knew to be truth and taught me more about who I want to be. I have just taken the first few steps in the long journey into eternity.
If enlightenment means an immersion in and a surrounding of peace, you might just find it by applying the principles in this book.
A Sample Poem included in Wisdom of the Ages:
Lives of great men all remind us
We can make our lives sublime,
And, departing, leave behind us
Footprints on the sands of time.
-Henry Wadsworth Longfellow

You will also find the works of: Pythagoras and Blaise Pascal, Buddha, Lao-tzu, Confucius, Patanjali, Marcus Tullius Cicero, Jesus of Nazareth, Epictetus, Omar Khayyam, St. Francis of Assisi, Jalaluddin Rumi, Leonardo da Vinci, Michelangelo, Sir Edward Dyer, William Shakespeare, John Donne, John Milton, Kahlil Gibran, John Keats, Percy Bysshe Shelley, William Blake, Johann Wolfgang von Goethe, Samuel Taylor Coleridge, William Wordsworth, Elizabeth Barrett Browning, Hentry David Thoreau, Chief Seattle, Oren Lyons, Rudyard Kipling, Robert Frost, Mother Teresa, Lewis Carroll and many, many more wise teachers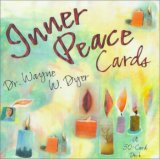 Affirmation Cards for Inspiration December 11, 2003

"Each experience in your life was absolutely necessary in order to have gotten you to the next place, and the next, up until this very moment." ~Wayne Dyer

Wayne Dyer has created a 50-card deck of inspirational messages. Each card has a message and then an explanation on the back. All the cards are quite beautiful and show not only creativity in their creation, they are quite inspirational.

The cards come in a high-quality, colorful little box with a lid. The cards are really a reminder of what you know to be true. Sometimes you just need that little affirmation and you can continue on in your life path. These cards propelled me forward into my future.

I especially liked:

Front of Card: "Inner Peace Creates World Peace."
Back of Card: "You get world peace through inner peace. If you've got a world of people who have inner peace, then you have a peaceful world."

Front of Card: "Love Is My Gift To The World"
Back of Card: "I fill myself with love, and I send that love out into the world. How others treat me is their path; how I react is mine."

Front of Card: "I learn from both positive and negative experiences."
Back of Card: "Your joy is divine, and so is your suffering. There's so much to be learned from both."

Many of the cards do focus on the aspect of "controlling our own destiny." By looking inward and reacting in a positive way, we make room for positive change. You can put these cards on your fridge, bulletin board, on the dashboard of your car or on your computer at work. You could also put them in letters to friends to help others find inner peace.

Another beautiful gift from Wayne Dyer! These inspirational cards can be used to enhance your contentment, happiness and peace of mind. You might recognize some of the ideas from Dr. Dyer's books: "Staying on the Path" and "Everyday Wisdom."