= Korean Romeo and Juliet

Reviewer: The Rebecca Review.com from Washington State


"I try to examine serious aspects of Korean life and not just aim for commercial success. I try to make films about the real life of Korea." ~ Im Kwon-Taek

If "keeping promises" and "writing promises" intrigues you, you will be seduced by the romantic nature of this movie. This movie reminds me of Romeo and Juliet only because Chunhyang and Mongryong wed secretly and enjoy a brief, yet passionate interlude before fate sends them on separate paths.

Mongryong decides he wants to marry Chunhyang and within a few hours he has succeeded in his mission. As Chunhyang spreads out her orange skirt, the governor's son, Mongryong (Cho Seung Woo), takes a brush, dips it in ink as dark as death and writes symbols that represent: "Like the sun and the moon, my love will never change."

Chunhyang (Lee Hyo Jung) is full of sweet innocence and although she is the daughter of a courtesan, seems rather shy in the world of men. She is reluctant, but then finds her true ecstasy in marriage. Just when she has discovered this new world of pleasure, her husband must leave Namwon with his father and study for an exam while living in Soeul.

After Mongryong leaves her to follow his career, we realize how vulnerable Chunhyang is without the protection of her husband. The corrupt governor (Lee Jung Hun) has heard of Chunhyang's beauty and decides to maker her one of his courtesans. At one point, the brutality is rather shocking, yet the violence does seem to have a point and this makes the impact much stronger. We cannot help but admire Chunhyang's devotion to her husband.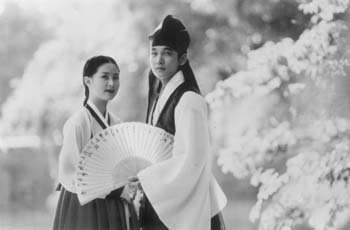 While this movie is stunning in its beauty and romantic appeal, the facts are, this is a cultural experience. Im Kwon Taek has taken the ancient operatic tradition of pansori (storytelling) and fused it with a modern film. He believes pansori is the best form of traditional Korean art and believes Korea is neglecting their own music and culture.
In this movie, Im Kwon-Taek seems to want to create a marriage between pansori and visual intoxication. The entire 300-year old fold tale is narrated by Cho Sang Hyan, who is accompanied by a gosu playing a drum (puk).
The movie is exquisite in places, but the voice of the narrator was at times rather jarring in contrast with the vibrant images and sensitively romantic moments. There were times when the drama did not need to be heightened. The images were powerful enough.
The viewer must at times be as patient as Chunhyang. We wait for the quiet moments with a sense of anticipation, while Chunhyang waits for her lover. It would have been nice to have an abundance of silence in this movie as the story almost unfolds on its own.
There is a moment when snow is falling and Chunhyang is thinking of Mongryong in a scene of mystical beauty. The colors, costumes and scenes of nature are exquisite. I loved the little "chest" that held the food and had little drawers and a place for a drink. Quite an elaborate little lunch box.
This retelling of a Korean Classic is a combination of fading ancient art forms, modern movie making and universal themes that transcend cultural boundaries. It is a story of eternal devotion, youthful passion and lyrical promises.
I didn't see the actions of Chunhyang as a complete symbol of undying loyalty to marriage. For me, her actions represented undying love in impossible circumstances.
If you enjoy this movie for it's artistic qualities,
just wait until you see: The Road Home